This Week's Features:
---
But the Same Vulnerabilities
by Margaret Tearman
---
Ferry- and paddle-boat captains race for fun and charity
by Bill Dial
---
Anglers learn new habits and turn old monofilament into new underwater habitat
by Carrie Madren
---
Once more this summer, Bay Weekly's "Indispensable Guide to Summer on the Bay" brings you 101 ways to harvest the delicious pleasures of summer. Again this year, kids get their own 101 Ways to Have Fun.
---
---
I'm a sucker for dollar trinkets, I'll even admit to visiting one of the many so-called dollar stores once or twice a week. Wife Lois says I don't really need that junk. She's probably right, but that doesn't stop me, whether it's a bamboo back scratcher or a picture frame. winners.
---
Trees spread their roots farther than you may think
Among homeowners, planners, contractors and others who work with the ground, the Bay Gardener has noticed a lack of respect for the roots of trees. It's common to see asphalt or cement spread to within inches of a tree trunk. Near construction such as buildings or walls, it is not uncommon to see several feet of soil piled around the base of trees three to six inches in diameter.
---
Scrub-a-dub with detergents that won't harm the environment
The average North American produces between 60 and 150 gallons of wastewater every day, much of it a result of washing dishes and clothes. Municipal water treatment facilities do their best to filter out the synthetic chemicals common in most mainstream dishwasher and laundry soaps, but some of these pollutants inevitably get into rivers, lakes and coastal areas, where they can cause a wide range of problems.
---
It's neither bird nor plane, but the king of the planets is a brilliant sight
The recent spate of clear, cool, dry weather combined with earlier sunsets has provided the perfect backdrop to showcase Jupiter in all its glory. The glowing giant stands out 10 degrees above the south-southwest horizon as dusk descends, 7:05pm and later this week. Over the next hour, Jupiter moves to the west, ablaze above the southwest horizon.
Illustration: © Copyright 1925 M.C. Escher/Cordon Art-Baarn-Holland; Graphics: © Copyright 2007 Pacific Publishers. Reprinted by permission from the Tidelog graphic almanac. Bound copies of the annual Tidelog for Chesapeake Bay are $14.95 ppd. from Pacific Publishers, Box 480, Bolinas, CA 94924. Phone 415-868-2909. Weather affects tides. This information is believed to be reliable but no guarantee of accuracy is made by Bay Weekly or Pacific Publishers. The actual layout of Tidelog differs from that used in Bay Weekly. Tidelog graphics are repositioned to reflect Bay Weekly's distribution cycle.Tides are based on National Oceanic and Atmospheric Administration and are positioned to coincide with high and low tides of Tidelog.
---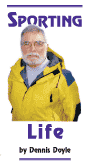 Rockfish within reach dispel despondency with delight
Just this time last year, I was sulking in my skiff about 50 feet off a long rocky point. A brisk tidal current hissed under the boat, and my shoulders ached from an hour of casting my nine-foot fly rod without a hit.
---

Earth Journal by Gary Pendleton
Elvis's Poke Was Jefferson's Ink Berry
In 1969, Elvis Presley heard a song called Poke Salad Annie. Elvis recorded the song and made it part of his live act. The King, who was born in a shotgun house in Tupelo, Miss., likely identified with the poor Southern girl portrayed in the song. He liked it so much that he recorded it three times, making it famous. The writer was Tony Joe White.
---
Boordy Vineyards' 2006 Vidal Blanc wins the Governor's Cup as Maryland's best wine … Lt. Gov. Anthony Brown hangs an exhibit of his predecessors … Outdoor writer Bob Slaff named Ambassador of the Chesapeake … Mold packs an Isabel-like punch, totaling North Beach Town Hall … Follow Baystat to keep your finger on the Bay's pulse … which was weak in the summer of '07, Chesapeake Bay Foundation reports … Virginia promises zero tolerance to oyster poachers … and last but not least, this week's Creature Feature: from the Philippines, the Mindoro fruitbat joins the world family of named creatures.
---
Isabel's Warning for the Future
In this issue, Margaret Tearman recalls the tempestuous visitor that most of us will never forget: the storm called Isabel.
---
We welcome your opinions and letters – with name and address. We will edit when necessary. Include your name, address and phone number for verification. Mail them to Bay Weekly, P.O. Box 358, Deale, MD 20751 • E-mail them to [email protected] or submit your letters on line, click here
Do the Math on Plastic Bags
Department of Corrections
---
Operation Osprey: Rescuing the bird we've been spying on.
by Maggie Sansone
---
Artists Seeing Artists:
Portraits and Self-Portraits at St. John's College
19th and 20th century artists from muscle men to sad souls; few women allowed.
Reviewed by Ben Miller
---
Patuxent Players' Trailer Park Musical: Double-Wide Grins
review by Jane Elkin
---
---
---