This Week's Features:
---
In the steamy year 2100, we'll not be the only sights long gone
by Lynn Teo Simarski
---
Lives Local, Simple and Green
by Margaret Tearman, Bay Weekly Staff Writer
---
Once more this summer, Bay Weekly's "Indispensable Guide to Summer on the Bay" brings you 101 ways to harvest the delicious pleasures of summer. Again this year, kids get their own 101 Ways to Have Fun.
---
---
Like writing this column on a new computer
You won't see Charlie Tait's name in any edition of Bartlett's Familiar Quotations — or any other volume of quotes past, present or future. He was a working stiff like me among a big pack of newshounds at the Sunpapers of Baltimore in the 1970s and '80s.
---
Without bees, our gardens and diets would be poorer
Without bees we would not have apples, pears, strawberries, raspberries, blueberries blackberries, cucumbers, squash, pumpkins, melons and more. Without bees, we would not be able to purchase seeds of most annual and perennial flowers. If we didn't have bees, our diets — and many of our beautiful flowers — would be extremely limited.
---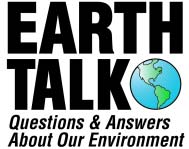 Shades of green over the long haul
The claim you refer to is from Dust to Dust: The Energy Cost of New Vehicles from Concept to Disposal, a controversial study by researcher Art Spinella of Oregon-based CNW Marketing. It ranks more than 300 vehicles for their energy use over their entire lifecycles — from raw materials extraction and manufacturing to driving and burning fuel to the recycling and disposal of parts. What surprised even Spinella was how the Toyota Prius, the world's most successful gasoline-electric hybrid car, stacked up against General Motors' behemoth Hummer, the modern poster child for unsustainable transportation.
---
Tuesday morning's total lunar eclipse will have you seeing red
The gibbous moon waxes to full Tuesday as the Sturgeon Moon, named for the monstrous fish that once abounded in Chesapeake and other coastal waters. Traveling up rivers and streams this time each year to spawn, the fish made for easy catching. Today, however, with all American sturgeon on the brink of collapse or worse, the alternate name of the Red Moon is more apt.
Illustration: © Copyright 1925 M.C. Escher/Cordon Art-Baarn-Holland; Graphics: © Copyright 2007 Pacific Publishers. Reprinted by permission from the Tidelog graphic almanac. Bound copies of the annual Tidelog for Chesapeake Bay are $14.95 ppd. from Pacific Publishers, Box 480, Bolinas, CA 94924. Phone 415-868-2909. Weather affects tides. This information is believed to be reliable but no guarantee of accuracy is made by Bay Weekly or Pacific Publishers. The actual layout of Tidelog differs from that used in Bay Weekly. Tidelog graphics are repositioned to reflect Bay Weekly's distribution cycle.Tides are based on National Oceanic and Atmospheric Administration and are positioned to coincide with high and low tides of Tidelog.
---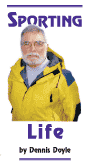 Wheeling birds drew us to an acre of stripers feeding on frantic baitfish
I pulled my ball cap snugly down, reached back for the throttle and quickly brought the 14-foot skiff up on an easy plane. I was eyeballing a distant group of excited seagulls in the early morning light.
---

Earth Journal by Gary Pendleton
Hairstreak butterflies and native clethra
Clethra alnifolia is a fine native shrub that blooms at the peak of summer. It belongs in the same category with mountain laurel, rhododendron and other natives popular with gardeners. Clethra has the additional appeal of growing naturally in local wetlands.
continue reading...
---
Eight ways to green and lean Maryland's budget … Calvert County's Cancer Gala at Rod 'N' Reel tops the $3 million mark … U.S. Geological Survey tracks Earth's most precious resource: water … The undamming of America continues … Eagle-killers fined for felonies … and last but not least, this week's Creature Feature: In Tracys Landing, Cook's Mobile Marine makes service call to free a family of ducklings from a boat exhaust.
---
Think Twice about Expanding Calvert Cliffs. Then Say No Way
Baysiders ought to distance themselves from the rah-rah campaign for a third nuclear reactor at Calvert Cliffs. Likewise, Calvert's Board of Commissioners should tone down its unqualified support and consider about what's best for the long-term interests of Calvert County and the region as a whole.
---
We welcome your opinions and letters – with name and address. We will edit when necessary. Include your name, address and phone number for verification. Mail them to Bay Weekly, P.O. Box 358, Deale, MD 20751 • E-mail them to [email protected] or submit your letters on line, click here
Leopold Makes a Good Public Servant
Dale Thomas Makes Good Reading and Memories
Continuing the Blue Crab Dialogue
Good Samaritan, Unrequited
---
I Take Pen in Hand
— Rarely Cursive is becoming a lost art
by Vicki Marsh
---
Previewed by Bethany Rodgers
---
---
---