This Week's Features:
---
Chesapeake History
Today's visitors are enjoying Thomas Point lighthouse in a fashion never envisioned of old. by Reed Hellman
---
Anne Arundel Exec Leopold dumps two decades of planning and over $1.5 million to "save the communities."
by Sandra Olivetti Martin
Annapolis Festival Sets Music to the Save the Bay Movement
by Rob Goszkowski
On — and off — the job with antiques collector Dale Thomas
Story & Photos by Michelle Steel, Bay Weekly Contributor
---
Once more this summer, Bay Weekly's "Indispensable Guide to Summer on the Bay" brings you 101 ways to harvest the delicious pleasures of summer. Again this year, kids get their own 101 Ways to Have Fun.
---
---
There are good birds and bad birds in the Burton book
I've not directed much animosity at owls, but hawks — that's another thing. Owls are nocturnal; they primarily do their dirty deeds under the cover of darkness. Hawks are daytime predators, and we see more of them.
---
If you have cool-season grasses, save your time, money and the Bay
In recent weeks, unscrupulous chemical lawn companies have urged home gardeners to apply fertilizers to lawns during hot, dry weather to keep them healthy and green. Don't believe them.
---
People and business can save greenbacks with green decisions
There has never been a better time than now to tap into a laundry list of tax rebates and other financial incentives to encourage individuals and businesses to go the greener mile. At the federal level, you can reap the rewards of no less than eight different financial incentives ranging from tax credits and home loans for replacing windows and installing insulation around the house to tax rebates for purchasing a hybrid car or hooking up a solar hot water heater.
---
Summer's long days are winding down
The sun this week crosses a milestone of sorts, setting at 8pm on Friday and roughly a minute earlier each night this week; by next Friday, the sun sets at 7:50. Old Sol is losing ground in the morning, too, rising at 6:23 this Friday and at 6:29 the next.
Illustration: © Copyright 1925 M.C. Escher/Cordon Art-Baarn-Holland; Graphics: © Copyright 2007 Pacific Publishers. Reprinted by permission from the Tidelog graphic almanac. Bound copies of the annual Tidelog for Chesapeake Bay are $14.95 ppd. from Pacific Publishers, Box 480, Bolinas, CA 94924. Phone 415-868-2909. Weather affects tides. This information is believed to be reliable but no guarantee of accuracy is made by Bay Weekly or Pacific Publishers. The actual layout of Tidelog differs from that used in Bay Weekly. Tidelog graphics are repositioned to reflect Bay Weekly's distribution cycle.Tides are based on National Oceanic and Atmospheric Administration and are positioned to coincide with high and low tides of Tidelog.
---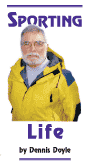 Big fish meet little fish in a sporting event without equal
I fired the glittering, four-inch popper well out past the long, broken jetty. Thumbing the spool lightly to affect a controlled entry into the water, I put the reel into gear as soon as the lure splashed. Then I began to make it dance.
---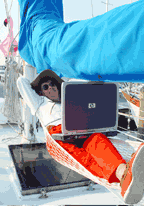 Gunk- Holin'
by Alice Snively
Cockerell Creek on the Great Wicomico
Latitude 37.84 N; Longitude 76.27 W
If you are making the southern Bay tour this summer, perhaps to Jamestown for the 400th celebration, Reedville on Cockerell Creek off the Great Wicomico River just south of Maryland on Virginia's Northern Neck is a great place to visit.
---
Ocean City's plan for Boathenge stalled and trumped … Protections reconsidered for 28 Maryland plants and animals … Has Tracys Landing replaced Baltimore as Clipper City now that the tall ship of that name is docked at Herrington Harbour North? … A new waterfront for historic Leonartown … and last but not least, this week's Creature Feature: In Switzerland, turning up one of the world's biggest fields of dinosaur bones, nearly a mile of Plateosaurus remains.
---
Leopold Shows His Spots
Casting a vote is a gamble. It's a choice made out of a welter of emotion, affiliation, disdain and hope with no more foreknowledge than a toss of the dice. Anne Arundel voters tossed the dice for John Leopold last November, and now we're seeing the county executive's spots.
---
We welcome your opinions and letters – with name and address. We will edit when necessary. Include your name, address and phone number for verification. Mail them to Bay Weekly, P.O. Box 358, Deale, MD 20751 • E-mail them to [email protected] or submit your letters on line, click here
Whatever Happened to Chef James of Bay View Inn?
Contrasting Exotic and Erotic
The Art of Jerry Wachter
Just Peachy
---
A New City Market for Downtown Annapolis
Why shouldn't Annapolitans shop city style?
by John Darby Alt
---
Annapolis Summer Garden Theatre's thoroughly entertaining Millie: It's a joy to see hard-working local talent of this caliber singing and dancing full out and non-stop under the summer stars.
reviewed by Davina Grace Hill
---
---
---