This Week's Features:
---
Aretha Franklin and other legends take the stage at the Chesapeake Bay Blues Festival
by Diana Beechener
---
At the August festival, local musicians play with musical icons
by Steve Carr
---
---
---
You measure drought by degrees
At last, I see by the daily press, governors and others have finally noticed we're in a drought and are making plans to ease the financial pain of farmers.
---
Only long watering will save drought-stressed plants
August and September are the months when trees, shrubs and herbaceous perennials absorb the most water in preparation for winter. July's drought has so stressed landscape plants that unless you water heavily these next two months, they are likely to suffer serious winter injury, even if the winter is mild. Waiting to irrigate the trees and shrubs until October and November is too late.
---
Point and counterpoint in the green car debate
Honda's natural gas Civic GX, which debuted in 2006 in California but is now becoming available in other parts of the country, just may be the cleanest mainstream car on the road. At least the American Council for an Energy-Efficient Economy thinks so. The nonprofit group publishes an annual Green Book listing the greenest (and meanest) cars of the year, and put the Civic GX at the top of its 2007 environmentally friendly car list, edging out Toyota's hybrid Prius.
---
The Pleiades and the Hyades Illuminate Taurus the Bull
A waning gibbous moon rises after nightfall at week's end. Monday the first-quarter moon rises just before midnight, with Mars trailing about five degrees behind. The red light of Aldebaran follows another five degrees behind Mars, with the three forming a line. The next evening, the now-crescent moon rises in the northeast at 12:30am with Mars and Aldebaran forming a triangle.
Illustration: © Copyright 1925 M.C. Escher/Cordon Art-Baarn-Holland; Graphics: © Copyright 2007 Pacific Publishers. Reprinted by permission from the Tidelog graphic almanac. Bound copies of the annual Tidelog for Chesapeake Bay are $14.95 ppd. from Pacific Publishers, Box 480, Bolinas, CA 94924. Phone 415-868-2909. Weather affects tides. This information is believed to be reliable but no guarantee of accuracy is made by Bay Weekly or Pacific Publishers. The actual layout of Tidelog differs from that used in Bay Weekly. Tidelog graphics are repositioned to reflect Bay Weekly's distribution cycle.Tides are based on National Oceanic and Atmospheric Administration and are positioned to coincide with high and low tides of Tidelog.
---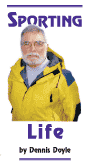 The strike you don't see can be exhilarating
There will be plenty of time to sleep when you're dead.
Slowing my small skiff to a crawl this time last season, I scanned the waters intently with my big marine binoculars. It was difficult to see very far at 11pm, even with a decent sliver of moon overhead. The seven-power glass made things just a little easier.
---
Watermen and scientists are different Bay species
The temperature rose to simmer. At issue at this forum was a proposal to increase the minimum size of blue crabs legally harvested in Maryland. Scientists showed tables and charts of mind-numbing data on the crab population in Chesapeake Bay.
---
ArtWalk: Marion Warren's Photos Large as Life
When we walk or drive West Street, we'll be passing a life-sized family photo album, where community history becomes art.
previewed by Carrie Madren
Maryland senators watch global melting … Maryland's Commission on Climate Change has its work cut out … drought reaches disaster levels in 97 percent of Maryland … Lyme Disease is no stranger to Maryland … Gulf of Mexico's dead zone is growing, fueled by ethanol … and, last but not least, this week's Creature Feature: In Texas, there ought to be a law to save turtles.
---
Where Have All Our Turtles Gone?
On Monday morning near the Bay, we saw something we haven't seen for a while: a turtle crossing a country road.
---
We welcome your opinions and letters – with name and address. We will edit when necessary. Include your name, address and phone number for verification. Mail them to Bay Weekly, P.O. Box 358, Deale, MD 20751 • E-mail them to [email protected] or submit your letters on line, click here
Why I Don't Feel Safe on the Water
Help Taking the Sting Out
Department of Corrections
---
Pondering at the Pond
With children, fishing for trout and tolerance
by Eileen Slovak
My husband, like my father, is a weekend fisherman.