This Week's Features:
---
Two traditional feasts give guests a good time and bring bounty to local charities
By Margaret Tearman, Bay Weekly Staff Writer
---
Local company cleans house for women with cancer
by Carrie Madren, Bay Weekly Staff Writer
---
---
Restoring an old day sailor is tribute to a friend
by Carrie Madren
---
Once more this summer, Bay Weekly's "Indispensable Guide to Summer on the Bay" brings you 101 ways to harvest the delicious pleasures of summer. Again this year, kids get their own 101 Ways to Have Fun.
---
---
The forces of nature are crossing the moat
Good advice, but the smiles come hard. I'm beginning to think the Burton castle is under siege — and the moat is dry.
As they say, if it isn't one thing it's another; so it is at our household up here in North County. Wife Lois was preparing to join me in the war on outdoor pests, when she stubbed her toe. When it didn't mend quickly, she finally went to a doctor to learn she has broken a couple of long bones in her foot and will be in a cast for ages.
---
It makes a mess that will set you scrubbing
Artillery fungus is a microorganism that can create a mess on the exterior of your house. I have seen the clapboard on the first story of houses so covered with these millions of spores that the sides appeared gray.
---
Following Canada, U.S. cities add hybrid taxis
This past May, as part of a larger effort to make New York the "greenest major metropolis on the planet," Mayor Michael Bloomberg announced an ambitious plan to switch over the city's 13,000-vehicle taxi cab fleet from gas-guzzling traditional cars to fuel-sipping gasoline-electric hybrids.
---
Old names still ring true
The waxing moon arcs through southern skies, reaching full phase Sunday when it shines dusk to dawn. From culture to culture, July's full moon comes with many names. Some are clear and others beg elaboration. But at one time, these names were another generation's Old Farmer's Almanac.
Illustration: © Copyright 1925 M.C. Escher/Cordon Art-Baarn-Holland; Graphics: © Copyright 2007 Pacific Publishers. Reprinted by permission from the Tidelog graphic almanac. Bound copies of the annual Tidelog for Chesapeake Bay are $14.95 ppd. from Pacific Publishers, Box 480, Bolinas, CA 94924. Phone 415-868-2909. Weather affects tides. This information is believed to be reliable but no guarantee of accuracy is made by Bay Weekly or Pacific Publishers. The actual layout of Tidelog differs from that used in Bay Weekly. Tidelog graphics are repositioned to reflect Bay Weekly's distribution cycle.Tides are based on National Oceanic and Atmospheric Administration and are positioned to coincide with high and low tides of Tidelog.
---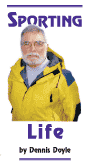 How good cooking transformed a famine of crabs to a feast
It was 6:30am, and we were already over an hour late getting on the water. A tenuous weather report the previous night made us hesitate making the last of our preparations until morning to be certain we were clear of any thunderstorms.
---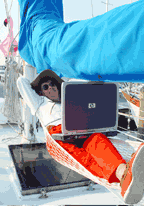 Gunk- Holin'
by Alice Snively
Seclusion, History and Sailing Latitude 38.11 N; Longitude 76.25 W
As Virginia and the nation celebrate the 400th anniversary of the founding of the Jamestown colony, many Bay cruisers are heading south to tour these sites. There are many good gunkholes and interesting places to visit in the southern part of the Chesapeake along the way. One of them is St. Mary's City on the river of the same name, a tributary of the Potomac. It's the site of the fourth permanent British settlement in North America, whose first residents arrived in 1634 aboard the ships Ark and
---
Cal's Steps in Focus
Sports Legends at Camden Yards hits it out of the park with their pictorial tribute to Maryland's Iron Man.
Reviewed by Diana Beechener continue reading...
---
Farmers can slow down global warming … Beware if you don't pay your state taxes, but 64 of Maryland's 132 biggest companies skip paying and punishment … Potato-cannon takes aim at cancer … Sailors in Hot Water: If you drive your boat after dark with no lights on, you can't see Natural Resources Police … this week's Creature Feature: You can skin a bear, but you can't sell 'em.
---
Chesapeake Bay Disease Has Infected Our Schools
Anne Arundel Pubic Schools seem to have caught a resistant case of Chesapeake Bay Disease. We think so because no matter how much money we keep pouring in, neither seems to get any better.
---
We welcome your opinions and letters – with name and address. We will edit when necessary. Include your name, address and phone number for verification. Mail them to Bay Weekly, P.O. Box 358, Deale, MD 20751 • E-mail them to [email protected] or submit your letters on line, click here
PWC and Muscle Skippers Say It Isn't So
Madren Gives Readers Hope
John Smith Authors Review Ben Miller
Kudos, Bay Weekly
---
Taking A (Fruit) Stand
Shopping for ripening perfection
by Pat Piper