This Week's Features:
---
Summer jobs are practice rounds where high school and college kids figure out what kind of employees they are, what they're willing to do to make a buck and whether making money is the point.
by Bethany Rodgers
---
William and Patrice Chaney at home in Maryland's past.
by Margaret Tearman
---
---
Twenty-seven months after the tsunami, we expected to find a place engulfed in mourning. But such was not the case; the people we met showed no signs of grief. They seem to have an inner strength derived from the fact that everyone in the city shares the same anguish; no one escaped scot-free.
by Dick Wilson
---
101 Ways To Have Fun ~ Summer 2007
Once more this summer, Bay Weekly's "Indispensable Guide to Summer on the Bay" brings you 101 ways to harvest the delicious pleasures of summer. Again this year, kids get their own 101 Ways to Have Fun.
---
---
Memories of times past
Despite what Thomas Wolfe wrote, one can go home again — and sometimes, if you are fortunate, home is like it was when you left it long, long ago. I experienced that satisfying pleasure recently when attending the latest in more than 40 Burton family reunions.
---
Paying it forward to figure out our living world
Back in 1960, the Bay Gardener got a green start with a National Science Foundation Undergraduate Grant of $250. With this money — which went a lot further in those days — I studied the effects of hormones on the rooting of mountain laurel and rhododendron cuttings, one of many experiences that encouraged me to pursue a career in teaching, research and extension.
---
Consider reducing your lifetime disposable product count
Women of ancient cultures couldn't buy feminine hygiene products at the supermarket or drugstore chain, so they improvised, fashioning pads instead out of various natural and biodegradable materials — from papyrus and wool to grasses and vegetable fibers. Modern women, however, have relied on a variety of disposable products that create significant after-use waste and can also be dangerous to their health.
---
At its elongation this week, Mercury doubles in brightness
The waxing moon shines in the southeast at sunset, around 8:30 this week, each night appearing farther south and setting one-half hour later. Saturday's first-quarter moon travels with Spica, the brilliant blue-white star in Virgo. Tuesday and Wednesday night, the moon forms a triangle with Jupiter and Antares, the red-orange heart of Scorpius; Tuesday the moon is 10 degrees to their west, Wednesday 10 degrees to their east.
Illustration: © Copyright 1925 M.C. Escher/Cordon Art-Baarn-Holland; Graphics: © Copyright 2007 Pacific Publishers. Reprinted by permission from the Tidelog graphic almanac. Bound copies of the annual Tidelog for Chesapeake Bay are $14.95 ppd. from Pacific Publishers, Box 480, Bolinas, CA 94924. Phone 415-868-2909. Weather affects tides. This information is believed to be reliable but no guarantee of accuracy is made by Bay Weekly or Pacific Publishers. The actual layout of Tidelog differs from that used in Bay Weekly. Tidelog graphics are repositioned to reflect Bay Weekly's distribution cycle.Tides are based on National Oceanic and Atmospheric Administration and are positioned to coincide with high and low tides of Tidelog.
---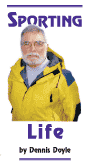 ---
---
Now's the time to eat Del-Marvelous watermelons, good and good for you … How did your lawmakers score on League of Conservation Voters 2007 report card? … NASA's Goddard Space Flight Center breaks ground on a green Exploration Sciences Building … Virginia debates building the world's biggest ethanol plant … this week's Creature Feature: In Howard County, a herd of Rhinoncomimus latipes Korotyaev weevils go to war against the prickly, invasive mile-a-minute vine.
---
---
We welcome your opinions and letters – with name and address. We will edit when necessary. Include your name, address and phone number for verification. Mail them to Bay Weekly, P.O. Box 358, Deale, MD 20751 • E-mail them to [email protected]. or submit your letters on line, click here
No Place Called away
Sisterly Love, Annapolis to Niteroi
Missing [email protected]? Try again
---
by M.L. Faunce
In praise of soft shells: Bringing you this Chesapeake delicacy keeps watermen up all night.