This Week's Features:
---
She's Brazilian, and she thinks life is a beach
by Steve Carr
---
On the job with native bee expert Sam Droege
by Carrie Madren
---
---
Your guide to sea nettle remedies
by Jane Elkin
---
John Smith's Chesapeake Voyages
History must supply what memory can no longer give us
Reviewed by Ben Miller
---
101 Ways To Have Fun ~ Summer 2007
Once more this summer, Bay Weekly's "Indispensable Guide to Summer on the Bay" brings you 101 ways to harvest the delicious pleasures of summer. Again this year, kids get their own 101 Ways to Have Fun.
---
---
After a life outdoors, Lyme hit me in the bull's-eye
Paybacks are Hell.
Over the years in various states according to my journals, I have bagged 117 deer — all whitetails other than two Sikas and one mulie. Today I learned the antlered critters have turned the tables.
---
Dog vomit slime mold looks and smells like its name, and it thrives on un-composted wood and too much mulch
Some time during July and August, don't be surprised if you find dog vomit on the ground of your garden, especially if you've mulched with colored wood chip mulch, double-shredded hardwood bark mulch or fresh woodchips.
---
Relocate without disrupting the environment
Moving may be inherently unfriendly to the environment given that carting stuff around means expending lots of fuel and emitting a lot of pollutants. But there are ways to relocate responsibly. For starters, the less stuff we accumulate in the first place, the less we have to pick up and move elsewhere.
---
As one royal star sets, another rises to watch over us
The waning moon reaches new phase Saturday, but it takes a couple days before the waxing crescent pulls far enough away from the sun to emerge from its glare. But by dusk Monday, a thin sliver of moon appears low in the west. Saturn shines less than two degrees away toward the horizon, and Venus is about six degrees to the other side of the moon. Between moon and Venus shines Regulus, the heart of Leo the lion.
Illustration: © Copyright 1925 M.C. Escher/Cordon Art-Baarn-Holland; Graphics: © Copyright 2007 Pacific Publishers. Reprinted by permission from the Tidelog graphic almanac. Bound copies of the annual Tidelog for Chesapeake Bay are $14.95 ppd. from Pacific Publishers, Box 480, Bolinas, CA 94924. Phone 415-868-2909. Weather affects tides. This information is believed to be reliable but no guarantee of accuracy is made by Bay Weekly or Pacific Publishers. The actual layout of Tidelog differs from that used in Bay Weekly. Tidelog graphics are repositioned to reflect Bay Weekly's distribution cycle.Tides are based on National Oceanic and Atmospheric Administration and are positioned to coincide with high and low tides of Tidelog.
---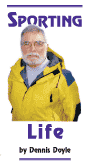 ---
---
Can Annapolis do without plastic bags? … In Anne Arundel County, better keep it quiet … Sign a Clean Boater Pledge to protect the Bay … In Maryland, farming's still a way of life … and last but not least, this week's Creature Feature: Vermont regains its loons.
---
---
We welcome your opinions and letters – with name and address. We will edit when necessary. Include your name, address and phone number for verification. Mail them to Bay Weekly, P.O. Box 358, Deale, MD 20751 • E-mail them to [email protected]. or submit your letters on line, click here
Check for Ticks
Comprehensive Micro-Monsters
---
Yesterday's visit to the emergency room: Yes, my wife sent me there.
by Allen Delaney