This Week's Features:
---
After 19 years fishing hundreds of tons of trash from this mighty river, some are saying enough! by Carrie Madren
---
This huggable, furry giant outworks even the Energizer Bunny. by Michelle Steel
---
Over four months, 2871⁄2 pounds shed.
by Bethany Rodgers
---
Slowly descending into madness, Sweeney Todd slices through London society while landlady Mrs. Lovett bakes the bodies into pies, feeding half of London with the other half.
---
On Exhibit: Ships sail to the Naval Academy gate. reviewed by Carrie Madren
---
Once more this summer, Bay Weekly's "Indispensable Guide to Summer on the Bay" brings you 101 ways to harvest the delicious pleasures of summer. Again this year, kids get their own 101 Ways to Have Fun.
---
---
Chesapeake women turn caring into healing
Time heals all wounds.
Generally, over time, wounds to the heart, pride and psyche cure themselves. Four Deale ladies have been spending much time of late on those afflicted with physical wounds. They are trying to make life easier and better for recuperating wounded soldiers at the Army's Walter Reed Hospital.
---
In summer, sooty mold coats plants, cars and outdoor surfaces
Every summer, home gardeners seek cures from a black dust-like substance that clings to everything outdoors, including plants. That dusty grime that you can't seem to wipe away is called sooty mold.
---
An old remedy gets a not-so-green analysis
Even though mothballs are not as popular as they once were, they are still used by many people to keep stored clothes, furniture and carpets free of hungry pests like moths. But the very ingredients that make mothballs so effective as household pesticides — namely naphthalene or paradichlorobenzene (PDB) — also make them dangerous to any person or animal who breathes the fumes or ingests them directly. Such chemicals are often listed as primary offenders when household air is tested for indoor air pollution.
---
With the sun its farthest from earth, we're not feeling the chill
A waning gibbous moon reaches last quarter phase Saturday as it recedes into pre-dawn skies. Late-nighters or early risers Monday morning will see the moon rising with Mars just below the crescent around 2am. The two appear no more than five degrees apart, half the width of your fist held at arm's length, and are high in the east with daybreak at 5:50.
Illustration: © Copyright 1925 M.C. Escher/Cordon Art-Baarn-Holland; Graphics: © Copyright 2007 Pacific Publishers. Reprinted by permission from the Tidelog graphic almanac. Bound copies of the annual Tidelog for Chesapeake Bay are $14.95 ppd. from Pacific Publishers, Box 480, Bolinas, CA 94924. Phone 415-868-2909. Weather affects tides. This information is believed to be reliable but no guarantee of accuracy is made by Bay Weekly or Pacific Publishers. The actual layout of Tidelog differs from that used in Bay Weekly. Tidelog graphics are repositioned to reflect Bay Weekly's distribution cycle.Tides are based on National Oceanic and Atmospheric Administration and are positioned to coincide with high and low tides of Tidelog.
---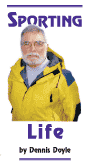 If at first you don't succeed…
Wednesday morning: It was 4:30am and I was on my third cup of coffee, still groggy, but preparing to chase a fish tale. A friend of a friend had reportedly taken a half dozen very nice sized rockfish on surface plugs in the shallows of a certain sweet spot we were all fond of fishing.
---
How far we've come in 400 years
Whitecaps stirred y a fresh southwesterly beckoned like pretty white horses. We took a break from our interviews with scientists at the Virginia Institute of Marine Sciences at Gloucester Point, one of the nation's largest centers for estuarine and oceanic studies.
---
America's national bird soars off the endangered species list … On top of global warming, we've got itchier poison ivy to worry about … Fewer kids have lead coursing through their veins … Maryland ends the fiscal year $92.6 million and 1,446 acres richer in open space … While you're slowed down in Eastern Shore Bay Bridge backups, you'll be able to hook up to the Web faster … and last but not least, this week's Creature Feature: In Washington, D.C., U.S. senators caucus against the Emerald Ash Borer.
---
Introducing Best of the Bay 2007
This issue of Bay Weekly opens the balloting for Best of the Bay '07, with results to appear in the last issue of the year.
---
We welcome your opinions and letters – with name and address. We will edit when necessary. Include your name, address and phone number for verification. Mail them to Bay Weekly, P.O. Box 358, Deale, MD 20751 • E-mail them to [email protected]. or submit your letters on line, click here
The Return of Mt. Harmony's Young Foresters
---
My Wife Is Trying to Kill Me
A toothpick, spices and ice cream are the weapons in her culinary war
by Allen Delaney