This Week's Features:
---
Forget the luggage, the sunscreen and the pet-sitter. A good book is a vacation through time and place.
---
Your comprehensive guide to fireworks, festivities and fun for Independence Day and the holiday weekends. by Diana Beechener
---
Once more this summer, Bay Weekly's "Indispensable Guide to Summer on the Bay" brings you 101 ways to harvest the delicious pleasures of summer. Again this year, kids get their own 101 Ways to Have Fun.
---
---
Sea trout show up on computer screens, but nobody's catching them
The above words make sense, but methinks it is easier to write them than to live by them. The fisherman who sails expecting nothing is still disappointed returning to the docks after a long day of trying.
---
Be choosy selecting soils and mulch
My caller wanted to know if it was possible to have termites living in piles of mulch. Yes, I said, but only if the mulch is made from old dead or dying trees and if the mulch had not been composted.
---
Too much of a good thing
Why do people complain about fluoride in drinking water and toothpaste?
–Becky Johnston, Shoreline, Washington
---
Venus and Saturn put on a show
Saturday's full moon rises in the southeast at 9:15pm as the sun sets opposite in the northwest. Called the Hay Moon, the Rose Moon, the Strawberry Moon and the Honey Moon, June's full moon is the lowest of the year, arcing deep in the southern sky.
Illustration: © Copyright 1925 M.C. Escher/Cordon Art-Baarn-Holland; Graphics: © Copyright 2007 Pacific Publishers. Reprinted by permission from the Tidelog graphic almanac. Bound copies of the annual Tidelog for Chesapeake Bay are $14.95 ppd. from Pacific Publishers, Box 480, Bolinas, CA 94924. Phone 415-868-2909. Weather affects tides. This information is believed to be reliable but no guarantee of accuracy is made by Bay Weekly or Pacific Publishers. The actual layout of Tidelog differs from that used in Bay Weekly. Tidelog graphics are repositioned to reflect Bay Weekly's distribution cycle.Tides are based on National Oceanic and Atmospheric Administration and are positioned to coincide with high and low tides of Tidelog.
---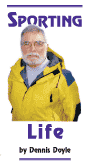 For us commoners, the leaping pageantry of tarpon is almost enough
Anxiety quivered through my body as the fourth and last day of a frustrating June tarpon fishing vacation drew to a close. The 10th tarpon that I had thrown to in the last few hours — a muscular, five-and-a-half-footer that probably weighed 110 pounds — had just fled in full panic at the first glimpse of my three-inch, mottled-brown shrimp fly.
---
Has Diamond Jim been caught? … Oysters grow faster than Army Corps of Engineer studies … Pennsylvania to build six giant ethanol storage tanks on the Susquehanna … Sen. Barbara Mikulski tries for better gas mileage in federal Energy Bill … and last but not least, this week's Creature Feature: In Chesapeake Bay, three sea turtles return home after rehabilitation by the life-saving Virginia Aquarium Stranding Response Team of the Marine Animal Care Center.
---
Big Energy v. Chesapeake Bay
When a federal judge said no last week to putting a huge liquefied natural gas plant along the Patapsco River, Marylanders got a temporary reprieve from our feelings of helplessness.
---
We welcome your opinions and letters – with name and address. We will edit when necessary. Include your name, address and phone number for verification. Mail them to Bay Weekly, P.O. Box 358, Deale, MD 20751 • E-mail them to [email protected]. or submit your letters on line, click here
Farewell Calvert Country Market
Patuxent or Potomac?
Bellydancing Not Exotic
---
Catch the Buzz: Face your fears for pollination's sake. by M.L. Faunce