This Week's Features:
---
Before you go in the water, check the count
by Carrie Madren
---
Catch one if you can, for fun and profit
story and photos by Tom Lyons
---
Follow these steps for a cooler future
by Carrie Madren
---
Outdoor concerts at Calvert Marine Museum and St. Leonard Volunteer Firefighters' hall.
by Margaret Tearman
---
Once more this summer, Bay Weekly's "Indispensable Guide to Summer on the Bay" brings you 101 ways to harvest the delicious pleasures of summer. Again this year, kids get their own 101 Ways to Have Fun.
---
---
That's not so far out as this convoluted tale of cows and global warming
For anything that goes wrong or fails to meet expectations, more than one scapegoat emerges.
–Old Yankee saying
---
After a few years, a lot of hard work and some help from friends, it runs like a Deere
Ever since I was a boy, I always enjoyed the sound of a two-cylinder, hand clutch John Deere, often referred to as Poppin John. That's the true sound of a farm tractor at work. Our neighbor in Guilford, New Hampshire, operated a large dairy farm and had a 1950 and a 1952 John Deere G, the largest made at that time. The engines of both tractors were started using gasoline, but once engine temperatures reached 180 degrees, the gas line valve would be shut off and the kerosene line valve turned on. These tractors ran all day on less than five gallons of kerosene.
---
Synthetic chemicals that mimic hormones magnify the risk of breast cancer
Is there any proof linking human breast cancer to exposure to chemicals in the environment? Or do researchers think most cases of breast cancers are genetically inherited?
—Bettine Carroll, New York, NY
---

Hauling up answers to why fewer of this small but important fish are in the Bay
Rocking aboard the 65-foot research vessel Aquarius in the mouth of the Chesapeake, we're hunting for the most important fish in the sea.
---
Long days and short nights in the summer solstice's wake
Thursday the 21st at 2:06pm marks summer solstice. On this first day of summer, the sun peaks at its farthest point north of the equator, 231x2 degrees, appearing to stand still above the Tropic of Cancer.
Illustration: © Copyright 1925 M.C. Escher/Cordon Art-Baarn-Holland; Graphics: © Copyright 2007 Pacific Publishers. Reprinted by permission from the Tidelog graphic almanac. Bound copies of the annual Tidelog for Chesapeake Bay are $14.95 ppd. from Pacific Publishers, Box 480, Bolinas, CA 94924. Phone 415-868-2909. Weather affects tides. This information is believed to be reliable but no guarantee of accuracy is made by Bay Weekly or Pacific Publishers. The actual layout of Tidelog differs from that used in Bay Weekly. Tidelog graphics are repositioned to reflect Bay Weekly's distribution cycle.Tides are based on National Oceanic and Atmospheric Administration and are positioned to coincide with high and low tides of Tidelog.
---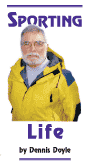 Many fish bite if you've got good bait
It was difficult finding the right fish. The first two spots I tried were empty, or the white perch were simply not biting. Valuable time was slipping away. Moving up into a familiar tributary changed my fortunes — but not quite the way I intended.
---
On slot machines, Gov. Martin O'Malley and Comptroller Peter Franchot are betting on opposite sides … In mid-Chesapeake, crabs are coming our way … In Virginia, Chesapeake Bay protections toughen up … Marine Police Blotter: jetskiiers out of distress … and last but not least, this week's Creature Feature: In New York, Florida, Maryland and more, shark fishing's getting a worse rap than fox hunting.
---
Taking Charge of Our Waters
Changing times are bringing new awareness of what we must do to protect our land and waters.
---
We welcome your opinions and letters – with name and address. We will edit when necessary. Include your name, address and phone number for verification. Mail them to Bay Weekly, P.O. Box 358, Deale, MD 20751 • E-mail them to [email protected]. or submit your letters on line, click here
Wilson Takes His Bow, Applauds His Successors

Another Angle on Biofuels

Wisner Wades In on Map and Stories

---
The Swash Zone
The Solstice takes us to a place that's neither in nor out but in and out at the same moment
by Elizabeth Ayres