This Week's Features:
---
Present or absent, biological or adoptive, kind or cruel, the father is a primary presence in all our lives. For these Chesapeake memoirists, rewriting life begins with with the man they call Dad. by Elisavietta Ritchie and her memoirists
---
Many fans, few dollars. Even the redoubtable Fowler, a Maryland icon whose fame has spread round the world, cannot pull dollars out of an empty pocket. by Sandra Olivetti Martin
---
Sustainability starts with a plan. "What would we fund if we had more money?" asks Patuxent Riverkeeper Fred Tutman. by Carrie Madren
---
Bay bard Tom Wisner updates his 20-year-old ode that began the Patuxent River Wade-In.
---
Maryland's Poet Laureate writes the art of fatherhood. reviewed by Carrie Madren
---
Once more this summer, Bay Weekly's "Indispensable Guide to Summer on the Bay" brings you 101 ways to harvest the delicious pleasures of summer. Again this year, kids get their own 101 Ways to Have Fun.
---
---
Except wet weather and mosquitoes
Ah, Father's Day comes around again for this father of five daughters and one son of such as dwell in tents in the warmer months. For many years on the big day in mid June, I was the recipient of gifts for the camping/backpacking trail. As age has stiffened the bones, there has been a shift in the shopping.
---
The doctor's prescription for a healthy yard — and a healthy Bay
In Chesapeake County, a lush green lawn throughout the summer months is prestigious. Such a lawn, however, requires a super abundance of fertilizer applied all summer long. The main ingredient of that green-boosting fertilizer is nitrogen: The more you apply the greener it grows.
---
Earth-friendly labels win friends for wines
The recent upsurge of interest in organic foods has indeed not escaped the wine business and, yes, organic wines are more popular and more readily available than ever.
---
| | |
| --- | --- |
| | Earth Journal by Gary Pendleton |
A good story, if you're the halcyon bird, our kingfisher
It is June. Gardens and meadows are blooming. It is time to celebrate weddings and graduations. It is a great month, surely one of the top 10 or 12. The days are warm, and the nights are cool. It might be 95 tomorrow, but in my mind these are halcyon days.
---
The moon this week keeps Venus, Saturn in line
Thursday's new moon emerges from behind the sun Friday as a paper-thin crescent low in the northwest, visible at best for a few minutes after sunset at 8:35. Saturday evening, the moon appears a little higher above the horizon, near Gemini's twins Pollux and Castor, and sets about 45 minutes later than the night before. Come sunset Sunday, the waxing crescent hangs 10 degrees above due west, forming a line with brilliant Venus less than 10 degrees behind and Saturn following the evening star by another 10 degrees.
Illustration: © Copyright 1925 M.C. Escher/Cordon Art-Baarn-Holland; Graphics: © Copyright 2007 Pacific Publishers. Reprinted by permission from the Tidelog graphic almanac. Bound copies of the annual Tidelog for Chesapeake Bay are $14.95 ppd. from Pacific Publishers, Box 480, Bolinas, CA 94924. Phone 415-868-2909. Weather affects tides. This information is believed to be reliable but no guarantee of accuracy is made by Bay Weekly or Pacific Publishers. The actual layout of Tidelog differs from that used in Bay Weekly. Tidelog graphics are repositioned to reflect Bay Weekly's distribution cycle.Tides are based on National Oceanic and Atmospheric Administration and are positioned to coincide with high and low tides of Tidelog.
---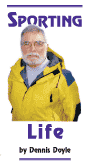 Then, you don't have time to wonder why
My old hunting buddy Wilkie and I trekked upland fields often in recent years, scaring the dickens out of quite a few grouse and pheasants. But this was the first time in a long while we'd fish together for rockfish, and I was looking forward to it.
---
Low-income Maryland families get $5 million more help paying rising utility bills … How to find out what farms we're subsidizing with our tax dollars … Dead Zones: returning this summer to a waterway near you … This summer $8 million supports farmers who plant cover crops to hold down runoff … and last but not least, this week's Creature Feature: In faraway Indonesia, a rescue story featuring dusky pademelons, which are a rare species of kangaroo.
---
Why Biofuels and Dead Zones Don't Mix
There are reasons to be suspicious of ethanol.
Yes, ethanol can bring modest reductions in greenhouse gases because of the amount of oil it displaces in fuel. But it comes at an enormous cost to taxpayers: at least $300 to remove a ton of carbon from the atmosphere at a time when that ton can be removed for $20 on Europe's Carbon Trading Market.
---
We welcome your opinions and letters – with name and address. We will edit when necessary. Include your name, address and phone number for verification. Mail them to Bay Weekly, P.O. Box 358, Deale, MD 20751 • E-mail them to [email protected]. or submit your letters on line, click here
Good to See the Faces that Make the Words
Going with the Wind
More Trouble with Piers
Reconnect with [email protected]
Department of Corrections
---
The Day Dad's Girls Caught Fish
We always tested Dad's patience; this day, we rewarded it
by Michelle Steel