This Week's Features:
---
How Chesapeake friends and neighbors plan to seize the sultry days of summer.
---
State uses eBay to rid its vaults of unclaimed property. by Bethany Rodgers
---
Twin Beaches try a not-so-new way to get around. by Michelle Steel
---
Maryland's past poet laureate and St. Mary's College professor has written 10 poetry collections, 19 children's books and her autobiography. by Margaret Tearman
---
Once more this summer, Bay Weekly's "Indispensable Guide to Summer on the Bay" brings you 101 ways to harvest the delicious pleasures of summer. Again this year, kids get their own 101 Ways to Have Fun.
---
---
It's not only swans and snakeheads; recovering American natives are irrepressible
One man's junk is another man's treasure.
Who hasn't heard, read or spoken the above seven words, usually involving flea markets, lawn sales and dusty old shops that trade under the guise of collectibles. 'Tis absolutely true, but it's not necessarily confined to buying, selling and bartering.
---
So good and easy they must be from the Garden of Eden
Imagine picking a ripe fig and eating it fresh from the plant. You can do better than imagining this treat. Figs are a simple fruit to grow and never need to be sprayed because they have no enemies: Neither insects nor disease affect them.
---
Pollinating honey-makers in decline
Kids everywhere may revel in the fact that bees are no longer stinging them as frequently on playgrounds and in backyards. But the decline in honey bee populations in the U.S. and elsewhere signals a major environmental imbalance that could have far-reaching implications for our agricultural food supply.
---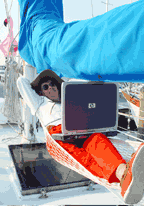 Gunk- Holin'
by Alice Snively
But first, update your charts for a new season
It sometimes happens, even early in the season, that the weather turns hot and muggy and the breezes blow everywhere except where you are. Traditional gunkholing takes us to places that are remote and protected. We want the seclusion and the lush surroundings. The downside of this is that in hot, stagnant weather these places can be miserable. For those days, I offer a breathable gunkhole on the Eastern Shore.
---
Mars has lost its recent luster
The waning moon slips into pre-dawn skies this week, with Friday's last-quarter moon rising around 1:48am and then about 25 minutes later each day after. Sunday and Monday, that puts the crescent moon to either side of Mars as they rise in the east after 2am.
Illustration: © Copyright 1925 M.C. Escher/Cordon Art-Baarn-Holland; Graphics: © Copyright 2007 Pacific Publishers. Reprinted by permission from the Tidelog graphic almanac. Bound copies of the annual Tidelog for Chesapeake Bay are $14.95 ppd. from Pacific Publishers, Box 480, Bolinas, CA 94924. Phone 415-868-2909. Weather affects tides. This information is believed to be reliable but no guarantee of accuracy is made by Bay Weekly or Pacific Publishers. The actual layout of Tidelog differs from that used in Bay Weekly. Tidelog graphics are repositioned to reflect Bay Weekly's distribution cycle.Tides are based on National Oceanic and Atmospheric Administration and are positioned to coincide with high and low tides of Tidelog.
---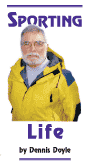 A long shot hits a bulls-eye
Last year I spent May and a lot of June complaining about the poor crabbing in our sector of the Bay. This year, facing the effects of yet another cool spring — poor crabbing — I intended to do something about it.
---
June is Great Outdoors Month in Maryland … Still time for solar energy grants … Naval Academy chooses Anne Arundel to lease its former dairy farm … Natural Resources Police find a boat overturned in a pound net in the West River … Steny Hoyer adds another first; he's Maryland's longest serving congressman … $150 vouchers to homeowners to replace ash trees cut down after discovery of the emerald ash borer ... Annapolis Mayor Ellen Moyer wins applause at her alma mater, Penn State … Plus, Creature Feature A seven-foot-long Atlantic sturgeon — the likes of which haven't been reported in Chesapeake Bay for 35 years — netted off Tilghman Island
---
"We no longer have the luxury of time," says 83-year-old former state senator Bernie Fowler, of Broomes Island.
He doubts he will live to see the recovery of his beloved Patuxent, Maryland's longest river, rising and ending within our state. He fears that neither you nor I will live to see that happy day. For already the wait has stretched, seemingly, as long as that river's 110 miles.
---
We welcome your opinions and letters – with name and address. We will edit when necessary. Include your name, address and phone number for verification. Mail them to Bay Weekly, P.O. Box 358, Deale, MD 20751 • E-mail them to [email protected]. or submit your letters on line, click here
Close Encounters with Bay Weekly
Remembering George Schaun
Seeking Whitey's Recipes
Department of Corrections
---
Summer concerts: Music, friends, boats and the Bay: We like it this way. by Dotty Holcomb Doherty