This Week's Features:
---
What do to — and not to do — when wild things move in. by Sandra Olivetti Martin with Vicki Marsh, Valerie Lester and Margaret Tearman. Illustrations by Betsy Kehne
---
Horseshoe crabs coming to a beach near you. by Leslie Miller
---
In the hands of Super Man Magician, things are not as solid and unchanging as they seem. by Michelle Steel
---
After 28 years in the toy business, BeBeep co-founder Jeff Franklin wonders what's next. by Carrie Madren
---
Kids' nest boxes put roofs over heads. by Bethany Rodgers
continue reading...
---
Once more this summer, Bay Weekly's "Indispensable Guide to Summer on the Bay" brings you 101 ways to harvest the delicious pleasures of summer. Again this year, kids get their own 101 Ways to Have Fun.
---
---
A haircut teaches a lesson in giving
So much has been written about long flowing tresses, but nothing says it better or more concisely than those dozen words from I Corinthians. Long flowing tresses of gold are the paramount beauty.
---
Undermining the holly leaf miner and midge
The beautiful, native American holly thrives in Southern Maryland. Some of the best in the state grow in Chesapeake Country. Dark green leaves — accompanied by bright red berries in the late fall — make this small tree an ideal landscape plant, perfect for screening.
---
A solar water heater will do the Earth — and your wallet — good
An average four-person household with an electric water heater needs about 6,400 kilowatt-hours of electricity per year to heat its water, according to mechanical engineers at the University of Wisconsin's Solar Energy Laboratory. Assuming the electricity is generated by a typical power plant with an efficiency of around 30 percent, it means that the average electric water heater is responsible for about eight tons of carbon dioxide annually, which is almost double that emitted by a typical modern automobile.
---
Chesapeake Bay is highly invaded
Our trawler Bright Pleiades is moored within a green curve of forest and marsh at the head of the Rhode River. The springtime anchorage, surrounded by the preserve of the Smithsonian Environmental Research Center, appears as pristine as any on Chesapeake Bay. But beneath the mirror of water and along the shore, a silent biological invasion has been underway since Europeans arrived.
---
Not just a tired old saying, this moon keeps it together
Thursday, May 31, marks the second full moon of the month. Common lore tells us that in any month with two full moons, the second is a Blue Moon.
Illustration: © Copyright 1925 M.C. Escher/Cordon Art-Baarn-Holland; Graphics: © Copyright 2007 Pacific Publishers. Reprinted by permission from the Tidelog graphic almanac. Bound copies of the annual Tidelog for Chesapeake Bay are $14.95 ppd. from Pacific Publishers, Box 480, Bolinas, CA 94924. Phone 415-868-2909. Weather affects tides. This information is believed to be reliable but no guarantee of accuracy is made by Bay Weekly or Pacific Publishers. The actual layout of Tidelog differs from that used in Bay Weekly. Tidelog graphics are repositioned to reflect Bay Weekly's distribution cycle.Tides are based on National Oceanic and Atmospheric Administration and are positioned to coincide with high and low tides of Tidelog.
---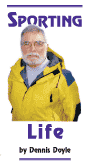 It's the rockfish version of an All-Night Chesapeake Seafood Festival
A week ago, I was totally prepared. Gifted with a placid Chesapeake morning, I had my skiff's cooler full of live soft crabs; fresh, iced alewives; even a few eels.
---
Constellation Energy's $9 million clean-up deal sinks $100k into Blackwater marsh … In Chester, proof that development can be environmentally friendly … Maryland Congressman Wayne Gilchrest leads the Republican push for a sustainable energy policy … While over in the Senate, Ben Cardin has his own ideas … Across America, rallying for whales … and last but not least, this week's Creature Feature: In Indonesia, missing prehistoric fish caught — eaten…
---
Bringing Down the Hammer
The state of Maryland's emphatic NO last week to a huge development on an island just east of the Bay Bridge was a bigger deal than you might think.
---
We welcome your opinions and letters – with name and address. We will edit when necessary. Include your name, address and phone number for verification. Mail them to Bay Weekly, P.O. Box 358, Deale, MD 20751 • E-mail them to [email protected]. or submit your letters on line, click here
Get Over It: Revive Water Transport
Reviewer, Take a Bow
Bus Stops Offend with Advertising
---
Another Year Older, Another Trip to the Dump
by Elisavietta Ritchie
You must prepare to trip more than the light fantastic to the county dump even on a birthday, and not just for the inherent symbolism.
Before my annual outing to unload baggage of an old year, I celebrate with a huge feast of friends old and new.
---
Godspell under the stars: Moments of joy and celebration at Annapolis Summer Garden Theatre. reviewed by Davina Grace Hill
---
---
---