This Week's Features:
---
Once a year, garden gates are unlocked, curtains pulled aside, doors thrown open — and the curious are invited to c'mon in and take a peek. Don't we all have just a little bit of an urge to go where we usually aren't allowed? To venture into private spaces, catch a glimpse of how others live? Home and garden tours abound this time of year to satisfy our curiosity while raising money for good causes. by Margaret Tearman
---
Sample the soup of nearly 2,500 bills that has brewed during this General Assembly.
by Carrie Steele
---
But granddaughter knows no bunny wears shoes
It had to happen, the magic of innocence flee, but why so soon? Why now?
When Easter dawned up here in Northern Anne Arundel County, and the first chimes from the steeples sounded, Grumpy was already awake. The day is second only to Christmas to a five-year-old.
---
Tall perennials and grasses flourish with cutting
Your best defense against unruly ornamental grasses and tall perennials is a good pair of hedge clippers. This tool also comes in handy when it's time to discard long bulky grass stalks; use it to cut stalks into manageable six-inch pieces.
---
Everyday people can help big companies go green
Beyond the simple exercising of one's own purchasing power, there are many actions consumers can take — and organizations and resources available to help — to pressure companies to green up their ways.
---
Let the Big Dipper guide you through the heavens
While the Big Dipper is not even a constellation, rather an asterism, a segment of the Great Bear Ursa Major, it is easily the most recognized shape in our night sky. For the next few weeks it's directly overhead from sunset to midnight. Looking beyond the Dipper's familiar outline, it's also a guide to the universe beyond. continue reading...
Illustration: © Copyright 1925 M.C. Escher/Cordon Art-Baarn-Holland; Graphics: © Copyright 2007 Pacific Publishers. Reprinted by permission from the Tidelog graphic almanac. Bound copies of the annual Tidelog for Chesapeake Bay are $14.95 ppd. from Pacific Publishers, Box 480, Bolinas, CA 94924. Phone 415-868-2909. Weather affects tides. This information is believed to be reliable but no guarantee of accuracy is made by Bay Weekly or Pacific Publishers. The actual layout of Tidelog differs from that used in Bay Weekly. Tidelog graphics are repositioned to reflect Bay Weekly's distribution cycle.Tides are based on National Oceanic and Atmospheric Administration and are positioned to coincide with high and low tides of Tidelog.
---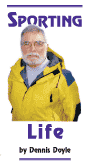 Despite April's chill, everywhere there's water, there are fish
Outside my window the wind is thrashing the trees, the sun is absent and snow flurries are forecast for the next two days. Enjoying April, at times, can be challenging, but this month will also bring a breathtaking explosion of angling opportunities.
---
Tree Swallows Fly in with Spring
Build them a home and they will come
The world was in turmoil when those words were published, but the vicar of Selborne was thinking about birds, tortoises, insects, earthworms and all kinds of plants and animals. He believed in nature's ability to withstand disaster, and he celebrated the efforts of human and animal communities to survive. His message resonates today, when his classic book of nature writing is still in print. Continue reading...
---
General Assembly paints Maryland a brighter shade of green … John Smith water trail and 155 other Chesapeake Bay Gateways celebrate $739,000 behest from Maryland Senators … Down with a dam on the North Branch of Potomac River … and last but not least, this week's Creature Feature: Once again, spring brings bad news to the Shenandoah River in the form of dead fish. Too much stress, scientists hypothesize…
---
General Assembly Quits with Work Half-Done, But We'll Help You Keep Your House in Order
If you're like us, you've been tidying up the homestead, planting seeds, hunting termites and fixing what broke over winter.
---
Restoring a Barn
Cheering the Bay's Blast from the Past
---
Planting Family Fruit
Can fancy mountain apples adapt to a sprinkle of salt in their diet?
by Elisavietta Ritchie
---
---
---
---
---