This Week's Features:
---
Banneker-Douglass exhibit preserves more than a century of memories from north Arundel African Americans. by Ben Miller
---
The robotic Power Hawks of South River High School live to play another round. by Ben Miller
---
New bill would patch up patchy watershed funding. by Carrie Madren
---
How March winds taught teens a lesson. by Margaret Tearman
---
After more than 20 years at the Stadium, Cole Bros. Circus relocates its tiny town of animals and performers. by Carrie Madren
---
Zealots pellet me with wrathful words
C.D. is among many range riders who took offense at last week's column suggesting fellow outdoor writer Jim Zumbo should not have lost his popular TV program, his job as gun editor of Outdoor Life, official communications with the four-million-member National Rifle Association — all for ridiculing those brave hunters who sally forth with assault-type weapons to shoot fierce prairie dogs just for the fun of it.
---
Take it easy for best results
With a little time and modest effort, your garden will be a fertile bed for your desired plants. Most home gardeners think that dead plants must be pulled up by their roots and discarded, the soil must be spaded and the land raked smooth. These are all backbreaking chores that waste time and that work against your plants. If your garden produced bounty last year, follow these Bay Gardener tips for an even better garden this year.
---
Ship fragiles safely with eco-alternatives
Where can I find non-polluting alternatives to those foam packaging peanuts used for shipping fragile merchandise?
—Brian Smith, Lynwood, Wash.
---
Four of the 10 brightest stars hunt with Orion
The figure of Orion hulks over the western horizon at sunset, around 7:25 this week. The great hunter was a giant able to wade through the oceans and also the most handsome man ever. His constellation, perhaps the most recognized, is grand and beautiful, too. Rigel, Orion's leg, is the seventh-brightest star in the heavens; Betelgeuse, the hunter's right shoulder, is 10th brightest. Three brilliant stars, the String of Pearls, form his belt, while his distinct hourglass shape stands out among the heavens as the most human-like constellation. continue reading...
Illustration: © Copyright 1925 M.C. Escher/Cordon Art-Baarn-Holland; Graphics: © Copyright 2007 Pacific Publishers. Reprinted by permission from the Tidelog graphic almanac. Bound copies of the annual Tidelog for Chesapeake Bay are $14.95 ppd. from Pacific Publishers, Box 480, Bolinas, CA 94924. Phone 415-868-2909. Weather affects tides. This information is believed to be reliable but no guarantee of accuracy is made by Bay Weekly or Pacific Publishers. The actual layout of Tidelog differs from that used in Bay Weekly. Tidelog graphics are repositioned to reflect Bay Weekly's distribution cycle.Tides are based on National Oceanic and Atmospheric Administration and are positioned to coincide with high and low tides of Tidelog.
---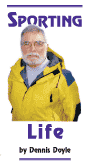 Yellow perch are biting — when the weather allows
The Tuckahoe was still. A flooding tide had stifled the river's normal current and held the water high on its banks.

---
Earth Journal by Gary Pendleton
Red-Backed Salamander
Invisible beneath your feet, they dominate the forest
---
Annapolis Rocker Niki Barr Advances in Music Nation Competition
by Sam Farmer
---
Ex-Gov. Robert Ehrlich and wife Kendel sign on to talk two Saturday hours on WBAL radio … Lawmakers scoop Maryland terrapins out of the soup pot … Maryland wine needs a your grapes … Homeland Security beefs up St. Leonard Volunteer Fire and Rescue Squad to the tune of $272,000 … and last but not least, this week's Creature Feature: Tasmanian devils attacked by cancer. continue reading...
---
Springtime Perils of a Beckoning Bay
Chesapeake Country natives don't need newspapers or books to tell them that spring turns the Bay's always-fickle weather reckless as a teenager. Newcomers — for whom Chesapeake Bay has always been a magnet — may have taken warning from James Michener's Chesapeake, the primer for modern-day water-drawn emigrants. But weather watchfulness is a lesson easy to forget when a warm day calls you to the Bay. So it's a lesson worth repeating — as Margaret Tearman does in this week's paper. continue reading...
---
Happily Puzzled
Valentines to Veterans, Revisited

Department of Corrections
---
My Find of a Lifetime
On Calvert beaches, get in touch with the past
by Michelle Steel continue reading...
---
2nd Star Production's Run for Your Wife. reviewed by Dick Wilson
---
---
---
---