This Week's Features:
---
This year, oystermen averaged $6,666 each for six months of cold, backbreaking work. by Mick Blackistone
---
Ever faithful, they're back by St. Patrick's Day. by Dotty Holcomb Doherty continue reading...
---
Students lobby to slow global warming, as pols urge going slow. by Carrie Madren continue reading...
---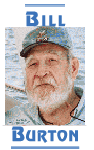 Any gun goes is enough to blow your mind
Pardon me. At the offset this week, I plead guilty to ignoring two basic tenets of journalism, a trade I have pursued for more than 60 years. But methinks I do so with good cause.
---
Heavy pruning now ensures beautiful blossoms later
Forsythia announces that spring is here to stay, while butterfly bush, formally buddleia, not only blossoms with beautiful summer flowers but also attracts butterflies.
---
Where we've been and where we hope to take you.
We surprised even ourselves when we sold our J/30 sailboat, bought a secondhand 40-foot Albin trawler named Bright Pleiades, and — gasp — left our jobs to fix up the boat and move aboard. continue reading...
---
On the bright side: expensive oil, global warming and innovation
The prospect of generating pollution-free power from the sun's rays is appealing, but to date the low price of oil combined with the high costs of developing new technology have prevented the widespread adoption of solar power in the U.S. and beyond. At a current cost of 25 to 50 cents per kilowatt-hour, solar power costs up to five times more than conventional fossil fuel-based electricity. And dwindling supplies of polysilicon, the element found in traditional photovoltaic cells, are not helping. continue reading...
---
With spring comes the return of light
This week the sun moves from a path below the equator to one above it, and on Tuesday, March 21, it hovers directly over the equator, equally dividing our hours of daylight and darkness.
Illustration: © Copyright 1925 M.C. Escher/Cordon Art-Baarn-Holland; Graphics: © Copyright 2007 Pacific Publishers. Reprinted by permission from the Tidelog graphic almanac. Bound copies of the annual Tidelog for Chesapeake Bay are $14.95 ppd. from Pacific Publishers, Box 480, Bolinas, CA 94924. Phone 415-868-2909. Weather affects tides. This information is believed to be reliable but no guarantee of accuracy is made by Bay Weekly or Pacific Publishers. The actual layout of Tidelog differs from that used in Bay Weekly. Tidelog graphics are repositioned to reflect Bay Weekly's distribution cycle.Tides are based on National Oceanic and Atmospheric Administration and are positioned to coincide with high and low tides of Tidelog.
---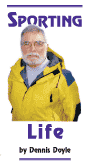 The best lures walk the walk and talk the talk
I had some great luck with rockfish over the last few years casting three particular lures on light tackle. These original creations — shamelessly copied and recopied, over the years — remain among the best fish getters you can buy. continue reading...
---
Chesapeake Bay Program's new director brings at least one needed skill to the much-criticized restoration effort: conflict resolution … Marylanders want their food locally grown … For Rockhold Creek, new lights and dredging needed to keep boaters off rocks and shoals … Chestertown is one of a Dozen Distinctive Destinations … Anti-war demonstrators sit in at Sen. Barbara Mikulski's offices … and last but not least, this week's Creature Feature: Will Arctic spiders help gauge global warming? continue reading...
---
St. Patty's Seafood: O'Malley's Oysters With a Dash of Hope
In this issue we bring you the story of a waterman's experience at the end of oyster season. You'll get a taste of what it takes to make a living on Chesapeake Bay. continue reading...
---
Surf's Up! But It's Not Our Fault
Doyle Paints with Words
Department of Corrections
---
The Hazards of Motherhood
Everything is better after sleep. by Janice Lynch Schuster continue reading...
---
Dr. Jekyll & Mr. Hyde: This fascinating dramatization of the complex connection of good and evil is not only entertaining from beginning to end — it's a musical masterpiece. reviewed by Dick Wilson
Bay Theatre Company's Picnic: Change may have outdistanced this play about change. reviewed by Dick Wilson
---
---
---
---