Save this Old Barn
Jug Bay seeking loving owner for its #3 tobacco barn — free
by Carrie Steele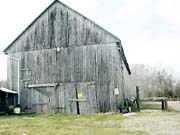 Jug Bay Wetlands Sanctuary has room for box turtles, salamanders and native wildflowers. But an old tobacco barn has got to go. The 40-by-70-foot barn is free for the taking — so long as the new owner dismantles and moves it. Finding that new owner is the challenge.
So far, an advertisement placed on the online marketplace Craigslist.com on January 13 has yielded no offers.
"There's no interest at all," said sanctuary director Chris Swarth. "I've called up a bunch of historical societies, but no one's interested. People put a lot of effort into saving ones that are in place." It's relocation that daunts potential barn-owners. So the barn continues to weather at the Lothian sanctuary.
Jug Bay has nothing against barns; it's the land they covet.
"We're going to convert that space into a wildlife meadow and do some restoration. We've been removing man-made stuff," Swarth said of one of seven tobacco barns on the Anne Arundel County property.
"We don't know what to do with any of them," Swarth said. "The county has no money to manage or maintain them."
In addition to barns, Jug Bay has six houses and 25 sheds taking up space that could be used for wildlife. They demolished a house last November and have hauled some 25 junk cars from the property.
The exterior siding is not in great shape, the Craigslist ad reads, though timbers and supports are in good shape and there are many old poplar rough boards for holding tobacco leaf hands.
"The barn's in funky shape," summed up Swarth of the 60-year-old, unpainted, empty structure.
Still, lack of interest surprised Swarth.
"You read how people are interested in tobacco barns. I thought there might be a group that would want it," he said.
If barn-rescuers don't appear, Jug Bay plans to demolish the old building, Swarth says.
Have room for an old tobacco barn? Contact Chris Swarth at Jug Bay:

[email protected]

to find out how to claim this antique.