The lights fall and the crowd hushes in expectation. The curtain parts, and the first actor enters the set. Onstage, you'll see George Bernard Shaw's Arms and The Man at Bay Theatre Company; Cole Porter's Anything Goes at Bowie Playhouse or Leiber and Stoller's Smokey Joe's Cafe at Chesapeake Music Hall.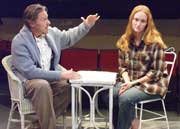 photo by Ken Sabel, courtesy of Colonial Players
Colonial Players open its 56th season with David Auburn's acclaimed tragi-comedy, Proof. Jim Reiter plays Robert and Kelly Meridith McPhee portrays his daughter Catherine.
Why those choices — out of thousands of musicals, comedies, satires, dramas, romances, classics, Broadway hits and abstracts in the theatrical world?
When theater groups choose their repertories, they look first at what they have to work with: their stage; the strengths and weakness of their company; how much money they have; who's in their pool of actors; and, above all, the kind of plays you have voted for at the box office.
Which shows to put on their calendar may be the single biggest decision of any theater. Theaters live or die on choices that lure audiences to opening after opening or that earn the buzz that fills their seats night after night.
As the curtain rises on the 2004-'05 theater season, companies throughout the area are crossing their fingers that they've chosen well.
Colonial Players

The matriarch of Chesapeake community theater has tricks up her sleeve …
At 55 years old, Colonial Players is the grande dame of Chesapeake community theater. But the matriarch has tricks up her sleeve for the many season ticket-holders who fill the 180-seat theater-in-the-round year after year.
Step in off State Circle, and you'll find yourself in a just renovated lobby, with a bar in the reception area, a new cloak room to stow your coats and jackets and the just-finished bathroom off the lobby that will be a welcome addition to theater-goers for whom the trip upstairs had been a problem.
The next surprise is Proof, a Broadway comedy making its debut in the Annapolis area this month after snagging both the 2001 Pulitzer Prize and the Tony award for best play.
"We wanted to set the bar high for ourselves," says artistic director Darice Clewell.
Colonial makes a tradition of performing plays new to Chesapeake Country, but the novelty of each year's surprise makes this a tradition that never grows old. Three more comedies and one musical drama make up this year's five play season.
Proof is a family tragi-comedy about Catherine, daughter of a brilliantly famous mathematician, as she struggles through her emotions and relationships, as well as what genius, madness or both she's inherited from her father.
Come March, Colonial Players serves up another new-to-Annapolis Broadway show, a musical they've had their eye on for over a decade — Assassins. The musical drama is an emotion-packed show that follows the paths to violence of nine presidential assassins.
"It's very unusual and non-traditional community theater fare," says Clewell.
Colonial Players tries hard to prove that anything can be done in the round, on their stage surrounded on all sides by seats. Challenging sets become like puzzles.
Each year, Colonial Players also fishes for one or two shows that are difficult in technical aspects to challenge light, props or set crews. Next May, Last Night in Ballyhoo, set in 1939 on the eve of Gone with the Wind's premier, will be a heyday for costumers outfitting characters in period clothes and hoop skirts à la Scarlett O'Hara.
Colonial Players also wants new volunteers to learn the ropes on simpler plays.
Their annual December production of The Christmas Carol, adapted from Charles Dickens by past members of Players, fits neatly into their theater-in-the-round space.
Colonial Players strives to interest returning play-goers and audiences of all ages new to theater.
Two comedies, in particular, will entice younger audiences as well as the regulars. In Kid Purple, the main character must figure out how, with his head naturally purple from the neck up, he fits in and connects with people. In As Bees In Honey Drown, a young New York writer's fast success leads him to a con-artist celebrity who dupes him; his world is turned upside down before he figures out a plan.
For this year's last surprise, The Players have woven a thought-provoking theme through the selections, Where does one fit into community, society, religion or family? Each of the shows in Colonial Players' 2004-'05 season answers these questions in its own way.
"We like to feature shows that challenge the audiences as well as the play-makers," says Clewell.
Chesapeake Arts Center

To the north, Chesapeake Arts Center is home
For northern Anne Arundel, Chesapeake Arts Center is home, making room for various theater groups on its two stages, one seating 900 people, the other 100.
The Actors Company Theater, Baltimore Children's Theatre, Do Or Die Productions, Harbor City Music Company, Merely Players, Musical Arts Theatre and Pasadena Theatre Company have all moved in, and some out, since the Arts Center opened in 2001.
This season, Chesapeake Arts Center puts on a show of its own: Nunsense.
"Nunsense is a popular show: it's very funny, plus it has a small cast and an easy set construction," says the Center's David Jones. For this, their first production, the Arts Center wanted a tried-and-true show, which they found in this musical comedy about, naturally, nuns. It opens in the smaller theater, which they hope to sell out.
Come December, they'll share their stage with Merely Players, which produces "mainly big musicals," says Jones, though the musical-minded group also does dramas. This time it's Little Women, so you'll watch the lovable March sisters grow from children into women in time for the holidays.
If your tastes run more to puzzling murder mysteries than to heart-warming drama, Do or Die Productions stages half-dramatized, half-improvised murder mysteries. Audience members are the investigators, interacting with the actors and putting in their two cents about who dunnit. Murder in the Cards brings intrigue to the Arts Center's smaller stage this October.
Chesapeake Arts Center even has fare for kids. Baltimore Children's Theatre brings fairy tales and classic childhood stories to life: this month, with Alice in Wonderland, and, in November, Cinderella. "These Saturday matinee shows are by children and for children," says Jones.
Under this big roof, there's room for many tastes.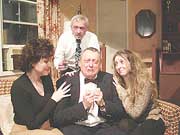 photo courtesy of 2nd Star Productions
Last spring's performance of The Odd Couple by 2nd Star Productions.
2nd Star Productions

"Like our name, we are 'productions'. People should have their toes tapping as they walk out" …
2nd Star Productions pulls in audiences with flashy bait.
"Like our name, we are 'productions,'" says co-founder Jane Wingard, "Not blackbox theater."
That means 2nd Star selects shows is can turn into full-blown productions, not simple-set, single-room small dramas.
"We like to do Broadway musicals that haven't been done to death in the area," says Wingard. This fall brings Anything Goes, a nautical romance of love triangles and gangsters on the run, featuring Cole Porter's sprightly musical score.
One show a year, however, is a non-musical comedy. This year it's Room Service, coming in February, a slap-stick Marx Brothers comedy.
"We try to engage all aspects of theater," says Wingard, including music, acting and education.
To add to its educational side, the group created 2nd Star Junior to get kids interested in theater. Last year, The Princess and the Pea introduced children to plays; this year it's Cinderella.
Each 2nd Star Junior production, brimming with audience participation, is staged around the existing set for the main production, which means Cinderella gets a maritime theme when adapted to the Anything Goes set.
While 2nd Star Junior lures younger audiences, 2nd Star Productions caters to an older audience.
Keeping track of audience attendance also helps 2nd Star pick its shows: "We choose productions we love, can do a good job with and that will pay the bills," says Wingard.
At the same time, "We try to keep the prices low," she says, so people can afford to see quality productions.
"I go to big tour shows, and think, 'we can do even better,'" says Wingard, "It's a shame local arts don't get as much local recognition."
Still, 2nd Star selects family-oriented performances to keep the audiences smiling.
"There's plenty of things to make us sad," says Wingard. "An evening at 2nd Star is not going to do that. People should leave the theater feeling inspired, not depressed. They should have their toes tapping as they walk out."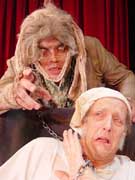 photo courtesy of Chesapeake Music Hall
Marley haunts Scrooge in Chesapeake Music Hall's ever-popular adaptation of A Christmas Carol.
Chesapeake Music Hall

"We want this season to be like nothing people have ever seen here before" …
Chesapeake Music Hall is the glamorous Auntie Mame of Chesapeake theater.
This year, for their 10th anniversary season, the Music Hall is running shows longer than ever before and trying for a winning mix of new shows and audience favorites.
Chesapeake Music Hall's main fare is musicals.
"Musicals work best for our space," says publicist Heather Scheeler. Dance numbers are especially effective because of the three-quarter thrust stage. The 250-seat audience is right next to performers; shows are up close and personal.
The theater's area is an advantage for many shows, with aisles that can be integrated into musical or dramatic scenes.
The low ceiling, however, may exclude some shows from the Music Hall's calendar. You won't see big scenery shows like Les Miserables or Phantom of the Opera at Chesapeake. "The chandelier would be right over top of the audience," says Scheeler.
But their stage does make the audience feel like it's a part of the show.
"When we did Swing, you felt like you were right in a cabaret nightclub," says Scheeler. "We had an ideal space that made it intimate and magical."
In selecting their season's slate, the Music Hall looks at what's been popular. They also get direct feedback from their audiences, so you can be sure your vote counts here.
"We look at the comment cards for requests," says Scheeler, "and we keep a tally."
Besides the audience, Chesapeake Music Hall polls its performers to find fresh ideas.
This season opening September 25 is Kiss Me Kate, a Cole Porter musical based on Shakespeare's Taming of the Shrew.
The Music Hall chose Kiss Me Kate because it hasn't been done in the area before and received interest from Music Hall directors and talent pool. "It's popular but not overdone," says Scheeler.
Their Christmas shows include a sentimental favorite and, new last year, a musical review. The Music Hall presents a musical version of A Christmas Carol, while the musical review Yuletide Cheers brings you holiday favorites like "Rockin Around the Christmas Tree," "Let It Snow" and "It's the Most Wonderful Time of the Year."
For the new year, the Music Hall usually picks something "upbeat and fun," says Scheeler, something that will appeal to the New Year's Eve crowd and still tickle through Valentine's.
Next comes the spring show, usually student-oriented for the Music Hall's many student-group audiences as well as for regular theater-goers. This year's spring show, 1776, about the signing of the Declaration of Independence, makes a night at the theater a history lesson with ties to Annapolis' past.
School-year shows tend to be more family-friendly, while summer shows tend to be edgier and more adult-oriented, says Scheeler. The theater is wrapping up West Side Story this month.
For their big anniversary season, Chesapeake Music Hall is pulling out all the stops.
Says Scheeler, "We want this season to be like nothing people have ever seen here before."
photo courtesy of Bay Theatre Company
Bay Theatre Company's season opener, Crimes of the Heart, is a a strong script with strong women characters.
Bay Theatre Company

"We want our audience to be transformed when they leave the theater" …
"We've seen a lot of theater and we do what we feel passionate about," explains Bay Theatre Company's associate artistic director Janet Luby. "So far we've been on the money."
Introducing the area to professionally produced theater, this three-year-old prodigy seeks plays of quality, whether classic or contemporary. Its choices run to complex, difficult dramas that most other companies would find risky in the extreme.
For now, Bay Theatre Company keeps its casts small, around six characters. But the company attracts union actors to its professional theater from all over the Baltimore–D.C. area.
"We want to introduce people to new playwrights and expose them to new plays," says Lucinda Merry-Browne, the artistic and managing director.
Bay Theatre looks for a combination of serious, intense drama balanced with sophisticated comedy. With one musical under their belt, they've slated dramas for this season to continue building an audience.
As well as attracting an audience, Bay Theatre Company is also hoping to bring more life to their end of town, on West Street near the Spa Creek traffic circle. To entice theater-goers, they have partnered with restaurants — Paul's Homewood Cafe, India's and Reynolds' Tavern — for a 10 percent discount at both restaurant and theater when customers make an evening of it.
Bay Theatre Company's season opens October 8 with Crimes of the Heart, a southern comedy of three sisters returning to their home, each with her own stories. Beth Henley is the company's first southern playwright.
"Crimes of the Heart is a strong script with strong women characters," says Luby. "It's intense, with wonderful moments that really make you think."
February brings Betrayal, a drama of deceit in the lives of three characters that "will rivet people," said Merry-Browne.
They aim for one classic every season. This year it's Arms and the Man, by George Bernard Shaw. This satire on war is a true comic masterpiece that is "not done terribly frequently," says Merry-Browne.
In this third season, Bay Theatre Company chose plays that will move people. "We want our audience to be transformed when they leave the theater," says Luby.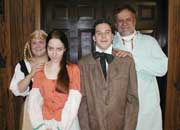 photo courtesy of Twin Beach Players
Jennifer Richmond as Lanya, Emily Waymaire as Sophia, Justin Cristofel as Leon and Tom Wines as Dr. Zubritsky in Fool.
Twin Beach Players

"Always trying to do bigger, better and more involved shows" …
Even at eight years old, Twin Beach Players is still the new kid on the block in spirit, "always trying to do bigger, better and more involved shows," according to Players president Sherry Hall.
Their typical year features family fare that appeals to a broad audience, including kids, without stepping on the toes of nearby Chesapeake Youth Players.
One goal is to draw new people into theater, says producer Jennifer Banks. The small community theater likes to draw in new actors — even ones who've never set foot on a stage.
The all-volunteer group puts on three or four shows a year.
Jeff Larsen, one of the Players' two directors, looks for shows he's been impressed with in other theaters.
"You also have to make sure you can cast the show," Larsen says. "We're driven by what we're comfortable doing."
Twin Beach Players typically casts its net for plays with a small cast, usually six to eight people. The Foreigner, upcoming in November, has a cast of eight.
The Foreigner, a comedy of personality and disguise set at a fishing lodge in rural Georgia, has lured the Players for years. Director Sid Curl was friends with its writer, Larry Shue, whose life was cut short on the brink of success. Because of the intricate set requirements, the Players were limited by space until they found a home, the tiny but able Holland Point Community Center.
The group prides itself on comedy, which draws in audiences. The annual summer show, a free outdoors production on the North Beach boardwalk, is always an adaptation of a classic playwright's play. This year, it was Moliere's The Imaginary Invalid. Twin Beach Players hopes for a drama variety, but this spring it looks like a musical — if money allows.
Comedies abound at Twin Beach, where they're hoping to fill their seats with laughter.

photo courtesy of Moonlight Troupers
As aging star Dorothy Brock, Nori Morton flatters Walt League's producer Julian March.
Moonlight Troupers

The jack-of-all-trades of local theater, able to produce both Broadway musicals and 10-minute shows in the Mall …
Casting its nets wide, Moonlight Troupers at Anne Arundel Community College is the jack-of-all -trades of theater, able to produce both Broadway musicals and 10-minute shows in the Annapolis Mall.
Moonlight Troupers gets that versatility by casting a blend of community members and students.
"It gives students a chance to work with the community," says Barbara Marder, chair of the performing arts department at Anne Arundel Community College.

Fall semester always brings a major Broadway style musical.

"It was originally a time when we could get the college orchestra more easily," says Marder. "It's also a time when the high schools usually aren't doing their big musicals and when we have the largest number of students who want to participate."

Marder tries to select shows with lots of parts, for she wants theater-minded students to have performance opportunities.

At the same time, says Marder, "We don't want to burn our students out. We feel responsible for looking at the whole education of the student."

Spring semester blossoms with variety: every two years, the show is geared toward kids. Last year's season brought Beauty and the Beast. Every other year brings a serious American drama alternating with a comedy. This year it's comedy, though which has yet to be decided.

Also scheduled for April are two 10-minute staged readings for Annapolis Mall's public.

No matter how long or what type the show, it has to appeal to a general audience.

"We want a G- or PG-rated show," says Marder. "We have a tremendous number of families and seniors in the audience."

The Troupers also have to think about time when the audience isn't there. They share the Pascal stage with lecturers, other performances and other college events, a major consideration when designing the set.

"We can't do Man of La Mancha, which would require a sloped stage. We have to look at how much time we have exclusive use of the theater," says Marder.

The stage they share is a nice one: The Pascal Center theater has the only stage in Anne Arundel County with a full fly loft. It's one and a half times as high as the stage's proscenium so that scenery can be completely pulled out of view.

The Pascal theater's 25-year-old lighting system can keep them from doing certain plays, such as one done in black-and-white old movie style, but the department does boast strong scenery and lighting skills.

Working with what they have, Marder's department tries to put on the highest quality productions within budget, balancing practical considerations like expenses with learning.

"We want to put on a successful production," says Marder, "that at the same time challenges the participants."

photo courtesy of Pasadena Theatre Company
Last year's cast of Camelot.
Pasadena Theater Company

"We do shows we know people will like" …
Pasadena Theater Company is the gypsy of Chesapeake theater because of its lack of a stage to call home and its seasons of musicals mixed in with comedies.
Pasadena Theater Company seeks a mixed crowd, as you'll see in its season opener this November, Treasure Island. The company is playing it as an adventure, not a musical, with roles for children and adults. This voyage of fantasy, however, isn't just for children. Pasadena Theatre booked the show for its general audience allure.
"Not only hasn't it been done in this area," said Pasadena's production director Sharon Steele, "it has appeal because of the recent Pirates of the Caribbean."
Come December we'll return to snowy Bedford Falls with George Bailey as he discovers why he's got A Wonderful Life. This will be the show's sixth year with Pasadena's company and has proven itself an audience favorite.
Pasadena alternates A Wonderful Life, on even years, with the also popular holiday favorite, A Christmas Carol, on odd years. Both shows have to earn their keep by bringing in the holiday theater-goers.
If Pasadena has a motto, it's give the people what they want.
And what the people want this April, Pasadena believes, is Godspell.
"This is the third time we've done Godspell. And right before Easter is good timing for it," says Steele.
Sometimes Pasadena considers shows at the requests of special people. Says Steele: "My 84-year-old mother told me that before she dies, she wants to see Fiddler on the Roof again. Before we satisfy her wish, we want to make sure that we have the best musicians and the best staff."
Having the best staff also means casting people who are willing to pitch in with behind-the-scenes work.
"People who work the hardest get the parts," says Steele.
The hardest shows to pull off — and the most rewarding — are Pasadena's favorites: musicals.
"Musicals are really what we're about," says Steele. Pasadena is not in the business of doing shows just to be artsy or new-age. They look for shows that spell Broadway because, says Steele, "we do shows that we know people will like."

photo courtesy of Bowie Community Theatre
Murder mysteries, like last year's Dial M for Murder, are favorites at Bowie Community Theatre.
Bowie Community Theatre

"If it has murder in the title, we'll be successful" …
Sharing the stage at Bowie Playhouse is Bowie Community Theater, the mysterious dark stranger of the local theater world.
"We do non-musical, straight plays," says Joanne Bauer of Bowie Community Theatre. "Our favorites are murder mysteries: they do wonderfully in the box office. It doesn't even matter the playwright. If it has murder in the title, we'll be successful."
Their murder mysteries tend toward small casts, usually no more than 10 to 15 people.
In January, audiences will be reeled in with the psychological thriller Angel Street, based on the 1939 movie Gaslight.
April brings An Inspector Calls, a British intrigue with a relatively well-known title, says Bauer.
"It really has what our audience is looking for: a murder/intrigue show with an interesting message at the end," says Bauer.
"In An Inspector Calls, the parents in the family are so wrapped up taking care of themselves, they forget to look at what's happening in the world around them. They don't see the big picture. People are being murdered right around them, and they're blind to it. It's very thought provoking and will leave you thinking why don't we really consider what's happening around us."
Using murder mysteries to draw in their audiences works well to fill up a 150-seat theater that, says Bauer, "is very nice for a small intimate show."
photo courtesy of Annapolis Summer Garden Theatre
Shakespeare plays, like last season's Taming of the Shrew, are crowd-pleasers at Annapolis Summer Garden Theatre.
Annapolis Summer Garden Theatre
L
ike a visit to your grandmother's house in the summer …
A show at Annapolis Summer Garden Theatre's outdoor stage is like visiting your grandmother's house in the summer — comfortable and relaxed where you can count on something old and familiar.
The formula that the Garden Theatre has subscribed to is Shakespeare sandwiched between two musicals. The Summer Garden Theatre has been slating its summer-only season like this for six years, beginning its Shakespeare tradition in 1998 and finding great audience response.
Summer Garden Theatre returns to proven favorite fishing holes. You'll see mostly older musicals on this stage: "musicals that have withstood the test of time," says Caroyln Kirby.
For those selections, they choose productions geared to reel in audiences. Their season opener in June, Kirby says, should be a blockbuster: a production that people have heard of and recognize.
Their July production is, of course, Shakespeare.
"People from all over the area travel to see Shakespeare outdoors," said Kirby. "And people who don't know that they like Shakespeare end up loving it."
The Shakespeare selection provides a break from musicals, which are more demanding in sound, lighting and other technical aspects — though not in acting.
In August, the summer theater closes with a more family-oriented show to appeal to tourists and visitors looking for something beside the bar scene at night.
With its three-part summertime formula, Summer Garden Theatre's outdoor theater seeks to lure audiences of unseasoned theater-goers to the friendly playhouse under the stars.
Reeling You In

With the time, people, resources and money invested in each production, theater companies have little room for error in judgment. Each play has to be popular enough to support the group and to keep audiences returning after they strike the set.
Now each performance company will see how well it's baited the hook … if you are lured in.