Inside:

Our Lead Story
The Curtain Rises: Casting The Perfect Play

Editorial
Wanted: A 2004 Election Beyond Reproach

Letters to the Editor
Freedom Came First
Priced Out of Farming

Bay Reflections
Whispers in My Ear
by Vivian I. Zumstein

Bay Life
Kids Take a Bow It's Youth's Season, Too, in Chesapeake Country
by Carrie Steele

Bill Burton on the Bay
Before School, Life Is Sweet

Dock Of The Bay
Preparedness, vigilance, communication key to storm response
Only the voracious northern variety exiled
Osprey Get the Bum's Rush from Coast Guard
AskThe Plant Professor
Way Downstream

Earth Journal
Way Down Yonder in the Pawpaw Patch

Earth Talk

Is Breast Cancer a 20th Century Byproduct
On Our Cover:
Osprey Get the Bum's Rush from Coast Guard
Nests Demolished, Leaving Families Homeless
As fall nears, osprey that summered on the Chesapeake take flight, returning to their winter homes in Central and South America. Many birds have already left. Apparently none too soon for the U.S. Coast Guard, which has already demolished their nests on Rockhold Creek and will continue removing nests throughout the Bay.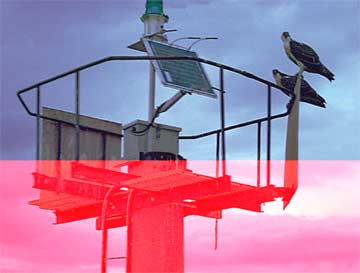 Flickerings
Parker on Paparazzi

Curtain Call
Colonial Players again proves itself capable of producing serious work of high professional caliber.
Reviewed by Dick Wilson