Inside:

Editorial
Will 'Priority Places' Run
Smart Growth into the Ground?

Letters to the Editor
Leopold Replies: The Timing is Right
Singing Dick Wilson's Praises
Still in Thrall to Lad A Dog
Parole's Sails Won't Furl

Bay Reflections
Summer's Black Treasure
by Vivian I. Zumstein

Dock of the Bay
Party by the Bay to Support Cancer Research
Laying Seige to Annapolis
Ask the Plant Professor
Way Downstream

EarthTalk
Who's polluting what where

Bill Burton on the Bay
Conventioal wisdom? Why bother?

Earth Journal
Zebra Swallowtail
by Gary Pendleton


On Our Cover:

Terrapin Triumph
Despite benign neglect, Maryland's state reptile makes a lovable poster child for Bay Restoration. by Carrie Steele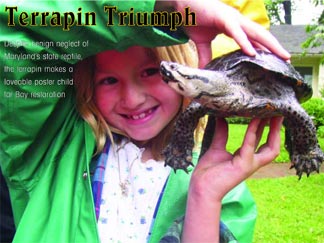 What's this? says tagged terrapin to camper Zoe, proving that terrapins put a cute and friendly face on Bay restoration. Photo courtesy of The Terrapin Institute.