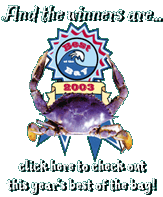 Not Just for Kids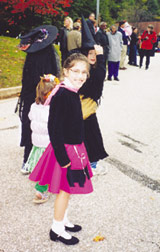 Phoebe Blume wears a poodle skirt for that '50s' look.
Start a Halloween Costume Trunk

written by Martha Blume

Looking for an idea for Halloween? Tired of searching through the acrylic mess at your local discount store? Is Mom too busy to sew the perfect costume? Are you weary of werewolves? Have monsters become too mundane?
You can put together your own Halloween costume from now on if you start a little early, are willing to spend a bit of your allowance and have a free Saturday morning to go on a treasure hunt.
The treasure you seek can be found in a variety of places, starting with your grandparents' attic or basement. Anyone who's lived in the same house for a number of years is bound to have some treasures hidden away.
Here are some of the things you might seek to fill your costume trunk:
Prom or bridesmaids' dresses, ties and suit jackets, Hawaiian shirts, poodle skirts, football jerseys, funny hats, costume jewelry, elbow-length gloves, scarves and shawls, uniforms, wigs, boots and fancy shoes and blankets for capes. Other sources for the goods are thrift stores and garage sales. Now, survey your goods and see what you can come up with.
Put together a poodle skirt, bobby socks, pink scarf, sweater and dangling earrings for that '50s' look.

A straw hat, boots and handkerchief could make a cowhand.

Use a colorful blanket and a Mexican hat to be a señor or señorita.

A prom dress, high heels and fancy gloves make a princess.

Be a hippy with a tie-dyed shirt, a wig and a headband.

A leather jacket and sunglasses makes you a motorcycle dude.
Now think of your own ideas. Have fun.

Don't forget to wear something bright and bring your flashlight when you go trick or treating. Be sure drivers can see you.
---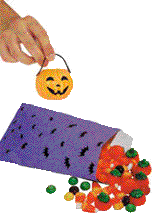 Treats that Make a Difference
Besides getting all that chocolate, consider trick or treating for clean water, immunizations, education, nutrition and health care.

The United Nations organization UNICEF provides bright orange boxes for coins that make a difference in the lives of children lives around the world. Just 3¢ buys a Vitamin A dose for one child to help prevent blindness.

$1 immunizes a child against polio for life. $2 provides food supplements for a malnourished child. $3.75 covers the cost of a "school-in-a-box," supplies needed for one child for one year of school in a developing country.

Get your boxes on-line or at stores listed at the UNICEF website: www.unicefusa.org/trickortreat/.
---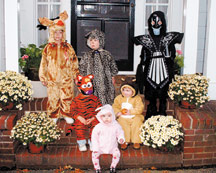 Kids' Stuff This Week
Creepy Critter Day
Kids 9 to 12 spend this school day off at the nature preserve, enjoying hikes, animals show, hands-on crafts and special outdoor activities. Come dressed to hike and bring a lunch. 8-5:30pm @ Watkins Nature Center, Watkins Park Dr., Upper Marlboro. $25; rsvp: 301/218-6702 • www.pgparks.com.

Monday, November 3
Family Night
Preschoolers and their parents wind down from their day with stories, music, activities and fingerplays. 7pm @ Eastport-Annapolis Public Library, Hillsmere Dr., Annapolis. free: 410/222-1770.

Tuesdays, November 4-25
Storytime
Kids 2 to 6 and their parents listen to stories and songs, make fingerplays and simple crafts. 9:30am for age 2; 10:30am for ages 3 to 6 @ Annapolis Public Library, West. St., Annapolis. free: 410/222-1750.

Fridays, November 7, 14, 21
Baby Signs
Babies 4 to 16 months and their parents learn how to communicate in American Sign Language from museum director Deborah Wood. The method, Wood says, enhances communication with babies. 10-10:30am @ Chesapeake Children's Museum, Silopanna Rd., Annapolis. $30/adult & child with discount, w/museum admission: 410/990-1993 • www.theccm.org.

---
Calling Chesapeake Country's 2003 Babies

We're collecting pictures of Bay Weekly's newest readers to spotlight on our last "Not Just For Kids" page of the year.

Send your favorite baby picture (with baby's and parents' name and address; baby's birthdate; your name and address) to: Bay Weekly P.O. Box 358 Deale, MD 20751 (original photos will be returned) or e-mail: [email protected].

Send digital photos in .TIF or .JPEG format at 150 dpi, no smaller than three inches wide.

Photos must be received by Thursday, December 18. We'll send family and baby a souvenir copy!