Spider webs are not just creepy and crawly, although spider critics would disagree. Orb webs, spun outdoors, are not as bothersome as cobwebs. Cobwebs are indoor spider webs, the ones we usually see in the ceiling corners of our basements and attics. They're the unsightly, annoying, sticky messes we feel compelled to demolish with brooms and mops.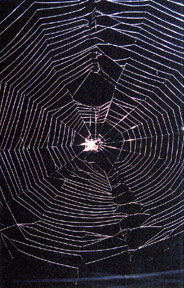 An orb web, on the other hand, is an artistic creation, more than just a place to trap needful things. The webs can be spun in under an hour but, because the silk is so fragile, they have to be mended or redone nearly every evening. They appear as white, willowy, flat circles that are suspended vertically. Better for trapping flying insects at night.

There are details in these webs. If you take a closer look, you can see a variety of geometric figures. You can locate radial lines, triangles, rectangles and circles. The spiral shape of the web starts at the hub or the center and moves outward. Then, as if making a U-turn, a second spiral returns back to the beginning.

The spiral has three main parts. The first section has the hub which is where the spider eats and relaxes and lurks. The second section is the free zone with no spirals. The third and largest section is the capture area where the prey is caught before being transported back to the hub for devouring.

Such artisan spiders utilize the skills of an architect in constructing clever web patterns. However, they don't take measurements, or use technology to calculate their geometric designs.

Find orb webs sparkling with dew these autumn mornings on shrubbery, fences and trees.

— Nadine Word
At Colonial Players, The Show Goes On

Stand-ins step up after Piano Lesson lead Felipe Harris hospitalized
mid-run
Seven performances into The Piano Lesson, lead actor Felipe Harris was hospitalized with what was described as a coronary issue, jeopardizing the scheduled 10 remaining performances of the 17-show run. "We're community theater, and we don't have the luxury of casting understudies," said Colonial Players' spokeswoman Carolyn Sullivan.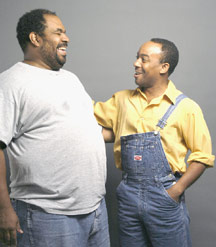 photo by R.A.R.E. Photographic
Felipe Harris with Lawrence K. Boyd.
Harris played Willie Boy, a Depression-era odd-jobber fighting for the one chance that would open up his world and liberate him. The Piano Lesson, the second play in Colonial Players' 2003-2004 season, is the company's second-ever production with an all African American cast.
Without a lead, the Thursday, October 30, production of The Piano Lesson was cancelled. But the Players' board of directors pulled back from striking the play, instead auctioning three possible stand-ins for Harris' high-energy, high-intensity role.
"They will carry on," said Sullivan, "reopening Friday, October 31."
Illness in the cast challenged the first production this season as well. In Over the River, chemotherapy forced Stan Morrow out of the role of grandfather Frank for two shows. Because many of Marrow's scenes were played seated on a couch, a sub sat in, reading his lines from an open playbook. Audiences at each of the two productions were alerted to the problem and solution.
But the mid-run loss of a lead is a first for the 54-year-old Annapolis company. How an actor on 48-hour notice will master the lead role in a play that runs three hours will write a new chapter in the history of Colonial Players.
— SOM
---
Filtered by Shellfish
Can a golden clam clean up Lake Lariat?
Can a golden clam help clean up Lake Lariat?

Yes, said homeowners in Calvert County's Chesapeake Ranch Estates by a vote of 428 to 15, maybe this clam can help.

When you've got 90 ailing acres of water in the midst of 3,500 homes full of water-loving kids, you've got quite a problem.

But for shellfish entrepreneur Richard Pelz of Circle C Oyster Farm Ranch [Wrangling Oysters Out of Trouble, Vol. XI, No. 2: Jan. 9], Chesapeake Ranch Estates' problem is a golden opportunity. It's so good that he's adding clams as a second line to the oysters he raises for food and water purifiers.

Pelz, who has staked his future on shellfish's amazing filtration system, will float thousands of the golden clam — an Asian native naturalized in Maryland in the last quarter of the 20th century — in Lake Lariat. Five mesh bags of Corbiculla fluminea, as they're formally known, will be attached to some 100 of Pelz's patented floating reefs. The mesh bags keep the clams just below the water's surface out of the muck.


The Clean Lake Project, as Pelz calls his experiment, will put the golden clam to two tests. On the one hand, he'll be testing it as a biological nutrient control to remove nitrogen and phosphorus, nutrients that reduce the quality of the lake's water. Pelz holds a patent on that process. The other test is Pelz's pending Infectious Agent Control Patent to remove cryptosporidium from the water.

If Pelz is right, those filtering clams will suck Lake Lariat's troubles right up.

The clams have already proved their worth in the lab.

"The golden clam has been proven in lab tests to reduce harmful agents," said Circle C Oyster Farm Ranch manager Paul Flynn. One of those toxins is cryptosporidium, which is a single-celled parasite that lives in the intestines of animals and people.

The protozoan cryptosporidium causes cryptosporidiosis, which Pelz tags a "nasty, infectious, water-borne disease with no known cure." Cryptosporidium resists conventional water treatment, and even bleach does not kill it.

"It's so small, it's hard to filter out of the water. If you don't have a good immune system, mortality rates are about 56 percent," says Pelz.

The clam's special talent was discovered by Thaddeus Graczyk, a John's Hopkins research professor and Ronald Fayer, a zoologist at the U.S. Department of Agriculture.

Back at Lake Lariat, Pelz expects his tests to run from three to five years. "We want to conclude through our tests that Lake Lariat is swimmable, fishable and drinkable," says Pelz, who is now raising the $2 million the project will cost.

But would the non-native species change Lake Lariat's ecology as well as its health? That question troubled Calvert County planner David Brownlee. Independent research convinced him the lake was safe.

Now Brownlee is looking at prospects that the lake might, a few years down the line, be a lot safer. Lake Lariat produces the highest levels of mercury in fish tissue in the state, Brownlee said. "If the clams can filter like we hope, they will also help to bring down the mercury levels in the water. Those clams would not be edible, of course."

At the next level, the Clean Lake Project could seed a new field of infectious agent control by shellfish. "If this works, scientists will be able to match shellfish with other infectious agents to reduce these harmful agents," adds Flynn.

Then, says Pelz, you're looking at shellfish in a whole new way. "I say to myself, yes, it's good to eat, but it could also save my life and yours."

— M.L. Faunce and Kimberly Goode

---
Singing for Its Future
At 30, Annapolis Opera wants you to get in on the act
Want to sing like a star on stage, coached by a professional vocal teacher? At the Annapolis Opera's 30th Anniversary Gala fund-raiser, It's a Grand Night for Opera on November 8 at Maryland Hall for the Creative Arts, you might just win your chance to sing and strut your stuff — if you're the highest bidder in at the silent auction.

At this silent auction, you can win something grand. In addition to singing lessons, you could win a professional piano tuning or a cooking class for two. Spend all you can afford and more. For in the end, it's more than self-enrichment you're buying; you're really funding the next season of shows.

"This is a major fundraising event for our next season," said Leah Solat, gala chair for Annapolis Opera. At a smaller fundraiser September 7, the Opera hosted a party at the Hack Mechanical Music Museum. The Opera tries year long to entice people to invest in their organization.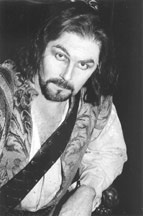 photo courtesy of Annapolis Opera
Jason Stearns, a baritone with New York's Metropolitan Opera, joins Annapolis Opera for its fundraiser.
"This is the first year we'll have a big concert with a silent auction," said Solat. In addition to the concert and auction, there will be a wine tasting, art exhibits and dancing. The proceeds from the gala fundraiser help pay for future productions, bankrolling the orchestra, chorus, singers, sets, lights, costumes and space at Maryland Hall for the Creative Arts.
The Opera's 2003-2004 season continues with the Mozart by Candlelight Concert December 7. In 2004, the Annapolis Opera Vocal Competition returns. Other productions include The Mikado by Gilbert and Sullivan; Pasta, Puccini and All That; and the Children's Opera Concert.
Lending their voices and talent for this concert are both local singers and others who once performed in Annapolis.
"We use folks who are past winners of our vocal competition or starred in our operas," said Solat. "We also use people who live in the area and are nationally known, like Jason Stearns."
Locals artists will take center stage. Jason Stearns, a baritone, is an Annapolitan who sings for New York's Metropolitan Opera. Dominic Cossa, another baritone, is the head of the University of Maryland voice faculty.
Previous winners of the vocal competition returning to sing this concert are sopranos Angela Fout, who won first prize in the 2000 competition, and Lori Hultgren, the second prize winner of the 2001 contest. The Children's Choir of Annapolis joins the Annapolis Opera Chorus and the Annapolis Opera Orchestra on stage at the fundraiser. Adding another style of music, Anne Arundel Community College's Jazz Tones play big band and swing music.
"People who know opera will hear favorite singers and music. People not familiar with opera will be amazed at how many melodies they will recognize and know," said Solat.
The 30th Anniversary Gala celebrates the end of the season, but possibly a new beginning for your interest in Annapolis Opera.
See
8 Days a Week
for more information about It's a Grand Night for Opera.
— James Clemenko

---
In Florida, the Navy is offering to give you a gigantic reef, but you'd better hurry if you want it in your waters. The Navy intends to sink the USS Oriskany, an 888-foot, 53-year-old aircraft carrier, and the Florida Fish and Wildlife Conservation Commission is accepting bids from jurisdictions that want it in their coastal waters…

In West Virginia, an alliance of environmental groups last week sued the Army Corps of Engineers in federal court for permitting the destructive practice of filling in streams from mountaintop coal mining. The Natural Resources Defense Council, the Appalachian Center for the Economy and the Environment and the Ohio Valley Environmental Coalition said that the Corps has failed to protect wetlands by allowing the filling of 1,200 miles of Appalachian streams…

In Europe, look for those round, yellow smiley faces before you go swimming even if you think they're goofy. The European Parliament voted last week to create a system of smileys to tell people if the waters of seas, lakes and rivers are safe enough to jump in…

Our Creature Feature comes from Texas, where there's new evidence of why the fish you catch may not fight. Baylor University researchers have found the active ingredient of the antidepressant Prozac in bluegills caught in Texas waters. The researchers explained that when Prozac or other drugs are not fully absorbed into the human body, they pass from people to toilets to wastewater treatment plants, where filters don't catch pharmaceuticals.

Asked what it meant for fish, Baylor toxicologist Bryan Brooks said: "Maybe it makes you a happy fish and you're kind of hanging out. But how does that influence your ability to capture prey? Do you instantly become candy for largemouth bass because you're accumulating large amounts of Prozac in your system? These are areas where more research is needed."