Guest-Work
101 Ways We Had Fun
by Kariel Thompson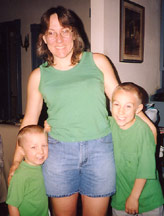 Back when 101 Ways to Have Fun: Bay Weekly's Indispensable Guide to Summer on the Bay appeared in June, we set you a challenge: This anniversary year, we're offering a prize for the best used copy of 101 Ways. To be eligible, send us your well-worn copy or a letter detailing how you had 101 pleasures this summer. Here's how one family rose to our challenge.

I find I can't bear to part with the dog-eared pages of my summer journal (Way 5). I plan to pull it out in February while I'm freezing and plan ahead to do next summer all we never got to do this year. I've even splurged on one of those blank-page books for winter journaling.

Way 1. Good Day, Sunshine
As a letter carrier, I see the sun rise every morning except Sunday. It was interesting to note that when the sun set at 8:36, it was light out until almost 9:30.

Way 2: Discover a Bay Beach
We discovered Flag Ponds Beach strangely devoid of jellyfish at the height of summer. It's an interesting beach filled with fossils, gulls and even new ponds forming.

Way 4: Get Cool in the Pool
We picked Six Flags and ended up buying six season passes. Okay kids, that's your birthday present this year! The dumping-bucket pool was our favorite with a variety of slides and depths for toddlers to pre-teens. Even the teenager we took loved it.

Way 5: Keep a Summer Journal
This one I also made my eight-year-old son do. The most important thing I learned: My son remembers only the fun part. While my journal is punctuated with comments about how hot it was, his has only the good parts. Is that part of getting old: remembering the bad parts?

Way 6: Eeww, Aaah, Oooh — Fireworks!
We caught fireworks at Rod 'n' Reel on July 3; Solomons on July 4; and the Bowie Baysox in August.

Way 7: Throw a Crab Feast
Instead of a crab feast, we had a farmers' market feast: corn, squash, tomatoes, home-made bread and peach cobbler for dessert.

Way 8: Before You Crack That Crab, Consider
Ate no crabs. More for you.

Way 9: Swim in Magical Luminescence
No night swimming until both kids can swim well. I experienced the luminescence years ago in the cove by Manresa. Almost magical.

Way 10: Taste Bay Water
This was fun for the kids and deteriorated into spit Bay water like a fountain at each other. Fun for all. Also tried lick your arm after you dry for the salty residue.

Way 11: See the Light
We checked out Drum Point lighthouse. Apparently I missed my calling. Born too late to be a lighthouse keeper.

Way 12: Catch a Crab
Teaching the kids to crab. Showed them how the crabs hang on the pilings. Used stinky chicken necks. Caught only small crabs, which we investigated (look at the eyes!) and threw back. I swear we caught the same crab over and over again.

Way 13: Don't Wait
With 101 Ways, I got around to doing more than a few things like Flag Ponds, hiking, painting and just experiencing life around the Bay with my kids.

Way 14: Ride a Horse
We opted for pony rides at the Calvert Farm Tour. Horses are for older kids, like me.

Way 15: Shoot a Prize Photo
No prize winners, but this year I took my camera along everywhere. Plenty of snapshots of the kids muckin' around: visual memories for us.

Way 16: Catch a Baseball Game
Our team of choice is the Bowie Baysox. Prince George's Stadium is family friendly, and I won a $50 Giant gift card. Michael caught a foul ball and Willy got a sponge ball from one of the players. We did Way 16 about five times and are considering season tickets for next year.

Way 17: Make a Hero of a Tomato Sandwich
We tried about 20 different kinds of heirloom tomatoes for sandwiches, some on home-made bread, some not. Some home-grown from Loch Less plants bought at the farmers' market. All eaten with mayo or butter, no salt, some pepper. My winners: Brandywine, Cherokee purple. Husband's: any beefsteak. Willy's: yellow beefsteak. Michael's: yuck! — and he's my kid?

Way 18: Take a 360-Degree View
We tried the fishing pier and the pier at Flag Ponds.

Way 20: Tell a Spooky Story
Michael had friends (ages eight, nine and 10) spend the night. After listening to their scary stories for a half hour, I couldn't take it. I told them true and semi-true stories from my youth. Needless to say, I had to sleep on the couch and guard them from the swamp swogger.

Way 21: Share Bay Weekly with a Friend
I shared it with my two sisters, one in Florida, and my babysitter. They are hooked.

Way 22: Drive into History
I made it a point to stop and read these signs to the kids. Had to explain "agricultural preservation."

Way 23: Stock up at a Farm Market
My goal was to go to many farm markets. Made it to Annapolis/Riva, Prince Frederick, Deale and Dunkirk. Also patronized every roadside market from Edgewater to Prince Frederick.

Way 24: Paint Nature
This was fun and less mess than inside painting. Watercolors are our medium of choice: child friendly and easy to use.

Way 26: Smooth Out at an Open Air Concert
North Beach boardwalk concerts are the best.

Way 29: Duel with Water Pistols
This ended up costing about $30 for five tank-size guns and three hand pistols. We lucked out on the K-Mart half-off clearance. Warning: Do not buy the Waterball gun. Balls are only one centimeter.

Way 30: Play in Mud
Make mud? With all this rain? We had plenty of mud, overflowing ditches to swim in. This was Willy's favorite. Well, I've always heard mud is good for the complexion.

Way 32: Fish Without a Boat
We tried Hutchins Pond: Caught bluegills, enjoyed the weather and hooked Willy. He doesn't want to fish, but there were geese to chase.

Way 33: Arm Yourself with Art Supplies
The Crayola watercolors were so much fun I splurged on a set of tube watercolors and a set of 50 colored pencils.

Way 35: Try for Par
Sent the kids with Uncle Kevin for a bucket of balls. They are hooked.

Way 36: Dive into a Marine Museum
We made it to Calvert Marine Museum for Sharkfest weekend. I couldn't believe the size of some of the teeth or the size of some private collections. The hands-down favorite exhibit was the otters, of course.

Way 37: Experiment with Corn on the Cob
Did everything but fritters: next year. Why does everyone grow the same kind of corn? What happened to Silver Queen? Is this corn Round-Up Ready?

Way 38: Cruise Ego Alley
This place is always fun. Even the kids loved it. Something about the energy, the busyness, and the boats even on weeknights. We sat and people-watched while the kids ate ice cream. I reminisced about Armadillos, McGarveys, Middleton Tavern (cherries jubilee prepared tableside for my Sweet 16 dinner with my dad). Places I aged, worked, partied and drooled over guys a long time ago.

Way 39: Become a Bay Naturalist
Books, maps and Internet on the rainy days, and hikes when it was cloudy. I find myself in the role of teacher to my two sons. They are suitably impressed as I impart my vast knowledge. But what do they tell everyone: The toad peed on Mommy!

Way 40: Paint Driftwood Creatures
We had sea monsters. However painted rock turtles was more fun.

Way 42: Explore Colonial Roots
London Town was close. I also played there when I was 13. The kids don't really care for history except in the form of swords and weapons. I hated history until I was older.

Way 43: Organize a scavenger hunt
I had forgotten how much fun scavenger hunts are. We did themes — shell, beach and animal — and I worked in a little education. I have a nice collection of leaves, feathers and rocks that I'll never be allowed to throw out.

Way 45: Keep Your Eye on the Birdie
Badminton is a summer staple with our family. No out of bounds. No sissy rules. We play hard-core, with teams of up to 15 players. We've had grudges from these games carry over until Christmas.

Way 46: Wait Until Dark
If you missed the Anne Arundel Community College Mars watch, you missed a great time. And the kids got to stay up late.

Way 48: Get Crabby
I wish I'd gotten a picture of Michael when he saw his first horseshoe crab. He even searched them on the web and told me they are living fossils.

Way 49: Get a Java Buzz
Common Grounds in Prince Frederick. I could easily become a cappuccino addict.

Way 50: Teach Your Dog Frisbee Tricks
She never learned to catch it mid-air, but she lost weight and will snatch it and run. That's okay, because the vet said corgis aren't really built to jump like that…

The adventures of Kariel Thompson, of Edgewater, and sons Michael, 8, and Willy, 4, continue. It is only space — or lack thereof — separating the rest of their 101 Ways for a future issue.