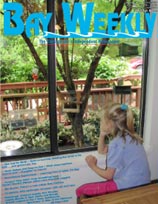 On Our Cover
Not Just for Birds
photo by Vivian Zumstein
Gazing out the kitchen window at the birds gathered at family feeders, eight-year-old Emily Zumstein has become an expert on who's who in the bird kingdom.
Not Just for Birds

Even in summer, feeding the birds is for kids … and grown-ups, too

What I like best about bird feeding is that I don't need to add to the experience to enjoy it. All I have to do is relax at my kitchen table, angle my chair a little to the left and my private flock of birds puts on its own little show.
By Vivian Zumstein
.
On Exhibit
MFA Celebrates 40 Years with a Rich Mix of Old and New;
Reviewed by Sonia Linebaugh.


Three Strikes and They're Out
Mute swan reprieve soon to end — slaughter to resume
by James Clemenko

Summertime Experiments
Learning how to SAVe the Bay
by Theresa M. Troescher

Hungry? Why Wait? Grab Something Local
Calvert Country Market, reopening soon, offers more than just veggies
by Lauren Silver with Russ Barnes

Way Downstream

In Chesapeake Bay, a research ship last month drilled down 77.5 feet to read Bay Country's future in its past…
On the Eastern Shore, the Republican Bush administration bails out workers displaced by Tyson's closing its poultry processing plant in Berlin…
In Brazil, taking the pollution prize: Toxic foam has piled up like drifted snow around the town of Pirapora do Born Jesus…
This week's Creature Feature: From Chile, a beached 40-foot-long mass of leathery gray flesh has scientists scratching their heads in puzzlement. Maybe you know what it might be?