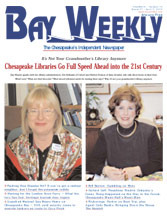 On Our Cover
It's Not Your Grandmother's Library Anymore: Two library administrators, Pat Hofmann of Calvert and Marion Frances of Anne Arundel, talk about books in their lives: What's new? What are their favorites? What should informed adults be reading? Photo of Pat Hofmann by Robyn Truslow. Photo of Marion Frances by Martha Blume.

It's Not Your Grandmother's Library Anymore
Chesapeake Libraries Go Full Speed Ahead into the 21st Century
by Martha Blume
We expect information at our fingertips. With so many modes of ready information — from cable TV to newspapers to websites updated by the minute, what's a library to do to keep up in these times?


Packing Your Disaster Kit?
If you've got a nuclear neighbor, don't forget the potassium iodide
by SOM

Waiting for the London Town Ferry
What history has lost, heritage tourism may regain
by Sonia Linebaugh
Liquefied Natural Gas Nears Home on Chesapeake Bay
500-yard security zones to encircle tankers en route to Cove Point
by SOM
Way Downstream


At Blackwater National Wildlife Refuge, nutria gnaw their way into 100-year time capsule…
In Grasonville, Maryland's Fear the Turtle Fund sends an intern to Chesapeake Bay Environmental Center…
In Washington, the 700,000-member Sierra Club weighs in on Iraq invasion — and environmentalists are unhappy…
This week's Creature Feature: On NBC, orangutan joins the cast of Passions.