Annapolis Our Capital City … of Sailing

by Karolyn Stuver
If the story of how Annapolis became America's self-proclaimed sailing capital were made into a puzzle, the pieces would be geography, politics, economics and technology.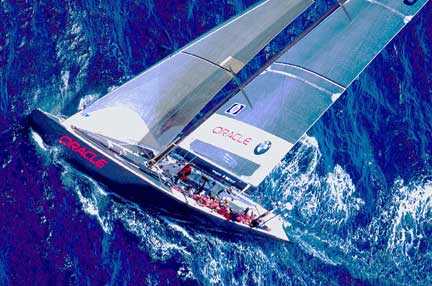 On the other side of the world, where the weather is warm and the boats are in the water and not on jack stands, Annapolis' sailing prowess is on display.

Most visible in New Zealand, where the finals of the Louis Vuitton Cup (the precursor to the America's Cup) have just concluded, is the locally designed yacht USA-76, home-grown from the drafting tables of Bruce Farr and Russell Bowler for ORACLE BMW Racing. The syndicate did not survive the finals, their hopes dashed along with those of the five Annapolitan sailors who, as part of Team Dennis Connor's effort, came up short in December. Despite these disappointments, the city's profile will remain high during the America's Cup since the reigning champs, Team New Zealand, also have an Annapolis link: The technology that the Kiwis believe will make them the fastest was developed by local naval architect Clay Oliver.

How Annapolis came to sail with the champions — and to be recognized 'round the world as America's Sailing Capital — is a story worth telling.

Arnie Gay makes as good a place as any to begin that story.

When this professional sailor and boat builder came to Annapolis from his native Boston in 1947, Annapolis' waterfront was a mess of a place, betraying the effects of nearly 300 years of boom and bust. But in the decaying town docks littered with derelict warehouses Gay saw a future.

"He would say to anyone who would listen he had no doubt but that Annapolis could be a sailing capital," recalls city mayor Ellen Moyer, a close friend of Gay's. "All we needed to make it happen was participation."

Gay, who ran a boatyard and brokerage operation in Eastport, spent the next four-plus decades mentoring local sailors and tirelessly promoting Annapolis as a world-class sailing venue. By most accounts, Gay's dream for Annapolis has been realized — but as much had to go wrong as right for it to play out that way.

Gayer than the Puritans
Long before Gay landed in town, the city had begun a roller-coaster ride — energized by geography, technology and politics — that would eventually set it on a course to grab the sailing world's attention.

Since its founding in 1649 by Puritans from neighboring Virginia, Annapolis has been defined by its relationship to Chesapeake Bay. The state's capital since 1695, Maryland's 'ancient city' sits on a northwesterly corner of the Bay. During colonial times, the settlement's proximity to the Bay and open ocean facilitated trade — tobacco, mostly — between the New World and Europe. Annapolis flourished as a commercial port for nearly a century until advances in naval technology spoiled the party in the shallow, mud-bottomed harbor.

By the Revolutionary War, seafaring vessels had become longer, wider and deeper to transport holds full of lucrative grain across the Atlantic. Annapolis harbor couldn't support these next-generation structures. Baltimore's port could, so the industry moved out and north.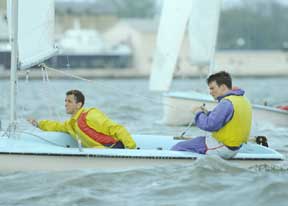 No one suspected it at the time, but the geological forces that conspired to make the natural harbor only 12 to 15 feet deep proved an indirect catalyst for the city's sailing future. The evolution began in the 1800s, when the city buffeted the economic hit with an emerging seafood industry based on individual entrepreneurs — watermen harvesting oysters and crabs from small, flat-bottomed workboats. This new emphasis on personal connections to the Bay would prove permanent, manifested daily in modern Annapolis culture.

Also pivotal was the decision in 1845 by the federal government to locate the U.S. Naval Academy in Annapolis. The academy gave the city instant gravitas and, according to former dean of admissions and author Rear Admiral Robert McNitt, helped grow its reputation.

"The major contribution has been in bringing young sailors to Annapolis from all over the country and introducing them to intercollegiate competition," said McNitt. "Additionally, by having boats that are ocean racers and capable of going to sea and taking midshipmen to races up and down the coast and to Bermuda, these sailors carry the reputation of Annapolis with them — and they do well."
Breaking into the Big Leagues
Gary Jobson is a living legend in the sport of sails. He's been an icon in Annapolis since arriving to coach at the academy in the 1970s. Now a commentator for ESPN, Jobson includes in his collegiate and professional career a slew of world championship and other race victories, most notably the 1977 America's Cup when he was tactician onboard Ted Turner's winning entry. In 1999, he was awarded the Nathaniel G. Herreshoff Trophy, the sport's most prestigious award. So when he says Annapolis is the place to sail, people listen.

"My mission in life is to promote the sport of sailing," he says. "I was off covering the 1989 Whitbread and it dawned on me that I go all around the world to do this stuff. Why don't we do something in Annapolis? It's such a great sailing town."

It took a decade, but Jobson, with the help of some like-minded Annapolitans, was successful in bringing the first grand prix event — a leg of the Whitbread Around the World Race, now the Volvo Ocean Race — to the Chesapeake. But Jobson et al. wanted more: a local entry.

Baltimore businessman George Collins answered the call, and a local syndicate, Chessie Racing, was born. During the Baltimore and Annapolis stopovers in 1998, nearly 600,000 fans visited Chessie and the rest of the Whitbread fleet. Both cities went into overdrive to make the sailors and spectators welcome. So successful was the event that when Volvo purchased the rights to the race, Baltimore and Annapolis stopovers were added in 2002 despite the lack of a local participant, which is a critical factor in course routing.

As Jobson predicted, Annapolis' profile escalated. "We've become known all around the world. After the Whitbread, other events decided to come here, such as the Rolex Women's International Keelboat Championship; the Santa Maria Cup; the Star World Championship, considered a tune-up for the Olympics, and the National Offshore One-design Championship," he crows.

Besides these marquee races, Annapolis hosts regattas that attract competitive and recreational sailors at every level, including St. Mary's College's Governor's Cup, Annapolis to Newport Race and Annapolis to Bermuda and Annapolis Race Week, among others.

Locals did not manage to float a syndicate in the 2002 running of the Ocean Race, but the city was well represented in terms of talent. Four residents crewed on three of the eight boats, six of which were designed by Farr and Bowler, both native New Zealanders now transplanted to Annapolis. Yachts designed by these guys have dominated virtually every major sailing event, including each of the last four Whitbreads and the Volvo Ocean Race. No other designer can compete with the success these two have had. With 37 world championship boats to their credit already, the company had hoped to add an America's Cup win to the list.

Those dreams rode on USA-76, the 80-footer they designed for ORACLE BMW Racing. The syndicate advanced to the Louis Vuitton finals, but could not hold on against Alinghi, the Swiss challenger. They lost five to one.
Eastport: Annapolis' Sailing Capital
What Annapolis is to America, Eastport is to Annapolis. Between 1800 and the mid 1970s more than a dozen boat-building facilities thrived on the banks of both Spa and Back creeks, the navigable tributaries that feed the Annapolis harbor. Among them was Annapolis Yacht Yard, builder of PT boats and submarine chasers, a thriving wartime business between 1937 and 1947.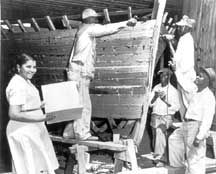 Here too labored such builders of work and pleasure boats as John Trumpy Sr., who operated from the defunct warship yard site. From 1947 to 1974, Trumpy turned out a line of wooden luxury cruisers dubbed "the Rolls-Royce of American motor yachts" by the New York Times. Clients included such high-profile names as Dupont, Guggenheim, Dodge and Chrysler.

Those original businesses are gone, but not forgotten; their stories are individually documented in a series of narrative plaques studding a walking path that begins in Eastport near the Spa Creek drawbridge and continues around the peninsula.

Eastport today continues that past. Sail makers, naval architects, riggers, instrument crafters, boat yards, marinas and sailing schools seem everywhere in the small community. But the district didn't hold on to its maritime culture without a concerted effort.

"In 1987, we passed the Maritime Land Use Ordinance that curtailed development, limiting it to maritime-related activities," explains Mike Miron, director of the Office of Economic Development. "We made a definitive statement to say we want to preserve our waterfront as a working maritime community. We don't want it to be overrun by condos or restaurants and hotels. We want a balance."

The ordinance appears to have had the desired outcome, protecting the native culture and keeping development in check. From the simple character of the architecture to a quirky café and coffee shop to the spectacular street-end views of the Bay's platinum plain, Eastport is picturesque and as comfortable as your favorite Top-siders. But Eastport is all about sailing, not looks.

Add to this attitude the limits imposed by the harbor and the result is an environment more hospitable to boaters of relatively modest means. "We're very much a do-it-yourself kind of sailing community," says Rick Frankey, general manager of the Annapolis Sailing School. "We mostly have smaller boats. A 50-footer is a big deal here."
Mecca of the Sailing Sort
If the story of how Annapolis became America's self-proclaimed sailing capital were made into a puzzle, the pieces would be geography, politics, economics and technology.

In modern times, the fiberglass technology helped Annapolis stake its title.

"I trace a lot of the boom to the 1970s when Fiberglas boats were in mass production for the first time," says Dave Gendell, co-founder and editor of the local sailing magazine Spinsheet. "High-quality, inexpensive boats of practical design opened up sailing to the middle class. No longer was it only for the wealthy or the elite. Now a government employee could afford a boat in Annapolis."

This is actually Gendell's own story. He fell in love with Annapolis during the '70s when his father, a Washington-area government employee, bought a boat and docked it here. As Gendell grew up, Annapolis became the hub where people from other local sailing communities — Galesville, Oxford, St. Michaels — came to race.

Economics played another role, for sailors attracted services.

"It's become a self-perpetuating culture," says Gendell. "As more people keep their boats here, you need more marine services: more riggers, more canvas makers, more boat-bottom painters — and it just continues to feed on itself."

But it may be the human factor that trumps all else.

The water is too shallow to support large-boat events and the notoriously fluky winds are often too light to please highly competitive racers looking to push their boats as fast as possible. Waves and chop don't help either, making it difficult to sail in the light winds.

"We ended up with such a scene here because of the people more than anything," Gendell claims. "It's the best and most committed people who come here. Then it expands out to people from New Zealand, Australia or New England."

Annapolis Sailing School's Frankey agrees. "With cell phones and other telecom technologies, people can live wherever they want and still make a living. People come here for the sailing and have made it their home."

Not only die-hard racers find Annapolis their sailing capital. Also impressed are the more recreational-minded, including Angus Phillips, the Annapolis-based sportswriter for The Washington Post, Cruising World magazine and National Geographic.

"Annapolis is a genuine contender for the sailing capital of the East," says Phillips, who lists the other competitors as Newport, Rhode Island, and Miami, both with better sea access. But their advantages stop there.

"What we have is just amazingly good cruising grounds," Phillips continues. "As the biggest estuary in North America, the Bay offers thousands of miles of shoreline with protected coves. So for a cruising sailor it's very forgiving and attractive."

Frankey echoes this sentiment. "You need sheltered water for ideal recreational sailing. Annapolis has that."

But give icon Jobson the last word: "I read the Preppy Handbook and it said if you win the America's Cup, you can get the girl of your pink and green dreams and you can live in Newport, Marblehead or Annapolis," he says. "So I went and took a look at Newport, Marblehead and Annapolis. And I decided Annapolis was perfect."

About the Author:
Bay sailor Karolyn Stuver is a freelance writer based in Alexandria, Virginia. She takes her sailboat out on the Bay as often as her schedule allows. Highlights in her 20-year career include stints in broadcast and print journalism, corporate communications and on Capital Hill as a political aide.

Current projects include a variety of editorial, newsletter, marketing, advertising and web-based products for The Washington News Bureau, TRW, Eluminant, Microsoft Corp., Lucent Technologies, min's btob (Media Industry Newsletter),

The Johns Hopkins Applied Physics Laboratory, Kodak, Raytheon and Ameritech. Her articles have appeared in Red Herring magazine, The Voice magazine, The Georgetown Crier, Marine Corps Gazette and Air Ports and Cargo magazine.

---
It Takes a Lot of Matches to Strike America's Cup's Gold
Actually getting to race in the America's Cup, which begins February 15, takes more than a boat, an experienced crew and sponsors with deep pockets. First, somebody has to win the Louis Vuitton Cup, a series of match races that began last October.

The field of contenders, nine this go-around, has now been whittled down to one challenger, Switzerland's Alinghi, who will try to take the most coveted prize in sailing away from Team New Zealand, the defending champion.

During the Louis Vuitton finals, which began January 12 and ended January 19, Alinghi dueled America's ORACLE BMW Racing for the right to go bow-to-bow with the Kiwis on their home surf. The Swiss boat beat the Americans five to one, although the racing was actually closer than those numbers suggest.

The Louis Vuitton, like the America's Cup, is held in New Zealand, giving the champs ample opportunity to size up their future competition. The America's Cup is also a best-of-nine series.

— Karolyn Stuver