N
o
t
J
u
s
t
f
o
r
K
i
d
s
Where Do You Live in 2003?
by Ariel Brumbaugh
I live in a new room. It took almost as long as a baby to develop. Nine months ago, my family started major construction on our house. Every night during those months, I would design my new room in my head. I'd create themes and styles and then clear my mind and start all over again.

During all those months, my house — and my room — were rebuilt before my eyes.
April 2002
I watch in amazement as the construction workers dig a hole the size of the Empire State Building in my back yard. My sister moves in with me. Will my room, too, be demolished?
May
I come home from school to find my room no longer a room but a cubby of debris facing the back yard. In a dozen years of sleeping in the same room, memories have collected like dust; now they're painfully stirred up. My bed, which is really just a mattress, is now in the living room, right behind the sofa.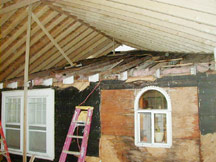 June
A new room is semi-complete, with walls, a floor and real windows. We change the plans to include a loft overlooking the "quiet room," as my mom calls it.
July
It is about 90 degrees outside, and we are the only house without air conditioning. There is a hole the size of a basketball in the living room, and last night I woke up with a start when my cat squeezed through the hole, knocking boards over as she came.
August
I once again have a room with walls, a ceiling and floor — but that's about it. I can plan what color it's going to be. My sister's room is farther along, with insulation and wall board.
September
My sister has painted her room bubble-gum pink and grape purple. Then she splatter-painted the walls. There is no carpet, but I took a very expensive trip to Ikea and picked up two rugs and some lamps, which makes her room a little more comfortable. We both moved our beds into her room, just in time for school to start.
October
I'm still not moved in, but I painted my walls. The ceiling is a light blue, two walls are a darker turquoise and the third is a cool sea blue. My rug matches perfectly. Next step is the carpet, which is a very hard part. We have decided on Berber, but there are a million colors and shades. I picked out a cream that is comfortable and subtle.
November
I moved my bed in and began unpacking most of my stuff. Now photo albums, trinkets and memorabilia are spread out over my floor. I painted one of my walls to look like seaweed, all in different shades of blue-green. It has a comfortable, almost familiar, aura.
December
My room is finally complete! My parents bought me a double bed for Christmas, as well as furniture to match the décor.

But there is still more to do on the Quiet Room and the loft. I guess the construction will never really be compete, but it's nice to come home to a room, my room.
My old room …
was small and pink. I painted it when I was about four years old. There was a teal-and-white border with hearts and flowers, ugly yellow curtains with little blue flowers, stained and spotted blue carpet and a little pink heart-shaped rug. Shelves were filled with countless items I had collected over the years.

But my old room was cold in the winter and hot in the summer, and my closet was small and unorganized.

---
This Week's Kids' Stuff
January 24
In and Out in Winter
Kids of all ages take a hike and make a nature craft before relaxing by the fire, sipping on hot chocolate and listening to a tale. 10am-noon @ Jug Bay Wetlands Sanctuary, Wrighton Rd., Lothian. $1.50; rsvp: 410/741-9330 • www.jugbay.org.
January 25
Bug Out
Kids 6-10 (w/adult) make bee bread, bug juice and dirt cake at this workshop that shows bugs can be fun. 10am @ Homestead
Gardens, Davidsonville. $10 (includes materials); rsvp: 410/798-5000 • www.homesteadgardens.com.
January 26
Nature's Treats
Families learn about snowflakes, share some winter stories and enjoy some warm treats. 1pm @ Battle Creek Cypress Swamp, off Sixes Rd., Prince Frederick. $3 w/discounts; rsvp: 410/535-5327.

Wildlife for Sale
Kids 8-12 learn hands on what to do to protect endangered species. 2-3pm on @ Patuxent Research Refuge Visitor Center, Powder Mill Rd. off Baltimore-Washington Pkwy and Rt. 197. rsvp:
301/497-5887.
January 28
A Perfect Day for It
Kids of all ages make a popcorn tree with some friends and enjoy a snowy day with A Perfect Day For It. 10am @ Barnes and Noble, Harbour Center, Solomon's Island Rd. Annapolis: 410/573-1115.

Can You Draw the Thrill of the Orchestra?
Deadline Feb. 1–Aspiring artists ages 6-12 pick up crayons, colored pencils, paints or other media and create a work of art — if you Can Draw the Thrill of the Orchestra. Winners will receive special prizes, have their artwork displayed at Maryland Hall and hear the spring family concert w/family as symphony guests. Mail or drop off pictures at Annapolis Symphony Orchestra, Attn.: Art Contest, 801 Chase St., Annapolis, MD 21401. Questions? Lauren Kirby: 410/573-1115.