The Adventures of Dancer, Prancer, Ripken and Brookes: A True Story
Chapter One: The Beginning
by Donna J. Lewis • Illustrations by Brian S. Lewis
Once there was a little boy named Brian. He was eight years old. Brian was very sad because he had no mom and no dad. Brian lived in a large house with other children who had no moms or dads.

One day Brian got good news. He was going to live with a foster mom. Brian went to live with his new mom, Donna. He had his own room and his own toys. He had a bike and new friends. Brian was happy. Well, almost. For Brian really, really wanted a dog.

"Mom, can we get a dog?" Brian begged.

"How about a kitten?" she countered. His new mom liked cats.

Brian said okay, but he really, really wanted a dog.

The lady who was selling kittens had two left. Brian picked up the smaller one. "I'm going to name you Dancer," he said, adding to his mother: "May I have this kitten, please?"

But she was looking at the other kitten, a round ball of gray fur. It seemed scared. "They are brothers, and we'll take both of them," she said. "I'll name you Prancer," she said to the largest ball of gray fur.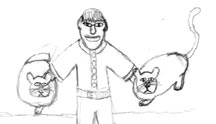 So Dancer and Prancer went home to live with Brian and his mother in their house. Dancer and Prancer were hard to tell apart. They had bright yellow eyes. They were balls of gray fur. Prancer, however, was a little bit larger. They lived in Brian's room and slept with him on his bed. When Brian was asleep, Prancer slept wrapped around his head.

Brian was happy. Well, almost. For even though Brian loved Dancer and Prancer, he still really, really wanted a dog.

Coming soon in Not Just for Kids: Brian Gets a Dog: Ripken
---
Fun Stuff to Do:
Friday, February 15
Discover Nature
Experience the natural world through a seasonal craft, nature story and walk thru the garden. Ages 3-5 w/adult. 10:30am & 1pm @ Helen Avalynne Tawes Garden, Tawes Bldg., Annapolis. Free; rsvp: 410/260-8189.

Saturday, February 16
Winter on the Bay
Learn about the life of a skipjack captain and see what it's like to live below deck. Try your hand at catching oysters, visit a working skipjack and raise a sail. Ages 5-8. 10am-Noon @ Chesapeake Bay Maritime Museum, St. Michaels. $10 w/discounts; rsvp: 410/745-2916.

What's That Bird?
Join Park Ranger Adam Smith for a slide show about birds that frequent Anne Arundel County feeders. Learn to identify local birds and their favorite foods. Take a hike, weather permitting. Ages 10 & up w/adult. Free; rsvp:
410/222-6244.

Tuesday, February 19
Scrapbooking Party
Bring your favorite photos and learn how to make a memorable scrapbook. Refreshments served. Ages 10-14. 7pm @ Mountain Road Library, Pasadena. Free; rsvp: 410/222-6737.

Family Heroes
Storyteller James Henson tells about his family heroes: Underground Railroad conductor Rev. Josiah Henson and Arctic explorer Matthew Henson. 7pm @ Calvert Library, Prince Frederick. Free: 410/535-0291.

Black History
Hear stories of life, growth and joy at this pre-K look at Black History Month. 10:30am @ Borders, Bowie. Free: 301/352-5560.

Thursday, February 21
Mujje: Come Together
Learn about African culture thru stories, music played on authentic instruments and dance from Uganda. Ages 5-12. 3:30-4:30pm @ South Bowie Community Center. Free: 301/249-1622.