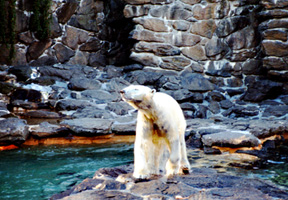 photo by Romi Plociennik

Take Heart in February – the Flowers Are Coming
by M.L. Faunce

Winter came after Ground Hog Day this year. Snow showers one day brought a crystalline morning the next. Reflected in my neighborhood creek, a brilliant blue sky starkly contrasted with pure white figures moving in a small circle. Mute swans milled in their small, watery enclave, trapped by a sheer layer of ice that ran from shore to shore. The much-derided fowl with orange bills and a voracious appetite for submerged grasses were reduced to a sympathetic trio in winter's first visit.



February, known fondly for hearts and flowers, often brings our deepest snows and slickest ice. But perhaps not this year after a January so spring-like that daffodils gained height as quickly as a six-year-old youngster. Corn shocks lay bare, glinting in the sun on country fields, and cherry blossoms burst open in city parks.

Tempted by warm weather, kids in my neighborhood frolicked in their parents' hot tub, delighting at the return to bathing suits. Lucky Bay Country kids, within sight of the Chesapeake and temporarily oblivious of all the natural beauty around them.

A real winter day like the other day would be the kind of day my dad would gather us up as kids and head for the zoo. Bundled up in the cold quiet of a Sunday afternoon, we'd scatter like leaves in all directions to watch the seals swim and the bears clap their paws at Dad's direction (his first job was at the National Zoo).
So can you, if you head for Baltimore's kid-friendly zoo on a winter day; go in February and you pay half price. There, a beloved 13-year-old polar bear named Magnet (so named because as a cub he stuck so tenaciously to his mother's side) entertains, lapping back and frosty forth in his frigid pool. You won't have to fight the crowds, a friend and I found on a recent brisk Sunday there. Magnet kept a small audience captive with his antics, and penguins supplied comic effect.

Winter may be a brief hiatus for us this year in Bay Country. But if it does stay around a little longer, remember, it's February already. If you are in a hurry for spring, visit Bittersweet Hill Nursery in Davidsonville, where spring returns to Earth early. Even at discount stores, you'll find stocks of garden supplies rolling in.

For me, I'll take heart in a little more winter in February while I wait for the flowers.

---
Copyright 2002
Bay Weekly