At 10, Quiet Waters Celebrated

A red-tailed hawk hunched defensively on bird handler Liz Smith's gloved forefinger and glowered up at Chuck the Stiltwalker, who turned up his palms to placate the enraged raptor. "Okay, Okay, I'm moving on, I promise!" he assured both the bird and Smith.

Dapper in a derby and vest whose neutral gray nicely set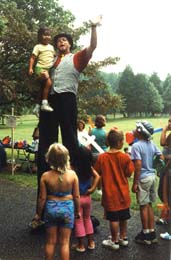 off a flaming red shirt with canary yellow tie, Chuck was decked out to delight the kid-heavy crowd who braved gloomy weather to wish Quiet Waters a happy 10th birthday. And for Chuck it was smooth stilting until he rounded the bend of the tree-shaded walk serving as the party's fairway, only to lock eyes with R3 (so named to distinguish him from fellow red-tails R1 and 2).
"Hawks get nervous when they see someone above them," explained Smith, who volunteers her expertise at Horsehead Wetlands Center in Grasonville. "They need to feel they're the tallest thing around." R3 was no match for Chuck, who towered at least five feet over all partygoers.
True to his word, Chuck drifted south, where he was engulfed by a group of kids with painted faces and elaborate balloon hats designed by Spiffy the Clown, the stiltwalker's fellow street entertainer. But no sooner had the badgered bird settled his feathers when Otis the Barred Owl, another member of the Horsehead traveling show, picked up the mood, puffing himself to double volume. "He senses a storm," said Smith.
Otis swiveled his fluffed head toward the rolling field where dark clouds loomed over a pony-riding pen set up just for the birthday. Though these very clouds would dissolve in a torrent that cut the party a little short, no one besides Otis cared. Kids ignored the warning sprinkles as they rode ponies around in circles or sack raced over the sodden grass.
Anyway, what's a little rain when you're getting watermelon slices and giant chocolate chip cookies for free? "That was probably the happiest surprise for most visitors," said Joan Hogan, who organized the event. "They kept asking the volunteer servers, 'what do I owe you'?"
It all added up to a dream birthday for any 10-year-old. Which was exactly the idea, according to Hogan, a member of the Friends of Quiet Waters Park, who hosted the party. The Friends first thought of a parade, but couldn't line up the requisite marching band. "So we decided to pattern the event after the sort of birthday party you'd have for any 10-year-old child," said Hogan.
The Friends are volunteers who "have an affection for the park," according to Hogan. In addition to putting on events like this one, Friends plant flowers, work on the park's many art exhibits and support the summer concert series, capped by the oft-doomed concert of the Annapolis Symphony Orchestra, which would have followed the birthday ceremony if not for the steady showers. It would have been the symphony's 'third' annual performance, though the second was also rained out - in 1999, one of the driest summers on record.
Even faced with fickle weather, the Friends and local residents take heart in having a grand place to hold such events. Ten years ago the park was far from a sure thing: The former dairy farm almost became a housing tract. This year's celebration marks not just an anniversary but the victory of some feisty residents and an open space-loving county government over the wages of progress.
With new housing closing in on three sides, the several hundred wooded acres along South River just outside Annapolis was a hot property. Then-county executive O. James Lighthizer (1982-'90) had been snapping up property all over the fast-growing county for parks. Quiet Waters would crown his legacy of preserved open space.
But a developer beat him to it. In place of trails, gardens, pavilions and picnic areas, the developer planned big houses on large lots. The plan's one flaw gave the pro-park force their lucky break: the need for water and sewer access.
These days, people who buy big houses favor indoor plumbing and running water. To get this for Quiet Waters meant tapping into the city's lines. The hardy park pioneers blocked this move, and the county eventually was able to buy the land. Volunteer Bob Thomas, the Friends' first president, who well remembers the park's stormy beginnings, said, "I think everyone is extremely grateful things turned out as they did."
Among the grateful is Mike Murdock, who's been superintendent of the park since June of 1990, even before it opened.
"It's been a great 10 years," says Murdock, who moved from South Carolina to take the job. "Four and a half million people have visited the park in those years, and we feel very fortunate people love the park the way they do."
Murdock sums up nicely what he and all those millions love: "a contemplative place you can come to get away from the hustle and bustle of urban and suburban life and find peace and tranquillity."
Quiet Waters' 336 acres, some wild and some manicured, make a four-season playground for both body and mind. There's the six-mile paved trail for bikers, walkers and runners of several species (animals are welcome on leashes), the South River for kayaking and canoeing and the ice rink for skating (starting, weather permitting, November 17).
For the mind, Murdock explains, "we had an open slate for programming, based around nature and art, so we've got our Arts Festival in fall and Earth Day Festival in the spring plus our concert season in summer and environmental lecture series in fall."
Soon, though not in time to save Annapolis Symphony Orchestra's 2001 Labor Day concert, the park will add a new covered concert stage.
But on Labor Day 2000, Murdock was calling his cup nine-tenths full rather than a bit empty. "I feel high on all of it, our events, our staff, our Friends, our three-century-old white oak tree," he said. "About all we're lacking is someone who can do rain dances."
In Movies, Locals Making It
The name "Roy G. Biv" (minus the "iv") - red, orange, yellow, green, and blue - holds new meaning after the sold-out premiere of the independent film Five Lines at General Cinema at Mazza Gallerie, in Washington, D.C., last Thursday.
Five Lines is the turbulent ride of five strangers living in D.C., whose separate paths are eventually connected by the Red, Orange, Yellow, Green and Blue lines of the Metro system.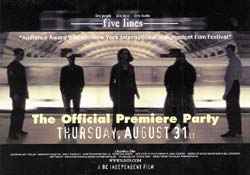 Making this feature connection are two Severna Park High graduates, director Nick Panagopulos, '92, and producer Travis O. Gray, '91.
In high school, Panagopulos and Gray were varsity lacrosse teammates who hung in different circles. They never imagined a future where they'd be teamed up again.
"It's kind of strange working with someone that you knew, but weren't really close to," explained Gray.
Crossed lines of fate brought Panagopulos and Gray together. The two bumped into each other in a bar, talked over a beer and realized they both were working in the film industry a block away from each other.
A graduate of North Carolina School of the Arts School of Filmmaking, Panagopulos has a decade of experience. He's written, produced and directed documentaries, short films and commercials and also worked on several music videos for major record companies like Polygram/A&M Records.
With two partners, Panagopulos started the film and production company BrainBox. Since the birth of his brainchild, Panagopulos has produced several projects, including the 1999 award-winning video The Power to Create. Panagopulos' thoughts come to life with his directorial debut in Five Lines, a story he co-wrote with screenwriter and actor Christian Zonts.
Producer Gray is a graduate of Colorado State University, with years of film and production work under his belt. He's worked in news media production and with producer Jerry Bruckheimer on the 1998 feature Enemy of the State. Recently, with the Learning Channel, Gray worked on several documentaries, including Running on the Sun. Five Lines marks Gray's debut as an independent producer.
Along with its D.C. location, nearly every aspect in the making of this film, including the cast and crew, came from the Metro area. Also from the area came the film's soundtrack.
"I put an ad out for local bands who wanted to be on the soundtrack," Gray said. "The response was overwhelming."
Panagopulos, a talented musician in his own right, chose most of the music, which upholds the symbolism each color of the Metro line creates for its characters.
The red line parallels a female character, played by Emily Townley, who uses caked-on lipstick and steamy sex to manipulate two different men. Her story is matched with the Bicycle Thieves' song "Running Down," a funky, sexy, groove that burns with heavy beats and guitar riffs.
Orange, representing ripening, draws on a terminally ill 14-year-old girl, acted by Marianna Houston, who realizes and accepts her mortality while visiting D.C, the city of her dreams.
"We wanted music that was smooth with the orange line," Panagopulos said. Realizing that goal is local sax legend Ron Holloway, who also has a cameo in the film.
Yellow is not so mellow. "We wanted to wake up and excite the audience," said Panagopulos, of the music matching the elderly homeless woman, played by Josette Murray-Ballo, who spreads enlightenment to a street kid. Annapolis' own alternative band Love Muffin Prowler obliges, with their bright song "Frontier."
On the green line, a college dropout, played by Christian Zonts, gets involved in a simple money-making scheme that turns into a sickening nightmare. "This line definitely called for rougher, more urban rooted music," said Panagopulos, gritting his teeth.
He found the match in the thump-thump of "Money Brings Friends" written and performed by rap artists Black Circle, and in the tick-boom, tick-boom of "Logic," a techno jam by Mad Max & J. Dubious.
The darkest of the story lines, blue, is headlined by Nat Taylor. His character battles with depression after he savagely cripples a man who turns out to be an old friend. Annapolis band Underfoot painted the gloom with songs like "Om" and "Roadside Attraction."
Brian Wagoner of Underfoot was grateful that his band's songs were chosen. "It's a huge compliment. It's also nice to see local people coming together on such a large project," said Wagoner.
Book-ending the film is an acoustic number called "If I," which linked Panagopulos and Gray to their roots. It was written and performed by their high school friend Julie Lewis.
"When a friend approaches you and says they're going to use your song in a movie, you want to be supportive," said Lewis. "You never expect to go to the theater and be blown away by the entire project."
Five Lines, the first feature to come out of Bethesda-based BrainBox, won an Audience Award at the 2000 New York International Independent Film Festival.
Baltimore and Annapolis premieres are in the works.
Keep up at www.5lines.com.
---
Smokey Beats Rain at Calvert Marine Museum
Two miracles happened in Solomons last Sunday. First, the weather that night defied earlier predictions of rain by forecasters; second, Rock and Roll Hall of Famer Smokey Robinson, one of the pillars of the vocal group the Miracles, proved that Motown music is alive and well.
With Robinson came violins. A 10-piece orchestra began with a soft rendition of "Send in the Clowns." Dancing clowns gracefully wisped across the stage. As Smokey appeared, they tossed off their white robes and Pierrot faces to bare skin-tight skirts and long legs as Smokey began with his much-loved "Tears of a Clown."
Not missing a note, he slid into two more classics - "The Tracks of my Tears" and "Being With You" - before taking a breath to welcome a crowd that appreciate
d Smokey Robinson.
"I enjoyed the concert very much," said Bob Hirschberg of Huntingtown, who along with his wife Edna came armed with an umbrella and two plastic raincoats. "Had it rained, we were prepared to stay until the last song was played."
Distance and thunderstorm predictions did not stop Herman Brown from driving all the way from Frederick to see Robinson's act. "I have a collection of his tapes and CDs. Watching him perform live gives life to this collection," he said.
Those threatening skies cleared just before the 7:30pm opening act of Mary Ann Redmond, a popular D.C.-area jazz and blues performer. Umbrellas and rain ponchos tucked under chairs, hands were free to clap and snap to her soulful beats.
Sounding a bit more like Taylor Dane than - as many reviewers have claimed - Tina Turner, Redmond rolled from popular ballads to songs of her own work to be released on her new CD, September 12.
But when Smokey climbed on stage, the fire began.
Robinson needed no flashy moves or stage hype to wow the crowd. His most daring and provocative moves were John Travolta-type Saturday Night Fever poses (a pair of dancers provided the flamboyant moves). Once in the middle of a song, he stood motionless on stage, just gazing silently and passionately at the crowd while background music played. The crowd cheered wildly.
When he sings, Robinson smooth and sexy voice melts hearts and stirs passions. One appreciative male listener said Smokey brought back his days of dancing and making out. Couples cuddled during "Ooh Baby Baby."
Many of the crowd of 3,000 knew the lyrics of the concert's 18 or so songs, which ranged from Robinson originals to Temptations and Marvin Gaye tunes.
Sixty and going strong, Robinson has a new CD himself featuring, what else, passionate music, soulful saxophones and a bit of Spanish. He gave us a sample with "Tu Me Besas Muy Rico" and "Sleeping In."
A hall of famer inducted in 1987, Robinson in 1990 garnered the Grammy Legends Award, the industry's top plum.
Which had Cavert Marine Museum, -which stands to raise, or lose, thousands of dollars depending on draw and weather - dreaming of its own sugar plums.
"We have been doing rain prayers and chants all week," said concert planner Debbie Yorty. "I guess some of those chants worked."
-Lori L. Sikorski and John Viado
---
Way Downstream ...
In Iran, 100 students from the southern city of Shiraz are waging a desperate fight to save 2,000 flamingo chicks from certain death. The baby flamingos were stranded when Bakhtegan Lake dried up. Rescue is hampered by the weakness of the birds and the swampy conditions, Reuters reported this week ...
In Italy, an American archaeologist concludes that Venice, the famed city of canals, is doomed to sink into the earth. The scientist, Albert Ammerman, said in his article in Nature last week that Venice may drop another 20 inches by the middle of the century. That would be devastating to a city that is constructed on wooden pilings pounded into a wetland ...
In California, animal-rights activists say that the Walt Disney Co.'s upcoming 102 Dalmatians endangers the dogs by promoting them as a zippy, lovable breed when they are in fact flighty and unpredictable. As a result, many Dalmatians end up abandoned when they don't live up to expectations ...
South African poachers are snatching so many buchu plants that they may become extinct. For centuries, people have extracted medicine from the leaves to cure everything from hangovers to flu to battle wounds. But conservationists say that with the price so high today, people are uprooting whole stands and threatening the buchu's survival
Our Creature Feature comes from California, where authorities have cracked a smuggling ring that dealt in some of the world's rarest reptiles. Anson Wong, 42, was extradited from Mexico last week and faces 51 federal charges related to a smuggling operation from Malaysia, Indonesia and the Philippines. Komodo dragons and the rarest tortoise on earth, the Madagascar spurred tortoise, are among the endangered creatures that Wong allegedly sold.
---
Copyright 2000
Bay Weekly