Damian Einstein Celebrates 30 Years as Spin Guru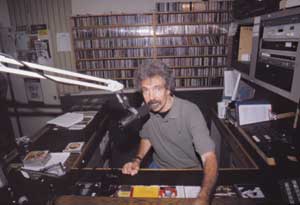 By Matthew Thomas Pugh

Every morning the City Dock coffee shop in downtown Annapolis is swamped with folks eagerly awaiting their wake-up crank. They file in impatiently, some droopy eyed, some fresh, some decked out for a meeting, some in their hamper rags. In the midst of this morning madness, one character stands out in the crowd.

Damian Einstein moseys in, one methodical shaky step at a time. Untroubled by the chaos around him, he unzips his WRNR windbreaker, drapes it and his cane on his favorite corner chair, dusts back his gray Don King hairdo, approaches the counter and orders up his usual bagel with cream cheese, blueberry scone, double shot of espresso and Jolt cola.

"This probably isn't too healthy," Damian giggles through his black goatee. "But it's what gets me going."

He returns to his corner, turns, bends at the waist, remains suspended there for a microsecond, exhales, then plops down in his seat. From somewhere under the low buzz of business talk and shuffling feet, a song rises up and fills the room. Damian cocks his head to hear it better.

"This cat's an unbelievable guitarist," he grins, "and from just up the road."

If anybody knows good music, it's Damian. For the past 30 years, the man has made music his life. As a pioneering rock 'n' roll DJ, Damian overcame the shadows of death and the ugly leer of discrimination to become an inspiration to radio listeners and musicians around the globe. His dedication to music is legendary. More specifically, local music, homegrown music.

Damian describes the area around D.C., Baltimore and Northern Virginia as a hotbed for all kinds of dynamite music and musicians. "This area is wild," he says, eyes bulging, hands waving. "You've got everything from reggae to bluegrass; country to rock 'n' roll; new wave to the blues. It's amazing."

Damian mixes all these genres of music into his daily radio show on WRNR 1
03.1FM. To keep things even fresher, Damian keeps a meticulous record of his past shows so songs aren't repeated.

WRNR is progressive, free-form radio. In other words, the jocks play essentially whatever they want. Their job is far more than pushing buttons. They are artists. As artists, they create clever and timeless ways of spinning musical stories. Einstein is the gourmet spinner.

What's it like ingesting a Damian radio show?

Imagine yourself taking a seat at a giant dinner table. Prepared for you is a feast fit for a king. Dishes from all different cultures are served, including your local favorites. You are surrounded by thousands of your brothers and sisters, all joined together to celebrate and share this meal, this occasion.
Presiding over this thanksgiving is, of course, the father.

At Damian's table, you're dining on dishes of music. Your brothers and sisters are strangers, other radio listeners, all joined together to share in the celebration of song. Damian, your local rock 'n' roll radio father, feeds your ears and mind.

We gotta get out while we're young
Cause tramps like us, baby, we were born to run.

Whence Damian

Born January 15, 1950, in Baltimore and raised in the chicken town of Denton, Damian Riley was the fifth of Jake and Rosamond's seven Einsteins. As a child, Damian discovered a boxful of Billie Holiday and Dizzy Gillespie 78s in the back room of his family's house. He "loved them" immediately.

Later, as a tall teenager, he loved to play basketball and gravitated toward the town's black neighborhoods. There Einstein discovered a soul
club called Troxon's, where all sorts of R&B and soul musicians jammed. Damian was infected by the highly contagious R&B sound.

A knack for drawing and art landed Damian work at a newspaper, but he jumped media for an advertising sales position at an up-and-coming radio station owned in part by his father. From there, he was offered an opportunity to spin records. Damian explains his transition into radio jockin'.

"I was working in advertising, and all of the sudden, Jimi Hendrix came into my life," says Damian, gulping his Jolt. Einstein went with the flow, hosting the wee hours of the Saturday graveyard shift.

The year was 1970, and Damian was now a full-time jock spinning vinyl for 102.3 WHFS in a cramped Bethesda apartment-turned-studio. From there, Einstein used every watt and waking hour to support, promote and play local music.

Back then, the rock concept album was emerging from the underground music scene. Songs were evolving from two- or three-minute tunes into eight- or nine-minute epics. Damian is credited not only with exposing this new trend to local listeners but also for helping to launch ground-breaking artists like Frank Zappa to world-wide recognition.

Other than on a few scattered college campuses, there were no progressive rock radio stations playing the music that WHFS did. WHFS was a low-powered station, around 2,500 watts as Damian recalls. So people would go through all kinds of pains to tune in.

"It was, without a doubt, the coolest station around," remembers Bay Weekly writer and former WHFS listener Christy Grimes. "Nobody else played what they played."

WHFS also had an open-door policy, whereas other stations simply wouldn't readily endorse new or local music. So when musicians came to the Baltimore/Washington area to do a show, they stopped by the WHFS studio to go on air with Damian.

During these interviews, he developed friendships with people like Bruce Spingsteen and the band members of Little Feat, who, at that time, weren't selling out arenas. These friendships would surface later in Damian's life.

It wasn't mingling with the starlets and stars that brought Damian satisfaction. "Some of the musicians were famous, and some were just starting to get recognized, but that was neither here nor there for me," he explains with a mouthful of scone. "I was just happy to be a part of the music scene in this area."

Life moved along at a steady beat for Damian until the eve of December 13, 1975.

With the help of God, a true friend,
I've come to realize,
I still have two strong legs,
And even wings to fly.

–The Allman Brothers Band, Crossroads

Damian and buddies were cruising down the highway near Silver Spring, Maryland, in an old pick-up truck. "I was sitting in the middle of my two friends, and I just remember the weather was getting really bad," recalls Damian, looking down at his hands.

Suddenly, the truck spun out of control, careened off the highway and crashed into a bridge, shearing off the cab. When it came to a crashing halt, Damian was barely alive. His two friends were not.

Damian was removed from the dashboard and rushed to shock trauma, where he remained comatose for months. When he finally came out of it, it was only to awake to many injuries, including a broken neck, shattered jaw, multiple limb fractures and multiple head traumas. "I was in bad shape," says Damian. "I was told I would never walk again or live a normal life."

In a wheelchair, Damian rolled onto the long, rocky road of recovery. All over again, he learned to walk and to talk. Damian was in and out of hospitals all over the country, grinding through hours of painful rehabilitation.

He eventually recovered enough independence to rent a

n apartment in the same Bethesda building as WHFS. "I would periodically roll down to the station to see how well I could deal with the equipment," Damian says. It would be some time before he could return to the air. Time was a thing Damian had.

He bought a ton of exercise equipment and worked out religiously. He sought a chiropractor, who, says Damian, "hooked me up with some vitamins for my muscles and just really helped straighten me out." Damian grins at his pun.

He was getting better, but not well. There were neurological complications, side effects from high doses of medication and debilitation from long hospital stays. Damian found a solution in holistic medicine.

"I became aware of a doctor through a Donald Fagen song I'd heard," says Damian. The acupuncturist immortalized in the Steely Dan song "Doctor Wu" happened to live in the area. Doctor Wu "helped changed my life," smiles Damian.

In 1977, after two years in and out of hospitals, Damian triumphantly returned to radio. He eventually worked three days a week, and then five, before permanently settling into his 10am to 1pm shift. He graduated from the wheelchair to a cane, then to walking on his own. The easy timbre and clarity of Damian's voice, however, had not returned. The accident left Damian with a speech impediment that continues today.

A few years later, Damian found love and wed long-time acquaintance and co-worker Pattie Ebbert by way of a justice of the peace in the romantic and musical town of New Orleans. "Pattie stood by me through everything," Damian remembers. "She was at my bedside when I was in a coma and used to hold my hand and talk to me. She said when she would talk to me I would squeeze her hand. That's how she knew the doctors were wrong and that I would recover."

His recovery was an inspiration to his listeners, and musicians everywhere saluted him. One of the first concerts Damian managed after his return was Bruce Springsteen. "The Boss" himself stopped the show, thanked Damian for coming and dedicated to him the song "Darkness on the Edge of Town."

Life was good. But in the distance a cloud was looming that would creep up on Damian some 13 years later.

I see a bad moon rising,
I see the trouble on the way.

Bad Moon Rising

In 1989, the legendary WHFS was sold. By then, Damian was a 20-year veteran and a local legend.

The new owners of WHFS moved the station to Landover to give it an information-age make-over. This meant changing from the artistic free-form of the past to the mechanical button-pushing of today. The station's new general manager decided to "promote" Damian from disc jockey to the do-nothing position of assistant program director, a management position that would supposedly use Damian's vast knowledge of music.

The station claimed to have removed Damian out of "business necessity," when in fact Damian's ratings were the highest of any disc jockey at the station. The promotion was a tactic to remove Damian from the air, a decision based on the speaking disability that had resulted from his auto accident.

Listeners, and with them the industry, rose in outrage. Thousands of people signed petitions or wrote letters to WHFS demanding that Damian be returned to the air.

Officials from the Wolf Trap Foundation for the Performing Arts wrote: "We can't begin to relate to you our overwhelming feelings of sadness, outrage and disgust upon learning of your decision to deprive WHFS listeners of veteran on-air personality Damian Einstein … He is an asset to WHFS that most stations could only wish for … we know of no individual in the radio business more dedicated and knowledgeable than Damian … the market doesn't need another computer-controlled, rigidly formatted station featuring robot-like announcers with the personalities of used car salespeople … we urge you to reconsider your disastrous decision and put Damian back on the air where he belongs. The Washington area needs — and deserves — all that he has to offer."

Another letter came from "Friends of Damian Einstein," whose members included Little Feat, David Crosby, Graham Nash, Nils Lofgrin and Bonnie Raitt. They wrote: "To remove him, or anyone, because of a supposed disability is, in our opinion, unconscionable. In focusing on Mr. Einstein's supposed disability instead of his tremendous ability to communicate and educate in a simple, eloquent manner, you have created an issue where an issue has never before existed. On the air and off, Damian Einstein is one of the greatest assets you possess."

Damian's removal was also cause for protest. Nearly 10,000 gathered at Joe's Record Paradise in Montgomery County for a "Save Damian" rally.

"I called every friend and musician I knew to come down to rally," remembers Joe Lee, owner of Record Paradise. "Everyone involved knew that what had happened to Damian was wrong. Everyone knew what to do, so the rally happened naturally."

In the hordes were musicians Catfish Hodge, Jimmy Thackery, Deanna Bogart, Daryl Davis, Danny Gatton, Ron Holloway, Junior Cline and the Recliners, Johnny Castle, the Rosyln Mountain Boys and Damian's old friend from Little Feat, drummer Richie Hayward. "The whole thing was wonderful, the music was great and the people stood together," said Lee.

"It was touching," recalls Damian, "I felt honored to have so much support from so many different people."

Damian, like a golden-gloves champion, didn't give up. With support in his corner, he filed a discriminatory complaint with the Maryland Commission on Human Relations. The state found Damian's removal was "a stereo-typical discriminatory attitude" and "that there was no reason to believe that Damian's speech interfered with his ability to perform and deliver a quality radio program." Damian had punched his way back onto the air on October 22, 1990, a year and a half after his removal.

"I was just happy to be back on the air playing music and doing what I loved to do," said Damian.


I had the blues so bad one time
It put my face in a permanent frown
But now I'm feeling so much better
I can cakewalk into town.
Redemption Song

In 1994, Damian resigned from WHFS, leaving behind him years of frustration, pain and anguish to create the progressive WRNR. As always, his father, Jake Einstein, stood behind him, providing much of the corporate expertise.

Like the original WHFS on 102.3, the idea behind W-Rock 'N' Roll was free-form — opening the airwaves for all sorts of alternative music, including music that wasn't being aired elsewhere. The key was a music director whose music parameters expanded globally around a local axis. The key was Damian.

"The main thing that separates WRNR from other stations is the eclectic format that we endorse," Damian explains, wiping cream-cheese from his fingertips. "We aren't patronizing just the hit makers like a whole lot of radio stations are. Most other radio stations are banging on the same drum.

"The cool thing about WRNR is that we play all types of music," he continues. "Our open-format approach allows us to continually surprise our listeners."

With studios on Annapolis' Main Street and a tower at Grasonville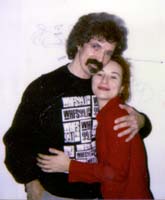 , WRNR, 103.1 on the FM dial, is 23 hours of music. Its main ingredient is music from the colorful collage of communities of the Metro area, especially the nation's capital, where people flock from all over the world. Many walks of life are represented, from the rich to the poor, urbanites to country bumpkins.

Any day from 10am to 3pm, you might hear from opposite ends of the music spectrum, both local and global. From the hometown blues of Dean Rosenthal to the multi-colored melodies of the Vermont quartet Phish, from the banks of the muddy Mississippi to the tropical island roots of Jamaica and back again, Damian plays it all.

And he believes music can unite these different, often opposing families, into one melodious community. "The thing about local music, homegrown music, is that the people who listen to it find that they all have something in common," smiles Damian.

"I just want to let people in on a good thing," the veteran DJ said. "I feel honored to have been able to spread new sounds to different people, as well as help along those in the community who have a sound to spread."

Damian's role in spreading music is irreplaceable. His legacy can be measured only by where he's been. He blazed the path for WHFS, as noted in The Washington Post article "A Century's Strongest Signals … From 100 Years, Radio's Finest Hours," and is largely responsible not only for making WRNR the "best radio station in the Baltimore area," according to Baltimore's City Paper, but also for
making WRNR "one of the top 10 stations in the country," according to USAIR National Magazine.
"There is no doubt that Damian is a critical figure to music in this area," explains WRNR program director Alex Cortright. "He upholds a musical heritage that expands beyond the local."

Damian continues to tell the stories of local music, through the air, right into our own back yards. "We all need music to fulfill our lives, Damian explains. "It is the ultimate form of communication."

Tradition and perseverance is why Damian is still rockin' after 30 years. And as he downs the last drop of his espresso and heads for the station, I ask Damian to compare his long-strange-trip of a career to a song.

"'Simple Twist of Fate' by Bob Dylan," he says with a nod. "By title, not by tune."
---
Copyright 2000
Bay Weekly