A Millennial Fairy Tale
by Connie Darago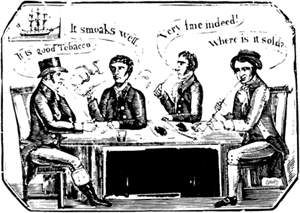 Maryland's historic crop has crossed many rivers: aging farm populations, competition from other job markets, foreign markets, bad health news and state anti-smoking legislation. Now tobacco farmers have their biggest river to cross.

Mirror, Mirror on the wall,
Who will stand and who will fall?
As tobacco billions come our way,
Whose outstretched hand will fill today?


"We will determine how to best help tobacco farmers move out of tobacco," said Gov. Parris Glendening on convening his Task Force on Tobacco Crop Conversion to help spend Maryland's $4.4 billion share of the nation's tobacco settlement.


The windfall came in November 1998, after 46 states, five territories and the District of Columbia sued the big tobacco companies to recoup Medicaid dollars spent on treating smokers who were ailing.
Tobacco companies settled for about $206 billion, plus their promise not to promote smoking by advertising on billboards or clothing, sponsoring concerts or paying to show tobacco products in movies or television.


In a fairy-tale world, Maryland's $4.4 billion would ensure a happy ending for all over the next 25 years. Not so in this world.


The division began with good intentions. Last summer, Glendening formed three
task forces to decide the best use for the money. In December, he announced their recommendations of how the pie should slice: $1 billion dollars over a 10-year commitment, with $500 million to conquer cancer, $300 million to out smoking and $78 million to help farmers convert to life-sustaining crops.

For $78 million, farmers were promised all kinds of parachutes. There'd be compensation for actual financial losses for those who voluntarily move to other crops. Plus they'd be eligible for loans and grants to buy new machinery and irrigation systems for alternative crops. In addition, there'd be money to purchase 'development rights' of more tobacco farms, meaning not only money for farmers but also more open space for everybody in Southern Maryland.

Six months later, special interest groups are crawling from the woodwork with outstretched hands, demanding their fair share of the tobacco settlement, hiring lobbyists, challenging decisions of the task forces and getting the attention of state legislators. Farmers, meanwhile, are scurrying to make choices that will make or break the farm.

They're worried.

"You can't buy a used combine to harvest your alternative crops that cost more than your original house and farm when you got $4 a bushel for corn in 1974 and $1.55 a bushel in 1999," says Anne Arundel farmer Lillian Griffith.

Tweedledum and Tweedledee resolved to have a battle
For Tweedledum said Tweedledee had spoiled his nice new rattle

Tobacco, Can You Spare $1?

Everybody has an idea on how to spend the tobacco windfall. Added to Maryland's $940 million budget surplus, $4.5 billion has created euphoria among our 188 legislators.

"It's a great big piñata, and they've issued 188 baseball bats and we're all clubbing each other," said Sen. Robert Neall of Anne Arundel County.

The phones are ringing off the hooks at Charles County Sen. Thomas Middleton's office.

Western Maryland lawmakers tell him they want $400,000 for a 'well-mobile' to cruise their region. A Maryland business wants $15 million to help it bring laboratory research findings to marketplace. African Americans justify their dollars by charging cigarette makers have targeted their communities — with resulting higher incidences of disease and death.

"I get five or six different calls a day from special interest groups wanting to meet and talk about getting some of the money," says Middleton.

State Senate President Thomas V. Mike Miller wants the state to ensure the money is spent wisely. One way would be to bank the first year's proceeds before deciding how to spend it, as they did with the first year's lottery sales in the 1970s.

"It's getting ugly," said Miller. "I'm becoming more and more enamored of moving forward on what we can agree upon, but escrowing the rest of the money for a year if the contentiousness does not abate."

The fairy tale has become tangled.

Unless you've grown up on a tobacco farm or have studied Maryland's living link to history, the crop of choice for Southern Maryland since the early 1600s, you're seeing Cinderella without her slipper. Tobacco farmers are desperately searching for a new glass slipper, and one that won't turn into a pumpkin at midnight.

Long Ago and Far Away

Once upon a time in the New World, a crop called tobacco was grown by Native Americans and named for their Y-shaped pipe. Tobacco was first mentioned in Old World literature in 1493.

Maryland tobacco seeds descended from seeds imported from the Oronoco River basin of the Amazon in the early 1600s.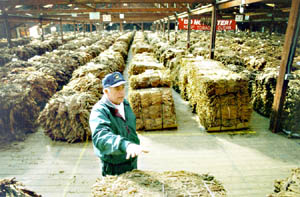 English colonist John Rolfe took seeds to England in 1612, but the sotweed, as it was called, didn't grow well in the European climates, so colonists were dispatched to Jamestown to cultivate tobacco.

Tobacco captured the colonial imagination like precious metal in a gold rush. The crop flourished. It was planted in every clearing, including forts and the streets of Jamestown.

As Europeans arrived ready to grow the sotweed, Native Americans were driven from their land. And as plantation owners searched for cheap labor, it came via slave ships from the West Indies and Africa.
Soon farmers of Maryland and Virginia grew little else but the six-foot tall broad-leaf plants. Exports jumped from 600,000 pounds in 1622 to one and a half million by 1639 and 20 million by 1670. A century later, one hundred million pounds of Oronoco gold poured out of the Chesapeake.

The whole colony developed producing tobacco. As exports grew, ports like Tracey's Landing in Anne Arundel County and Plum Point in Calvert County sprung up as commerce centers. Tobacco was the medium of exchange. Tobacco's reign lasted into the 20th century.

"We had a beautiful life," said the late Purnell Franklin, fourth-generation Anne Arundel County farmer. "We had a unique partnership at our farm. Mom raised turkeys. When the tobacco crop was well underway, she would turn the turkeys into the fields to eat the worms from the plants. It worked out well. We had nice tobacco," he said.

"Dad would carry his tobacco to market by horse and wagon to Chalk Point in the early days. Then in 1924, when I was eight, Dad bought his first car. After that it was a real treat to go to Baltimore where my father sold his tobacco at Maryland Tobacco Growers, one of the commissioned markets. He got between four and eight cents a pound for the crop," Franklin continued.

"It was exciting. The big ships would send barges to take the hogshead [the first measured packing of tobacco, a wooden barrel 44 inches by 54 inches and about four feet tall] back for loading.

"I've been raising tobacco a long time," concluded Franklin. You can't imagine the man-hours that go into tobacco. You've got to think of tobacco all of the time."

Now, 375 years later, the signs are clear. Tobacco will soon disappear and in its place … well, who knows?

Beauty …

The Farmer and Tobacco sat on a wall.
Tobacco and the Farmer had a great fall
It's all but over, not much they can do
But pray for a miracle and hope it comes true.

Franklin wasn't understating the trouble. It takes about 225 man-hours to raise one acre of tobacco.

Pat Dize, of Lower Marlboro in Calvert County, remembers how hard the work was.
"When we were growing up, my two brothers and I worked many long hard days beside our dad to bring the tobacco crop to market," said Dize. "It was the hardest work I've ever done."

Hard as it was, tobacco was Maryland's cash crop.

"Maryland's first crop offered a good living for generations," explained Tony Evans, marketing specialist at the Maryland Department of Agriculture.

Just how good a living? In 1982, Maryland farmers raised over 38 million pounds of tobacco on 27,000 acres, with yields of about 1,400 pounds per acre. They reaped over $58 million for their efforts. That's $2,100 for every acre they grew.
That same year, Maryland farmers harvested 640 thousand acres of corn, with yields of about 103 bushels per acre. They reaped $171,000 for their toil. That's $268 for every acre they grew.

Tobacco helps the state make a good living, too. During 1998 — when harvests were 11.9 million pounds — the state of Maryland collected $130 million in tobacco revenue for the General Fund.
That's a lot of moola for just one crop. But then tobacco hasn't been just any crop.

… And the Beasts

Even before the consequences of smoking caught up with the crop, tobacco farming was a risky economic proposition.

There were, of course, the usual weather problems that plague all farmers: "Back-to-back droughts and poor weather in general have made for poor crops the past eight to 10 years," complained Maryland Deputy Secretary of Agriculture Hagner Mister.

But Maryland tobacco has other complications.

• The booming metro market has jobs that pay better and aren't as hard: "Tobacco is hard work," said farmer Franklin. "Nobody in America wants to work hard anymore. You just can't find the labor you need."

• The farm population is aging: "Most farmers are closing in on retirement and are not going to try the alternatives," said Cassandra Briscoe of The Cage Farm in Calvert County. "Farming just doesn't work when you put it down with pen and paper."

• Housing developments are competing for farmland: "We're in the triangle of Washington, Baltimore and Annapolis and population is quickly taking a toll on our region," explained Mary Briscoe of Stonesby Farm in Calvert County. "People are willing to commute to live the country life."

• South America and Africa are producing rival tobacco: "There are substitutes for Maryland tobacco," said Gary Hodge, advisor to the Southern Maryland Tobacco Board. "But they're not very good — yet."

The list of problems makes Southern Maryland's farm economy as shakily seated as Humpty Dumpty.

For all those reasons and more, by century's end, a mere nine million-pound year — about what Chesapeake Country grew in the middle of the 17th century — is considered a good state tobacco crop.

Done in by Choices

There was an old farmer who tried to survive
Keep food on the table and tobacco alive
His table they filled with choices aplenty
Confusing, he says, I may not choose any.

Obituary: Sometime early 21st century.

Tobacco was laid to rest after providing a good living for generations of Maryland farmers.

"When I first came down from Pennsylvania, it was late summer," recalled Mary Briscoe. Tobacco was in bloom on both sides of the road for miles and miles. It looked like a garden. It was beautiful."
John D. and Mary Briscoe were inducted into Maryland's Agriculture Hall of Fame this year. As a team, they have seen many a crop survive and fail. Like so many others, they wonder what the future holds.

Maryland's historic crop has crossed many rivers: Aging farm populations, competition from other job markets, foreign markets, bad health news and state anti-smoking legislation.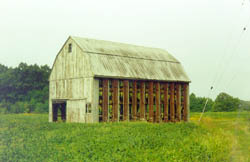 Now farmers have the biggest river to cross. They've got to decide once and for all whether to stick by tobacco — or get out while there's money on the table.

On the table is $78 million — five percent of the state tobacco settlement. Over 10 years, much of that money and the interest it earns will go to help farmers who choose to get out of tobacco.

Payments start this year with $2.5 million. Next year, the amount jumps to about $9 million.

That's the simple part.

Four plans for spending this money were hammered out by the Governor's Task Force, the Southern Maryland Tobacco Board, Farm Bureau leaders, the University of Maryland Cooperative Extension Service, the Maryland Department of Agriculture and the Southern Maryland Agriculture Development Commission.

One plan, the $1-per-pound buy-out to stop growing tobacco, could begin as early as July with payments by January 2001. They call this one the straight buy-out.

"The straight buy-out is our number-one priority," says Robert Swann, director of government relations for the Tri-County Council for Southern Maryland. "Farmers would immediately cease growing tobacco and commit to never grow again. In exchange, they receive $1 per pound based on their 1998 crop." That was the year of the settlement.

There's also the $1.50 transition.

Under this plan, farmers could wean themselves from tobacco, cutting back 10 percent a year. Thus a farmer raising 15,000 pounds of tobacco would get $15,000 a year over 10 years, amounting to $150,000.

Also on the table is an Agriculture Land Preserve Program. Farmers must choose either the buy-out or transition to also qualify for preservation program money.

Finally, there are 'infrastructure' funds. This money can be used in three ways: To fund a food processing plant to handle new alternative crops; to make loans and grants to purchase new equipment; and to pay for research for alternative crops.

A farmer who chooses any of these plans gets another share of tobacco settlement money.

The Southern Maryland Tobacco Board helped negotiate Phase 2, an additional $32 million over 12 years, from Maryland's share of the tobacco settlement. This pie will be sliced among farmers who produced tobacco in 1998 and ha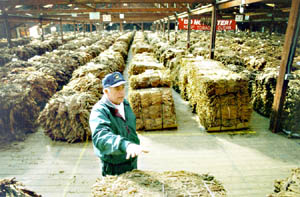 ve proof of poundage for three consecutive years. They will receive a cash payment on the amount grown in 1998.

Or a farmer can say to hell with the money and keep doing what his ancestors have done for 375 years: Farming old grandpappy tobacco.

"It's well beyond confusing," said Evans. "There's so much out there, only a few really know what's going on."

It's confusing — and worrisome too — to Anne Arundel farmer Lillian Griffith. "I'm afraid there's becoming too many alternatives and some of them will have loopholes and we will lose in the end," she said.

So what's a farmer to do?

'I think for the most part farmers will take the buy-out proposal and the opportunity to place their land in the Agriculture Preservation Program. The average age of the tobacco farmer in our area is about 60. They are nearing retirement age and can't think of starting any other business. A $15,000 or $20,000 check would be a nice subsidy for retirement," said Ag deputy Mister.

The Tobacco Board's Hodge agreed: "Farmers, especially the older ones, are reluctant to change. I think maybe a third of the farmers will choose the buy-out and a third the 10 percent transition. The other third will stand firm, raise their tobacco and take their chances."

As of the third week in March, the fund had paid $2.386 million to tobacco farmers.

Old Mother Hubbard Went to Her Cupboard …

They keep appearing like sailboats on the wind-swept Chesapeake Bay: New alternative crops, sure to save the day.

"We are continually trying to push alternative crops like livestock, vegetables, flowers, strawberries and grains," said Tony Evans. "Some farmers do okay, but most aren't willing to invest the time."
A few have made a successful leap.

Allen Swann of Swann Farm in Calvert County's Lower Marlboro provides vegetables for many kitchen tables, gourmet meals, fancy restaurants, roadside stands and major supermarkets. Local chain stores proudly display the Swann name beside bins of fresh beans, broccoli, yellow and zucchini squash, melons, tomatoes, and peaches.

"I guess we were lucky. We saw a need and filled it early on. On our 340-acre farm, we once raised 30 acres of tobacco. We now raise eight," said Swann.

Tommy Briscoe farms Stonesby in Calvert County, raising corn, wheat and soybeans. "Tommy rents extra land in Solomons and Lusby. The key is if you don't have large land, you can't raise enough to make any money." said his mother, Mary Briscoe.

Anne Arundel farmer Earl Griffith, who owns a 345-acre farm in Lothian and farms a total 700 acres, has a foot on each side of the divide.

"I raise corn, soybeans, wheat, watermelons, potatoes and mums. They do pretty well, but nothing compares financially to the 80 acres of tobacco I raise," said Griffith.

As the Griffiths have found, there's no sure alternative crop.

"We raised 30,000 mums one year," said Lillian Griffith. "We got $4 per plant. Soon everyone started planting little patches, and in a couple of years we were lucky to get $2."

Another Anne Arundel county farmer, Martin Zehner, agrees there's no sure thing. Still, he said, farmers better be looking for one because "tobacco is going out."

"Even if they don't find a substitute for tobacco, farmers who take the buy-out can still earn money to help balance their income."

To help bridge the gap, Zehner has organized the two-decade-old independent Anne Arundel Farmers Market. The market provides a direct link for county farmers, the only ones allowed to sell their wares.

"Common sense shows the population is continuing to grow. People are willing to spend money to get good food," said Zehner. "If you establish a good honest reputation, you have nothing to fear."

He seems to be right. Thousands hungry for the home-grown taste spend big bucks every Saturday morning from April through December with the 40 vendors selling fresh fruits, vegetables, flowers, plants, herbs, organically grown vegetables, baked goods and some home-made foods at the state's longest running independent market.

But When She Got There …

Tell most tobacco farmers that new and exciting alternatives are on the horizon, and they will beg to differ.

"When I was director of Tri-County Services, we held an experiment," said the tobacco board's Hodge. "We sponsored 50 alternative crop demonstrations from strawberries to emu and offered $1,000 to $1,500 seed money for farmers to try the alternatives. Some made money, but none could begin to compare financially with tobacco. Even now tobacco is still the best deal in town."

Similar experiments reached the same conclusions.

"I took statistics from three good crops raised in one year when grain was at an all-time high," said agriculture spokesman Evans. "Raising all three crops, a farmer that year still won if he chose tobacco."

The perfect tobacco replacement hasn't been found — but it's being hunted.

The University of Maryland Biotechnology Institute is conducting experiments with tobacco to produce heat enzymes to help produce ethanol fuels through biomass conversion. A genetically modified tobacco could support new jobs and industries.

Another alternative may be cooperative marketing. The Southern Maryland Small Farm Co-op, the first of its kind, is getting farmers together to research, grow and market local produce economically.

And plans are under way in Cheltenham for a commercially approved community kitchen, where farmers can test, preserve and find ways to bring their alternative crops to market.

From One Market to Another

This hogshead went to market,
This bundle followed behind,
This bale, no one knows its fate,
But surely it is in decline.

Rain was pouring from the heavens by the bucketsful, pelting the tiny skylights of the barns and soaking the horses hitched to the Amish buggies as the first millennial tobacco market opened March 21. One million two hundred pounds of tobacco was proudly displayed in rows of four-foot high neatly stacked burdens and bales at the Farmers Market Warehouse in Hughesville.

Anxious farmers gathered near their crops, waiting for the graders, buyers and auctioneer to set the price. Large red 'Keep Tobacco Clean' banners loomed above their heads as they chattered with fellow growers. Some were smoking sotweed, others leaning on the fruit of their labor.

"Eighty gimme ninety, eighty gimme ninety," chanted the auctioneer as he traveled up and down the rows of Maryland's first millennial crop.

Alfred Mills of Charlotte Hall comes to the market every day of its three-week run.

"I'm not a tobacco farmer, but I have friends who are," said the retired airman. "I think it's a fascinating thing to watch. It will disappear soon."

Tobacco farmer Janice Schultz loves her life. "I have two farms in St. Mary's County," said Schultz, who bought her first farm from her father in 1981 after she got "fed up" with city work. "I love tobacco farming. It gives you a feeling of togetherness and camaraderie," said this non-traditional tobacco farmer with long dark hair, red-brocade jacket and matching jewelry. "We're going to have a good market. I can feel it," she said.

Eighteen-year-old Lee Pinkerton hopes she's right. Lee raises tobacco as a third-generation farmer on the family's 80-acre farm in lower St. Mary's County.

"I like farming," said the high school senior. "We don't raise much tobacco anymore. We have moved to hay and pulling horses we take to competitions and shows."

Farmers weren't disappointed in the first day of their market. Farmer H.H. Walters' tobacco brought a whopping $2 a pound. It was called top of the line, primo by some farmers. Most, however, was running about $1.80 a pound.

As crowds dispersed for lunch, spokesman for the Raymond Guy market estimated 300,000 pounds had been sold for an average of $1.83 per pound.

So begins Maryland tobacco's fifth century.

---
Johnny Tobacco Seed

Even the way Maryland farmers get their seeds is unique. The Swiss love the potent, slow-burning tobacco so much that every year Swiss manufacturers give money to the Maryland Tobacco Improvement Foundation, an institution they founded in 1950 specifically to provide free seeds to Maryland farmers.

These days seeds come from the state-owned Agricultural Experimental Farm in Largo. They have been refined to be somewhat resistant to disease and drought and not prone to cutworms, tobacco lice or the dreaded blue mold.

Tobacco seeds are first planted in tobacco beds. Most beds are about 60 yards long and 20 wide. In the fall the beds must be tilled, covered with plastic and shot with bromide gas to kill any grass seed.

In March or April, after the land has dried, the beds must be lightly worked again. Then seeds are planted and recovered with plastic or cheesecloth and watered frequently.

A daily watch begins. Finally, a tiny sprout the size of a flea peeks through. Beds are often sprayed again to further protect the fragile plants.

Meanwhile, land must be prepared. Plow and disc turn the cover crop. Then clean fields are fertilized and treated for grass. It is a toxic process and for tobacco, a very chemical-dependent crop.

In May, healthy eight- to 10-inch plants are retrieved from their beds and planting begins. A Ferris wheel-type planter is mounted on the back of the tractor. It has eight fingers and a water tank. People sit on either side of the wheel and set the plant in a finger. As the wheel turns, the plant is pushed into the soft soil with a drink of water from the tank to ensure a good start.

Even with the chemicals, tobacco requires two cultivations.

As plants grow, workers must groom the fields, topping each plant by cutting off the flowers to speed the maturation of the lower leaves. A hot Bay Country summer is just what the doctor ordered for the plant to flourish.

By late August, plants are ready for harvest. Sunshiny days are perfect.

Tobacco must be cut by hand. When first cut, it's brittle and must lay in the sun and wilt slightly. After the plant is pliable, the base of each stalk is split with a steel spear. Six or eight plants are then threaded through the split in the plant's base on a wooden tobacco stick. Sticks are loaded, again by hand, onto flatbed trailers and taken to the barn to hang and cure. Workers must hang the tobacco 30 or 40 feet high, balancing themselves on three-inch wide beams. It's a hot and risky job.

The tobacco hangs upside down from September until November. That's the secret to Maryland tobacco: It is air cured, usually by fresh air circulating through open panels in the barns.

In November, cured leaves must be handled again: They are unhung one stick at a time and carried to a stripping house where they are removed from the stick, graded and placed into 'burdens' (flat baskets of 150 or 300 pounds, which replaced hogshead in the 1930s).

Farmers of late take 'bales,' weighing 50 to 60 pounds, to market. At 12 inches deep, 24 inches high and 36 inches long, a bale can be handled by one person — a plus for the small farmer.

Four more months the tightly packed 'hands' of tobacco will age until the sotweed is handled for the final time and stacked on trucks for its journey to market.

Every crop is different, but all are time consuming and back breaking.

---
Copyright 2000
Bay Weekly