New Bay Times Archives
---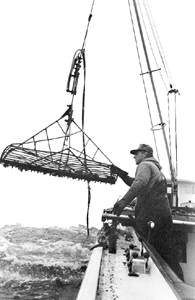 Volume VII Number 11
March 18-24, 1999
---
Volume VII Number 12
March 25-31, 1999
On Our Cover: The journey of a thousand miles begins with a single step. Paul Callens, Ajax Joe Drayton, Judy Rogers, Ben Thompson and Kristie Wisniewski raise their spirits on the eve of the walk. Photo by Mark Burns.
Dock of the Bay In Davidsonville, Horsing Around at Roedown * In Calvert, Looking for 4-Legged Heroes * At Ag Open House, Mother Nature Stars * In Calvert, Goldstein's Office Enshrined * In Anne Arundel, Hope Swells in New Citizen Planners * plus, Way Downstream, In Virginia, St. Mary's River takes Tums * In Washington, D.C., Urban Gators and The Sea Around Us top lists at the 1999 Environmental Film Festival * In New Mexico, ecoterrorism strikes the offices of Forest Guardians * In Antarctica, Kodak Express is coming * and last but not least, this week's Creature Feature: At Rancho San Antonio Open Space Preserve, tourists take shelter from turkeys displaying masculine vigor.
The Long Walk West by Mark Burns. From Ocean City, 7 step out on faith in their 3,200-mile walk for Unity.
Bay Bites Giolitti Delicatessen: A Taste of Italy
Editorial Three Cheers for the Bay Foundation's Poultry Plan
Letters to the Editor Deale Needs Safeway; California Girl Seeks Maryland Dirt
Commentary Let the Klan Have Its Way; The People Will Have Theirs
Burton on the Bay For the Birds -- Along the Bay, will it be a chicken in every spot?
Earth Journal Golden Apples
Not Just For Kids Toot your own horn with our fun-filled music page. Match instruments, find hidden words or learn about musical events. Send your dolphin drawing in and win tickets to the National Aquarium!
---
Volume VII Number 13
April 1-7, 1999
On Our Cover: In a startling overnight theft, the State House has been lifted from its home on State Circle in Annapolis sometime in the early morning hours of April 1. Tethered to 16 cables strung from four black payload helicopters, the iconographic dome of the 227-year-old capitol and every story underneath was heaved from its foundation. Illustration by Jim Hunt.
Dock of the Bay Bay Life: At 80, 'Action' Jackson's Still a Captain * At St. Clement's Island Museum, Maryland History Face to Face * Why the Bunny Should Skip Easter * In Anne Arundel, Time Travelers Get Passports for 19 Trips * At 25th Roedown Running, Competition Stiff on Hoof and Gate * Register Now for V2K * plus, Way Downstream, In Virginia, No more proffers? In the Potomac, catfish spiked with PCBs In Florida, Winn-Dixie's "self-sustaining" town On Lake Tahoe, no more jet skis and last but not least, this week's Creature Feature: In Texas, farewell to Rusty, one heck of a wolf.
State House Snatched: A New Bay Crimes Exclusive by Mark Burns. Annapolis is one landmark poorer this April. But as they say in St. Mary's, it's an ill wind that blows no one good.
Editorial In Foolish Times, Read New Bay Crimes!
Letters to the Editor No Keeper, This Finder Seeks Weeper; 2 Years Not Enough to Break the Ice; Good Dog, Good Story
Commentary In Annapolis, Speak Softly -- Police May Soon Carry a Big Stick
Burton on the Bay Apple, Say It Isn't So -- This joke is for real, No April Fool ending
Chesapeake Outdoors Roadside Wildness
Not Just for Kids Story Time with "The Dragon's Princess" by 8-year-old Emelia Brumbaugh. And don't forget to enter our dolphin Drawing Contest.
---
Volume VII Number 14
April 8-14 1999
On Our Cover: "Our yard, just two blocks from the Chesapeake Bay, was going to be wonderful: lots of perennials, flowering shrubs and trees, a big space for growing vegetables," writes Patricia Acton in our spring gardening feature. "But first, our ugly-duckling, one-third acre needed a total transformation."
Dock of the Bay Down the Drain? Gardeners Love Compro; Foes Say It Stinks * Players Storm Beaches, Tickle Audiences * Sweet Music: Deale Gets a Good Deal * Bay Life - Just Ducky on the Patuxent * plus, Way Downstream, In Pennsylvania, halting logging to save bats In Wyoming, where modern antelope roam is on airport runways and last but not least, this week's Creature Feature: Near Brno, the Czech Republic closes a busy highway to safeguard frogs - and the police overseeing the frogs' annual migration.
In Your Own Backyard: How I Learned to Garden in Chesapeake Country by Patricia Action --- A muddied tale of dirty hands and favorite plants
Go Native! Take a tip from Mother Nature as you build your garden -- by Sharon Fitzpatrick
Home & Garden Guide Special Section!
Bay Bites The food front in Chesapeake Country: Happy at the Harbor
Editorial Sudden Impact: Owens' Building Fee Hike A Winner
Letters to the Editor Everybody Loves A Garden; Of Calverts and Kings
Commentary Can We Drive Away Congestion?
Burton on the Bay New Year's Resolution: Get a Plan, Man
Earth Journal Spring's Scarborough Fair
Not Just for Kids Summer fun with Gnat Glib and Up Close.
---
Volume VII Number 15
April 15-21, 1999
On Our Cover: Each summer, archeology students of Mark Leone explore our past in Annapolis. These lucky archeologists have found a well, a frequent source of good finds since, as open wells dried up, their owners often used them as trash pits. Photo courtesy of Historic Annapolis Foundation.
Dock of the Bay NBT Exclusive- Safeway Poll: Do Only NIMBYs Live Along the Bay? * For the Trees, Johnny Appleseed Visits London Town * Our English Cousins: Calvert Seekers Cross Over * Anne Arundel County Swept Clean * Boats Unwrapped, Shrink Wrap Recycles * Toward a Cleaner Bay: Maryland's Manure Marketplace * plus, Way Downstream, In Pennsylvania, Amish farm hemp In New Hampshire, no wolves need come knocking and last but not least, this week's Creature Feature is a double dose of bad news reporting near extinctions of giant fish: Off Boston, barndoor skates - a kind of large stingray - are in trouble; so, off the coast of Chile, is the big tasty Patagonian toothfish.
Archeology Month Interview -- Mark Leone: Public Archeologist with Don Kehne -- Maryland's Emissary to Our Past Is No Indiana Jones: Digging up the past takes brains, not brawn.
Bay Bites The food front in Chesapeake Country: Get Your Fill at Romano's Macaroni Grill.
Editorial Look Beyond Session to Gov.'s Environmental Legacy
Letters to the Editor Safeway for Deale? Don't Let Progress Ruin Country Living; No Backwater, Deale
Commentary From the Sublime to the Ridiculous -- 90 Days with the Maryland General Assembly
Burton on the Bay Get Ready to Rock
Chesapeake Outdoors Spring Fishing
Not Just for Kids Fly high with a NBT newspaper kite. Catch Wilbur too!
---
1999 NBT Archived Issues: | 1-5 | 6-10 | 11-15 | 16-20 | 21-25 | 26-30 | 31-35 | 36-40 | 41-45 | 46-52 |
1998 NBT Archived Issues: | 1-5 | 6-10 | 11-15 | 16-20 | 21-25 | 26-30 | 31-35 | 36-40 | 41-45 | 46-51 |
| Current Issue |