Bay Reflection
Winter's End at the Ocean Shore
by Audrey Y. Scharmen
---
Water, wind and passing time have written different lines on ocean shore and kite flyers this year, so the writer returns to memory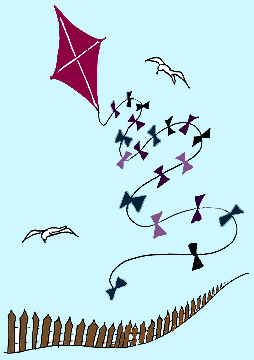 In late winter on a deserted shore, gulls write haiku along the water's edge where the sea has licked the sand clean and smooth as silk. A cloud of skittish sanderlings come to add a verse, then wheel and rise into the air.
Away from the water, the sharp wind is just a breeze wandering among the dunes, rippling the tips of phragmites, following a trail of fence posts that stagger toward the distant horizon where dim shapes of skyscrapers cluster.
Perfect carapaces of crabs and a fisherman's seine lie high on the sand, where winter waves and wind have left them unscathed. Nearby is a strand of whelk cases strung together like dried apple slices, though not so fragrant. These are rare treasures a scavenger will not find in summer.
This is the time, the place to fly. A blue place. Sky, sea and kites all the glorious hues of cobalt. The very air an icy breath of mentholatum.
We seek the sea's edge where the fierce polar-bear-wind roams in winter. He rushed to attack, this bully that tears at our hats and shoves us forward, thinking our frail aged bodies an easy mark. But he is mistaken and our booted feet do not fail us. We are a pair of nimble old seabirds, our long skinny legs suddenly limber and surefooted.
The kites leap eagerly from our hands and soar overhead, infusing us with their strength and enthusiasm. They are wild winged things that tremble in our hands and lead us in a strange spastic dance of swiveling hips and torsos, a dance of our youth. Their dual lines are a bond with the universe, with eternity. We grasp them tightly and reach for the sky, wanting never to let go, wanting to soar along like the band of curious gulls - small avian angels - that have come to join them in an aerial ballet.
And so the day goes, and ebbs. An arcing sun casts kite shadows in the shallows, dark shapes of manta ray and sea snake. The sky darkens, gulls walk the beach as ordinary birds now, the sea has wandered in to erase the poetry. Our time of communion is past.
We reluctantly reel in the kites and cradle them in our arms, along with the seine and shells of summer. Leaving the sea behind, we head homeward, knowing this day will not come again.
Days are ephemeral as a snowflake - with no two alike.
Audrey Scharmen reflects from the shores of the Patuxent River at Lusby.
---

| Back to Archives |
Volume VI Number 7
February 19-25, 1998
New Bay Times
| Homepage |