Bay Reflection
Here's to You, Robert Kennedy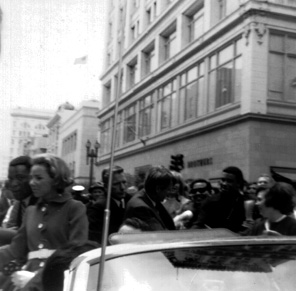 by M.L. Faunce
---
Some men see things as they are and say why.
I dream things that never were and say why not.
				-RFK 1925-1968
If the phrase the "Bells of St. Mary's" comes up, what comes to my mind is not the vintage Academy Award winner about an affable priest, a failing parochial school and a combative Sister Superior. I remember that once years ago I heard the bells of St. Mary's.
Thirty years ago to be exact. On a clear, crisp, Sunday morning in June in San Francisco, my brother and I exchanged nods with a serene and attractive couple walking hand in hand from mass at St. Mary's Catholic Church in Chinatown. At that early hour, few were around to notice Robert and Ethel Kennedy strolling up a steep street in a city of hills. In that peaceful moment during unrestful times, church bells rang and the world stood still and sane, if just for a instant.
Kennedy was in California campaigning against President Lyndon Johnson during the 1968 Democratic Presidential Primary, and San Francisco welcomed the candidate like a native son. The political atmosphere of those times was as highly charged as the music played at that afternoon's rally in Union Square. Simon and Garfunkel's amplified "Mrs. Robinson" drew the crowd to its feet and soothed the psyche of a generation forevermore to be called the Sixties. "Here's to you, Bobbie Kennedy," the classic duo paraphrased, "a nation turns its lonely eyes to you, (Wo-wo-wo)."
Kennedy worked the same magic when his campaign traveled on from Los Angeles to San Francisco, winning his fourth out of five primaries. As he gave his victory speech, with supporters cheering and a nation looking on, he was suddenly and tragically shot. A single bullet fired by an assassin with a double name silenced the cheers and the music and the quest. When the church bells rang again, they chimed for the man many said would have been president. Robert F. Kennedy died the following day on June 6, 1968, at the age of 42.
Crisscrossing the country during that presidential primary, Kennedy spoke a message as pure as it was simple to a generation consumed by war and absorbed with peace. Kennedy sought to improve the standard of living for people in need and to create jobs instead of reliance on welfare. He aggressively fought for farm workers' rights, civil rights and human rights. Those were goals he had championed all of his life.
Today as the Dow soars and the gulf between rich and poor widens as never before, it's well to remember a man with such ideals. In his eulogy, Senator Ted Kennedy said he hoped his brother would be remembered "as a good and decent man, who saw wrong and tried to right it, saw suffering and tried to heal it, saw war and tried to stop it."
The journey my brother and I took to California back then, like the journeys of so many young people, was an odyssey for truth and knowledge and meaning. California was the mecca for such things, or so some thought. It was a quest as fashionable then as an Internet ride is today, when young techies need not venture from the confines of their computer room.
Who's to say which journey is the better route to life's messages; who's to say whose generation or whose times have the better lessons to give. But if any guide should remain with us from that former time, these words are worth remembering:
"Each time a man stands up for an ideal," Kennedy said, "or acts to improve the lot of others, or strikes out against injustice, he sends forth a ripple of hope" to the world.
The trip that my brother and I took in 1968 was not so much about a destination but the journey we all must make to find - and maybe go beyond - ourselves. I'm reminded of that whenever I hear church bells ring on a sparkling Sunday morning in June.
God bless you, please, Bobbie Kennedy, heaven holds a place for those who pray. Hey, hey, hey.
This is the second in a series of articles on the anniversaries of 1968.
---
| Back to Archives |
Volume VI Number 22
June 4-10, 1998
New Bay Times
| Homepage |