Bay Reflection
Marjory Stoneman Douglas,
Voice of the Everglades:
1890-1998 --
She teaches a lesson in how far one voice can reach ...
by Joe Browder
---
Editor's note: Douglas, 108, famous environmental activist and author of Everglades: River o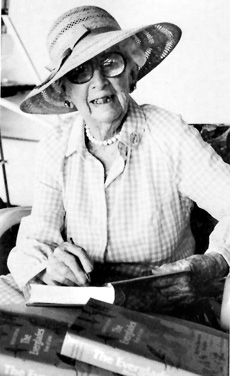 f Grass, died this month in Florida. Following is a eulogy presented by friend Joe Browder, of Anne Arundel County, at a memorial last Sunday in Everglades National Park.
The Everglades became important to Marjory when she moved to Miami in 1915 to work for her father's newspaper. She saw her father struggle when real estate developers pressured advertisers to stay away because his editorials condemned the destruction of the Everglades.
Marjory became important to the Everglades when she was a middle-aged woman. It happened when she was 57 years old, and not because of her earlier service on a citizens' committee recommending creation of the Everglades National Park. It was because of her perfect book, Everglades: River of Grass, which was published in 1947, the same year that the park opened, its boundaries reaching from the mangrove coast at Everglades City, east through the Big Cypress and south down to Flamingo.
Marjory was 78 years old when she became essential to the survival of the Everglades. I went to her for help 30 years ago, in 1968, asking her to give up her author's life and become a political activist. The Everglades was in trouble.
The park's boundaries had been shrunk, with Big Cypress removed and ripe for development. Dade County and the federal government were working together to build a commercial airport in wetlands near the park. The Army Corps of Engineers and the South Florida Water Management District, under pressure from agriculture and real estate speculators, refused to meet their legal obligations to protect Everglades National Park. Meanwhile, the Interior Department and White House stood silent.
As she later titled her autobiography, Marjory became the Voice of the River. The destructive and economically foolish airport was stopped. Big Cypress came back into the national park system, and Congress forced the Corps and the state to recognize the Water Management District's obligation to the park.
Marjory was 108 years old when she met with some friends on her birthday last month. She talked about love and friends and children. She talked about the wonderful Dade County Nature Center that wears her name. She asked about the Everglades.
Now, Marjory is part of the Everglades. We all know what we owe Marjory. We all know what we owe the Everglades. It is much more than we are giving now.
---
| Back to Archives |
Volume VI Number 21
May 28 - June 3, 1998
New Bay Times
| Homepage |