From One Room to Retail Heaven -
Superstores are Replacing that Old P.O. of Mine
As post offices in Anne Arundel and Calvert Counties are made thoroughly modern, we're reminded of one of life's enduring questions: How do we keep up with what's needed and new while retaining old moments and memories?
By Carol Glover
with Betsy Kehne and Diane Knaus Diamond
---
Like-one room schools, our local post office buildings are headed for the scrap heap or the Smithsonian Institution. Today's Postal Service is showcasing attractive, income-boosting products as well as overcoming "rain, sleet and snow."
As Joyce Edwards, postmaster at the new Edgewater Post Office explains, "This is one-stop shopping. For example, on Mother's Day, you could come in, find a selection of cards and gifts, buy a flower stamp for the card, package the gift and ship everything off."
Calvert County's post offices are among 270 in the Capital District, which takes in the District of Columbia plus Montgomery, Prince George's, Charles, St. Mary's and Howard Counties. Anne Arundel County's post offices are administratively divided: the Capital District covers the southern region up to Harwood, while the Baltimore District takes in the remaining county post offices plus the rest of Maryland, 300 facilities in all.
W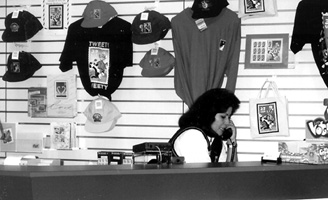 e got a glimpse of the future from the Administrative Services manager of that big Baltimore District. "With new postal facilities, the customer will see the same thing everywhere and know where everything goes," said David Bradshaw.
We heard variations on the same theme from Allen Grimes, who manages the Capital District: "We have standardized floor layouts and outside signage. When existing buildings are remodeled, we incorporate as many of the new standards as possible."
As in the harbor malls of Eastern cities, you can predict what you're likely to see before you get there.
Updating is going on behind scenes, too. Over the next five years, the Postal Service plans to bring all its offices up to standard, improving facilities with "suitable areas for employee operations," Grimes told us.
Peeking into some of our existing post offices is an eye-opener. Crowded, dingy and lacking some basic human comforts, they are ripe for the scrap heap or the Smithsonian.
In Chesapeake Country, Edgewater and Lothian are model facilities, showing off their new look. Eastport will soon be enlarged, while Tracys Landing and Port Republic are due new buildings.
The Old
Mail handlers separate mail in their cubicles, some jammed together side by side or back to back. "The good news is that the property next door has been purchased so we can e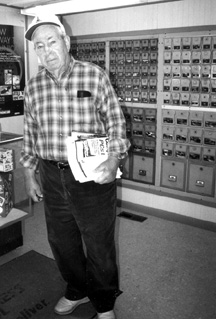 nlarge the facility and parking areas," said George Norberg, customer relations manager at Eastport.
"The change is much needed, and I feel very positive about it," says Shirley Weems. "It will make the job easier. We'll have more lobby space, even windows to see outside and more postal boxes for the customers, resulting in more revenue," the postal officer in charge at Port Republic elaborates.
"Maybe at one time this place had value," says Sandy Diehl-Zigas, a part-time Port Republic postal clerk. "But it's lost its cuteness. Can't flush, can't drink the water, sometimes no heat."
Heidi Mudd postmaster at Tracys Landing says, "We're anxious to move into our new building. Our customers will be able to get to their post office boxes. They can't right now if we're not open."
"The only thing I want is to make these damn post office boxes bigger. My hand can't fit in these," an exasperated William Parks, a customer at Tracys, complains.
"The post office has gone from being charming and quaint to providing less than ideal working conditions for the post office people. Still, they run it efficiently and professionally. The mail gets out faster than anywhere else I've been, plus we get fresh flowers and seasonal decorations. You see people coming in and out; I feel more connected to my community when I come here," explains Louise Dunlap, Tracys customer.
The New
Finished in December 1997, the Lothian Post Office is a model facility, exemplifying the standards described by Capital District Manager Allen Grimes.
"I come here for stamps and money orders; it's very convenient and modern," says Lothian customer William L. Smith.
"I love it, the people, location and convenience," says Lothian customer Carl Jones.
"Post offices are run like a business and should look like a business," says Edy Justiniano, postmaster of Lothian. "We're open when they're going to work at 7am and we're here when they're coming home until 5pm."
Justiniano shows off the new dock area which is the same size as the entire old Lothian building.
Products are displayed so customers can see, pick and chose. Edgewater customer Sue Csorba has a hard time deciding which stamps to buy.
After hours, the retail products area is gated off; the postal windows are shut, but the postal box area and the packaging area are open. So packages under a pound can be wrapped and mailed, packing containers, a scale and postage are at hand after hours.
What We're Leaving Behind
Like any move, leaving the old evokes memories, good and bad. The Postal Services knows this, but hasn't come up with a preservation plan.
"When buildings with historical significance are replaced, we try to include recognition of them. One site in Prince George's includes a brass plaque with Historical Society recognition," explains Allen Grimes. "We contact local officials to seek any input of significance to the local community and try to include it in our plans."
Perhaps on that sc
ore, the Postal Service should be taking advice from their customers.
"The new post office should fit into the customs of Southern Maryland," advises postal patron Richard Falknor of Port Republic. "One wall in the new building should be dedicated to history, with the names of postmasters. This gives a sense of history, depth and roots."
The Postal Service is ready to listen, says Baltimore District Manager Bradshaw. "Customers receive post cards so they can comment. We have design reviews and try to make the exterior relative to its surrounding buildings."
Margaret Young, at left, postmaster of Port Republic from 1973 to her retirement in 1991, shows a plaque naming postmasters back until 1841. She hopes it will find a place in the new building.
The old post office was located in the Summervell family home for 73 years. When the Summervell reign came to an end in 1973, Dick Weems moved the pool tables out of his tavern, and the poolroom became the post office. "The Post Office back door went into the bar where we used the bathrooms," remembers clerk Shirley Weems.
Margaret Young has many stories to tell. She compares the post office to a country store. Until the 1970s, residents of Scientists Cliffs and Governor's Run had to come to the post office to pick up their mail. "They'd come in, the local farmers would be there, especially around lunchtime, they'd catch up on the news. It was a meeting place."
Young can't look at the big cedar tree outside without remembering the day her brother, a sheriff's deputy, stopped by and wouldn't leave.
"I couldn't figure it out because he never did that. He finally told me that a customer had called and said her huband was coming to the post office with a gun because I wouldn't give him her pension check.
We saw him walking down the road with a shotgun. He went to the cedar tree, put the gun under it and came in. I told him, 'I couldn't give it to you before and I can't give it to you now.' He turned around and walked out."
"Another time someone, probably one of the kids, put a turtle in the outside mailbox. Turtles are messy, and I had to clean the mail before sending it up the road."
Years ago the Lothian Post Office was located on a tree farm off Rt. 258. It still stands, and to tell the truth it looks pretty good. But it's pretty small for a 21st century modern postal facility.
---
| Back to Archives |
VolumeVI Number 22
June 4-10, 1998
New Bay Times

| Homepage |