Not Just for Kids
Guest Editor M.L. Faunce
---
Flag day, June 14, is when we celebrate the birthday of our Stars and Stripes.
On June 14, 1777, the Continental Congress authorized the first American flag to symbolize the United States of America and to promote national pride and unity.
The resolution called for the flag of the United States to represent the 13 original colonies, with "thirteen stripes, alternate red and white; that the union be thirteen stars, white in a blue field."
General George Washington, head of the Continental Army, made a rough drawing of the flag he envisioned for the new nation. He asked Betsy Ross, an upholsterer in Philadelphia, to sew our first flag.
George Washington had sketched a six-pointed star for the new flag, but Betsy Ross recommended a five-pointed star. She showed the new Congress how to easy it was to make this star using a piece of paper and a pair of scissors, and that's the star she sewed for the first flag.
---
You can make a 5-pointed star like our flag's, too:
1. Fold an 8-1/2" x 10" piece of paper in half.
2. Fold and unfold in half both ways to form creased center lines.
3. Bring corner A right to meet the center line. (Be sure to fold from the vertical crease line.
4. Bring corner A left till edges meet , then make the fold.
5. Bring corner B left and fold.
6. Bring corner B right until edges meet. Then fold.
7. Cut on an angle (as shown). Then unfold the small piece for your star.
Drawing from the Betsy Ross Home page: www.libertynet.org/iha/betsy/flagstar.html
---
"I pledge allegiance to the flag of the United States of America and to the Republic for which it stands, one Nation under God, indivisible, with liberty and justice for all."
The Pledge was officially recognized by an Act of Congress in June 22, 1942. The phrase "under God" was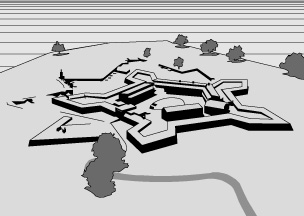 added to the Pledge in 1954 by President Dwight D. Eisenhower.
---
See the star-shaped fort where Francis Scott Key wrote "The Star-Spangled Banner at Fort McHenry National Monument and Historic Shrine, Baltimore, Maryland: 410/962-4290. The grounds are open daily, 8:00am to 5pm. The Fort and Visitor Center are open daily, 8:00am to 4:45pm with longer summer hours; closed: December 25, January 1.
---
The 13 original colonies: Delaware, Pennsylvania, New Jersey, Georgia, Connecticut, Massachusetts, Maryland, South Carolina, New Hampshire, Virginia, New York, North Carolina, and Rhode Island.
Today, our flag has 50 stars for the 50 states. Do you know which state became our 50th state? Or the 49th state? What is the farthest spot away from Maryland that the American flag has flown? (Find answers below.)
---
Kids' Calendar
Playing in the Dirt Sat. June 27 (9:30-2)-Ages 8 and up practice basic archaeological skills through hands-on unearthing and screening artifidacts at this simulated dig. Identify and reassmeble objects in lab and then watch a computer demonstration, all sponsored by the Historic Annapolis Foundation and University of Maryland, College Park. Bring bag lunch and meet at the Historic Annapolis Foundation Archaeology Lab, above Museum Store at 77 Main St. $5 per child w/adult, rsvp: 410/263-5553.
One-of-a-kind Fun Sun.June 28 (5-7pm)-This N.Y.T. (Not Your Typical) family night hosts children w/their single, step or adoptive parents for an after-hours playtime at Chesapeake Children's Museum, Annapolis. $2, rsvp: 410/266-0677.

---
Answers: 1. Hawaii became the 50th state in 1959. 2. Alaska was made the 49th state in the same year. 3. The Moon.
---
| Back to Archives |
VolumeVI Number 23
June 11-17, 1998
New Bay Times
| Homepage |