Dock of the Bay

Volume VI Number 9
March 5-11, 1998
---
In Cold Ink: College Teaches Murder on the Safe, White Page
You have to admit, murder sells. From Cain and Abel to Pulp Fiction to Diane Zamora, it's a subject that can captivate audiences as few subjects can.
Ever wonder why?
"It appeals to our dark side, the dark side we all struggle with every day," says Mary Bargteil, lead instructor of the Writers' Workshops at Anne Arundel Community College. "We also like the feeling of being scared when we're safe."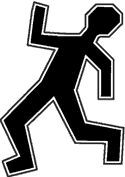 "Murder has finality," added Kelsey Roberts, another local writer, "that is very dramatic."
Roberts writes novels of romantic intrigue, stories that blend murder mysteries and love affairs. With 14 million books in print and a worldwide audience, Roberts enjoys the success that writing about murder can engender.
To share her secrets with others who long for success as mystery writers, Roberts and Bargteil have developed a series of conferences at Anne Arundel Community College - named "Crime and Punishment" - that show local writers how to write effectively about murder and violent crime.
Believing that factual errors in mystery novels kill suspense, which is crucial for critical and commercial success, the instructors recruit experts to shed light on the facts - just the facts - about crime, police investigation and effective crime writing.
Last Saturday, thriller writer Stephen Hunter and homicide investigations officer Sgt. Bonnie Walsh of the Anne Arundel County police, joined the two instructors for the conference's spring session. The conference ranged from the psychology of murderers to criminal investigation procedure to celebrated local murders.
Roberts covered the psychology of murder. To write about murder effectively, she said, writers should know how killers think. "Too many mysteries lack convincing villains because they lack this understanding," she said. For her convincing villains, Roberts focused on serial killers.
"Serial killing is about rage and impotency. These are people with high IQ's who know what they are doing. They all have cyclical habits. They kill, they're fine for a while, then something goes off and they do it again. They are also wonderfully trained in luring victims and deceiving investigators, and they can key into people's sympathetic urges with expertise."
Roberts illustrated her theories with horrifying anecdotes from the annals of serial killing. She talked about Albert Fish, the world's most notorious pervert, and Jeffrey Dahmer, the Milwaukee cannibal, and lady-killer Ted Bundy. She fortified the audience with a take-home serial killer reference manual.
Sgt. Bonnie Walsh showed the fledgling writers what violent crime looks like. With dozens of photographs taken at rape and murder scenes, the 27-year police/homicide veteran explored knife wounds, accidental hangings and crimes of lust. The police file photos were so graphic that some of the 40 writers and crime buffs in the audience left the room.
"Rape is never pretty," Walsh said.
Washington Post movie critic and best-selling author Stephen Hunter resuscitated the audience's hope and enthusiasm with his garrulous discussion of good writing techniques. His booming voice filled the lecture hall with tips on research, literary agents and suspenseful writing. Less interested in the details of murder, Hunter told the audience how to make true crime stories into good fiction.
The author of Black Light and Point of Entry suggested that murder, violence and action sell because: "These stories allow people to experience the drama and horror and mystery of death without collapsing into the squalor and pain of the real event."
Roberts, in contrast, explained that novels with violent subjects possess a therapeutic element. "It helps to understand why murder happens. It helps me feel safe," she said. "I have this belief that if I understand it, it won't happen to me."
As the conference ended, Bargteil and Roberts announced their plans for next September's seminar. Spellbound men and women drifted to a table to inquire about early registration. After seven hours of being stunned, shocked, and intrigued by murder, they wanted more.
-Steve Armstrong
---
Six months in space is an awfully long time. If you hope to one day travel to Mars, you'd better be prepared for long days floating through the galaxy. Patience is also necessary, as manned space travel to the red planet is not likely till at least the year 2010.
If patience is not one of your stronger virtues, a short drive can take you into space in minutes.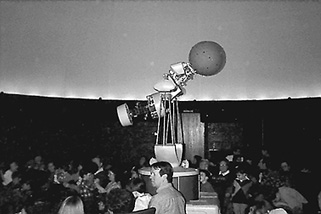 Set to launch from The Arthur Storer Planetarium in Prince Frederick, some 90 stargazers were ready for a Friday night voyage into the heavens. With necks crained and their eyes fixed to a 30-foot space sphere, all systems were go for blast off. Their destination? Mars.
Seventy-one of the star-gazers reclined comfortably in theater seating, while the overflow sat where they could in this sky shop equipped with star and special effect projectors that display 360 degree panoramic views of colliding comets, exploding asteroids, rotating planets and much more.
Stars fill the sky as we stare up at an indoor galaxy that seems as real as the actual night sky looming above this enclosed dome. After a short lesson on what constellations can be seen in the winter sky, it's off to Mars by way of a video program designed by NASA. Of all the planets in our solar system, Mars is the most similar to our own and may one day be capable of sustaining human life, within a contained environment.
Rural Calvert County may seem an unlikely setting for such an experience, but astronomy is something of a tradition in these parts. The planetarium takes its name from Arthur Storer, the first astronomer to settle in the American colonies. Storer, who came to Calvert from Lincolnshire England sometime in the late 1600s, was a lifelong friend of Sir Isaac Newton and was among the first observers to sight and record data describing Halley's Comet on its return in 1682.
Today Calvert's astronomer is planetarium director Shawn Laatsch, a Wisconsin native who - with the equivalent of an astronomy degree - also has a bachelor's in international economics from the University of Wisconsin at LaCrosse. Not used as often as his knowledge of astronomy, that degree helps in his elected position as treasurer of The International Planetarium Society.
Since its opening in 1977, Storer planetarium has served Calvert County as a part of the district's science curriculum and is used heavily by students from grades one through 12. "I like learning about the stars and especially planet Mars," said Kelly Rogers, a third grader from Lusby, who has visited the planetarium with her classroom and, on this night, returned with her family.
In addition to the tools for studying the skies, the planetarium also has a sophisticated audio-visual system. Planned are laser light shows accompanied by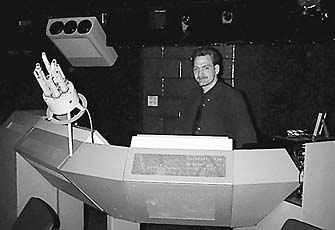 musical sound track. Led Zeppelin in laser vision?
But there are some clouds that darken planetarium skies. Calvert County's appeal to young families may keep their children from gazing at heaven's wonders through the Storer Planetarium. Construction of new schools has meant cut backs in funding for the planetarium.
"Our budget was reduced and has remained frozen for the past five years, which makes it difficult to finance new equipment, maintenance, and special programs," laments Laatsch. Reduced funding also means that some grade levels may have the planetarium cut from their curriculum, which means that future astronomers or astronauts who could be among the first to colonize Mars may miss their calling.
For non-students, the Planetarium also offers opportunities to learn about the galaxy and all that is within our solar system with public programs that are geared for the whole family.
Learn about the planets that dot our cosmos in "Planet Patrol," the program scheduled for Friday, March 13 and 20. During the school year, you can learn about the stars a couple Fridays a month; during the summer months, programs move to Mondays. Programs are free and start promptly at 8:00pm, lasting about one hour. Doors open at 7:45, with first-come seating at Dares Beach Road next to Calvert High School in Prince Frederick. For future programs or answers about what's visible in the sky: 410/535-7339.
-NMK
---
It's the Crescendo: Annapolis Hears Symphony's Last Hopeful Conductor
This weekend Miguel Harth-Bedoya, one of four candidates for the position of music director of the Annapolis Symphony Orchestra, directs the last act of the long-running drama, In Search for a Conductor.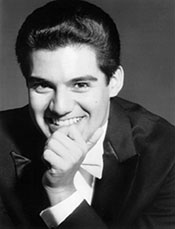 The international program this young conductor has chosen - four dances from the pampas of Argentina, a lovely cello concerto from Europe and a symphony from Moscow - should please audiences at the Maryland Hall for the Creative Arts with its substance and variety.
But with the new conductor to be chosen in days now rather than months, audiences and board can't help listening not just to the music but also to the comparison. In October with the Shostakovich Fifth, Steven Smith made an impression that still lingers. In November, David Effron, the most experienced of the conductors, made wonderful music with his soloist, violinist Alexander Kerr. And just last month, Leslie B. Dunner brought the audience to their feet.
Which is not to dim the limelight on Miguel Harth-Bedoya.
Growing up in Peru, Harth-Bedoya had a musical childhood. He studied piano as a child, then worked as part of the stage crew in an opera theater. After making a serious decision to pursue music, Harth-Bedoya spent a full year preparing himself for the audition that led to his study, at age 19, at the Curtis Institute of Music in Philadelphia and later, at the Juilliard School of Music in New York.
Currently he is music director of the Eugene Symphony Orchestra in Oregon and artistic director for both the Philharmonic Orchestra of Lima and the New Opera Company of Peru, in addition to appearing as a guest around the globe. However, like the other candidate conductors who have appeared in Annapolis this season, Harth-Bedoya is looking for another position to extend his professional scope.
When he met with the search committee last year, Harth-Bedoya found Annapolis, and the invitation here, to his liking. "I'd like to work in a place where I can be useful and a nice environment as well," he said.
Monday night's rehearsal began his week's work here. Under his baton, the orchestra dived into music by Argentinean composer Alberto Ginastera from his ballet, Estancia, about a city man who woos and finally wins a country girl on the cattle ranch or estancia. The dances are vivacious, three of them splendidly energetic, one more gently melodic. The finale of the four showcases the percussion section, including the xylophone, in grandiose fashion.
Featured in Robert Schumann's Cello Concerto is Martha Babcock, who made her solo debut with an orchestra at the age of 14 and is currently assistant principal cellist of the Boston Symphony Orchestra. This concerto by Robert Schumann is a beautifully expressive song for cello, with the orchestra providing accompaniment. The first movement moves directly into the second, where listeners will hear the song of the soloist joined by another voice, played by the principal cellist of the orchestra. The work has a lively finale, diverting briefly into a remembrance of the quiet mood of the first movement but ending on a brisk and happy note.
After intermission is a symphony by Sergei Prokofiev, who is probably most widely known for his light-hearted children's piece, Peter and the Wolf. His Fifth Symphony, however, is a serious work, conceived by the composer as "a symphony on the greatness of the human soul." Like Shostakovich's Fifth Symphony played by the Annapolis Symphony last October, the music reflects the period of Communist power in Russia earlier this century.
The premiere of this Prokofiev symphony in Moscow in 1945 was dramatic. As the composer himself stood on the podium, baton raised, waiting for silence in the concert hall, the thunder of cannons was heard. Only after the cannons had stopped did he begin.
It was the meeting of a pivotal moment of history with a profound piece of music. The cannons had sounded to announce that Soviet troops had entered Nazi Germany; the end of World War II was in sight. Prokofiev's Fifth Symphony paid tribute to the terrible suffering of the Russian people and the promise of an end to their struggle.
Tickets are still available for both Friday and Saturday night's 8pm performances: 410/263-0907.
-Barbara Miller
Miller, of Fairhaven, has reported to NBT readers on Annapolis Symphony Orchestra's year-long search for a conductor. Her next report will name Gisele Ben-Dor's replacement.
---
In Massachusetts, scientists at the Woods Hole Oceanographic Institute are warning that Pfiesteria-like problems are showing up in many coastal areas because of fertilizers and sewage discharges. "This is a bigger problem than Pfiesteria," said biologist Donald Anderson. Anderson said he was pleased that federal agencies have agreed to spend millions of dollars this year to study algae blooms in the Chesapeake Bay, the Florida coast and off Long Island ...
Upstate New York's ice storms this year caused people a lot of misery. But scientists say now that it began a rejuvenation of the Adirondacks, opening up forest canopies that had not seen sunlight in over 100 years ...
In Florida, a car fire earlier this year near Blount Island may have caused the death of 400 migratory birds. According to the Jacksonville Times-Union, the birds succumbed to a firefighting foam ...
In the Congo, armed rangers were dispatched last week into national parks to stand guard over the world's last remaining white rhinos. Officials said that the rhino population had declined from 1,400 to just 30 since the 1960s because of poaching ...
Our Creature Feature comes to us from New Mexico, where a worm dealer is in hot water. The Arizona Republic reports that Thomas Huntington was claiming that his "California Red Superworms" were something special - so special that they de-voured radioactive wastes.
With these wastes being among the most expensive on the planet to dispose of, investors might have been drawn to Huntington's claim that they could get rich by buying breeding worms from him, raising more worms and then selling them for use at the nearby Waste Isolation Pilot Plant.
According to authorities, the worms may catch fish but they'll never be glow worms from devouring radioactive wastes. Huntington now hopes that he can worm out of charges that he engaged in fraud.
---
| Back to Archives |
VolumeVI Number 9
March 5-11, 1998
New Bay Times

| Homepage |