Dock of the Bay

Volume VI Number 8
February 26-March 4, 1998
---
Photos courtesy of Dr. Faye Allen. Senator Aris T. Allen, top, Doctor Aris T. Allen below.
There's no surer road to anonymity than sharing your name with a bridge or highway. While those who knew the honoree feel a thrill of pride or resonance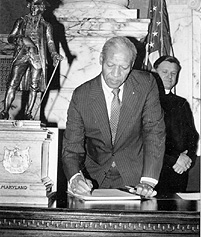 of recognition at crossing the William Preston Lane Jr. Memorial Bridge or entering the Tawes State Office Building or traveling the Aris T. Allen connecting spur, everybody else just wants to get where they're going. If they feel anything, it's the slight irritation of being left out of the loop.
There are better ways to keep the flame of memory burning.
One of those ways is to continue from where the Aris T. Allen Highway ends on to the Banneker-Douglass Museum. There, this month, you'll learn more about the name behind the name Aris T. Allen than you'll ever discover driving over the speed limit on Route 665.
That stretch of highway speeding the flow of traffic from Route 50 into Annapolis by way of Forest Drive is where you'll see the name Aris T. Allen most often nowadays. A quarter century ago - as the current exhibit reminds you - you'd have seen it everywhere.
You'd have seen Aris T. Allen followed by the abbreviation M.D. One of Allen's early steps in achieving the American Dream was becoming a doctor. President of his class at Howard University, one the nation's two medical schools for blacks, Allen worked by night and studied by day. His schedule was so tight that, as he told his biographer, Jude Thomas May, "In order to catch up on our dissecting, we would usually bring lunch into the lab and eat while we were dissecting on the cadavers."
In 1945, Dr. Allen set up practice in Annapolis, where he healed the sick for almost 40 years. All those years, he kept climbing the American dream ladder. At first barred from hospital practice because of his race, he in time joined its board and became its chief of staff. Firsts were Allen's style, and he achieved another when his wife Faye, herself a physician, joined his practice.
Three principles guided Allen's medical career: He never turned away a patient, regardless of race or ability to pay. But whether in dollars, live chickens or a pan of hot rolls - all patients would pay.
To keep alive the memory of Dr. Allen, the Banneker-Douglass exhibit showcases his black leather medical bag, stethoscope and a couple of Band-Aids.
Captain Aris T. Allen. That's another way the ambitious young Texan polished the name given him by his mother, Mary Etta Whitby Allen. As a flight surgeon during the Korean Conflict in the early 1950s, Captain Allen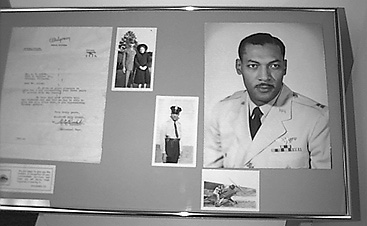 headed the pediatrics department of the Vance Air Base Hospital in Oklahoma.
Back in Annapolis, Allen's name grew ever more familiar. You saw it on the rolls of citizen associations and PTA, library board and city commissions, NAACP and civil rights commissions.
Pretty soon it was Delegate and then Senator Allen. In the turbulent days of the 1960s - when desegregation was a war and assassinations common - Aris Allen became one of the state's most prominent politicians. He even ran for lieutenant governor, joining the 1978 Republican ticket headed by former U.S. Sen. J. Glenn Beall Jr. Becoming Maryland's first black in modern times to make such a race: that was another Allen first.
Allen made history as another kind of delegate, too. Allen was not only delegate to the 1980 Republican National Convention. He was presiding secretary at the convention, calling the roll of the states as Ronald Reagan became his party's nominee.
You'll see buttons and posters and pictures of those heady days, too, at Banneker-Douglass.
Of course none of that was news to the couple hundred people who filled Banneker-Douglass Feb. 22 to remember Aris Allen and honor his family. They'd known him a long time. As his wife Faye recalled, the couple was married here, their children were christened here, and she came here to pray when she feared his plane had gone down.
That's what makes a visit to Maryland's state museum of Afro-American life and history different from a visit to most other museums: history lives in the old Mount Moriah AME Church - not only in objects but also in words and deeds.
Banneker-Douglass Museum, at 84 Franklin St., Annapolis, is open Tuesdays to Fridays 10-3 and Saturday noon to 4: 410/974-2893.
-SOM
---
A.A. County Hispanic Program Judged One of America's Best
Charlestine Fairley has achieved her fondest hope: Anne Arundel County is a leading light in the fight to prevent drug abuse.
The federal Substance Abuse and Mental Health Services Administration judged The Hispanic Initiative one of the five best community-based drug abuse prevention programs in America. Others honored programs are in Washington state, New York, Ohio and Vermont.
On Feb. 24, Fairley and her exultant staff received their award, a crystal pyramid, from U.S. Health and Human Services Secretary Donna Shalala and anti-drug czar Barry McCaffrey at an award ceremony in Washington D.C.
"It shows me that while we still have a lot of work to do, we are on the right track," said Fairley, who now coordinates the Anne Arundel County Executive's Criminal Justice Drug Intervention program.
"It was fantastic," added Debby Rabinowitz, who replaced Fairley as the County's acting director of Health Prevention Services. "It was so gratifying that our five-year effort was recognized nationally as one of five exemplary programs in the nation."
Anne Arundel's Hispanic Initiative, located at the Allen Apartment Complex in Annapolis, was set up to prevent alcohol and drug use among a rapidly expanding Spanish-speaking population. "We helped residents create an infrastructure to help themselves," explains Rabinowitz.
"Our work was not a band-aid, not to give them a recreation center but to stand behind them so they can help themselves."
In fact, the Allen Apartments Tenants Association that the program helped create wrote a successful grant and did bring the community a recreation center.
Other winners:
Dayton, Ohio's truancy prevention aimed not just at students but at their parents;
In Tacoma, Wash., the Parent Party Patrol worked successfully to diminish the frequency of unchaperoned parties and adult-sponsored drinking bashes;
A program in Montpelier, Vt., focused on drug abuse not in cities but in rural and remote areas;
In New York, a program out of Mt. Sinai Hospital used holistic healing to help those who developed dependencies at a young age.
-NBT
---
In Annapolis, The Future of a Wall
Main Street, 184-186, as it looked, below from when it was built in 1899 until its face-lift in the 1960s, far below.
It's hard to miss on Main Street, the wall at 184-186. With steel braces, a network of scaffolds and an orange protective skin, the single wall is all that
remains of a century-old building.
The Italian Renaissance Revival structure has had its glory days since it was built in 1899, but never has it had a bigger share of the limelight than now, when only its facade remains after it was nearly leveled by fire last December 9.
To the city, that facade is history - which in historic Annapolis is good as gold.
"The high style storefront with exuberant pressed metal cornice, rhythmic paired arches and brick corbelling was the first department store in Annapolis," said Donna Hole, the city's chief of preservation.
The building was first called Gottlieb's, and it was a downtown institution for 40 years. Its success was all the more notable because its owners, Leon and Bessie Gottlieb, were Russian immigrants.
Thus the city has decreed the wall will remain.
Not so impressed with history is Ronald Hollander, who owns all that remains of Gottlieb's, which had moved through several incarnations since the department store closed in 1939. The building housed India Palace restaurant and American Spoon Foods when it burned.
"It is easy for the [city] to spend other people's money without a budget," he complained, calling the decision "a case of government overpowering the individual." He estimates that saving the facade will raise building costs five times.
Hollander also argues that very little of what's left of Gottlieb's is even historic. In 1965, local architect James Woods Burch replaced the first floor's glass storefront with three, brick arches. "That compromised it," said Hollander.
Also indignant at th
e city's decision is Han Mi Zink, head waitress at Cafe Normandie across the street. "Saving the wall hurts local business," she says, because the steel braces block out parking spaces.
"It's absolutely ridiculous," she concluded. "There goes the city of Annapolis sticking it to the people of Annapolis again."
But a little piece of history is more than nothing, and since the city wants the wall, the wall stays.
"You can expect two years to pass before the wall looks like a wall again," says Hollander. That's the time it will take to get a new building planned, approved and built.
And, since the new building is going to be built from the rear of the site to the front, says Hollander, "the braces have to stay."
Hollander has six months to appeal the decision against demolition in Circuit Court. Whether he will appeal, Hollander has not said.
-Stephen Armstrong
NBT welcomes Armstrong, of Riva, as a freelancer.
---
Nanjemoy Revisited: Herons Keep February Date
"Something ticking in them gets them going regardless of the weather." Byron Williams' observation holds true in many corners of Maryland - in camellias and willow trees and daffodils - as February edges into March.
But it's great blue herons the Accokeek outdoorsman has in mind.
Just about Valentine's Day every year, about 5,000 pairs of these gawky birds come flapping back to Maryland from parts south to raise their families. A couple thousand pairs head for the giant heron housing project, or rookery, at Nanjemoy, near the Potomac River.
"They were clearly back on Feb. 18," reports Williams, a retired federal personnel officer who is volunteer manager of the largest rookery on the East Coast.
There, an easy couple of miles flight from their feeding grounds on the Potomac River, they have 1,888 acres nearly to themselves - except for owls, raccoons and other creatures who follow nature's way. To ensure their privacy in the half-century old rookery, the Nature Conservancy has bought all that land, using money contributed by Marylanders and nature lovers from around the country.
Privacy is what herons like when they're courting and raising their nestlings.
"As I was tiptoeing around in woods, I saw one pair on an exposed limb," Williams said of his most recent visit. "Just as I focused in on them, they sensed my presence and took off. Another 10 pairs I hadn't seen exploded out of the same tree, so I left. I'm real sensitive about disturbing them, so I don't stay too long."
Their nests, big as tires, are built from sticks carried high into the top of towering trees. Virginia white pines and hardwoods - tulip poplar, oak, beech and sycamore - fill the century-old forest of the Nanjemoy rookery. An especially popular tree could hold as many as 17 nests in its crown - until the excrement from all those birds eventually kills it. Some nests will be reused, some abandoned and some newly made.
About 900 nests dot the tall trees this year; in past years, as many as 1,300 have been counted. The change doesn't necessarily mean fewer herons. Nests fall or are abandoned; herons are as unpredictable as humans about what house they choose.
Twenty-five percent of Maryland's blue herons are now fledged at the Nanjemoy colony. In recent years, Maryland has hosted 35 to 40 rookeries and Virginia 154, which together are home for over 27,000 breeding adult herons. The familiar birds that feed along the edges of the Western mid-Bay come from a colony of about 350 nesting pairs on Tilghman Island.
"They're doing well, with populations increasing over the long term as we improve water quality and reduce environmental contaminants," said David Brinker, a Department of Natural Resources expert on birds. "The low point was slightly after the turn of the century when the threat was hunters, and women wore heron feathers on their hats."
At this time of year, the birds are "pair bonding and building nests," Brinker reports. Much of their time - from about 9 in the morning until about 3 in the afternoon - will be spent on the wing and leg, as they fatten up for the nesting season.
This season they'll eat fish, which they'll spot as they wade in the shallows, then stab with fast, sharp jabs of their dagger-like beaks. Crabs, crayfish and frogs haven't yet popped out for spring. Hungry herons will happily swallow a snake, frog, meadow vole, or very occasionally something as large as a muskrat, but they may have to range 10 or 15 miles to make a meal. Come summer, they'll vary their diet with soft crabs.
Eggs will come mid-March, with hatching following in April. Then the birds will return to their nest and regurgitate swallowed prey for their hungry babies.
The babies fly by the Fourth of July, Calvin Posey told us a couple of years back. The preserve manager for many years before Williams, Posey remembered seeing flocks of flying herons as he combined his wheat field. Posey later brought the rare rookery to the attention of the Nature Conservancy.
By mid-July, when the babies are fully fledged, parents and young will abandon the nests for their favored nomadic life within their territory.
Then, when the chill sets in, most birds will ease down south to warmer weather and better fishing. Our birds may go to the Carolinas for the winter, Brinker says, or even as far as Florida. Nobody knows for sure, because nobody climbs the 40 or 50 feet to heron aeries to band the chicks. That's what you've got to do to follow a bird's wandering.
Even in deep winter, an occasional heron stands over the chilly shallows or cocks its wings akimbo to soak up the thin sun. Who knows? Maybe it's a local bird toughing it out; or maybe it's a northerner who thinks this is warm.
-SOM
---
In Virginia, we knew that former Gov. George Allen was lax protecting the Chesapeake Bay. But we didn't know until a report last week from the state auditor that his office was awarded contracts for environmental protection money to political cronies
North Carolinians are in a ruckus over plans to build a huge, steel sea wall at the Outer Banks. The Shell Island Homeowners Association says the wall is needed to protect the community; state and local officials argue that such hardened barriers are illegal
Mississippi could have a new way of dealing with marijuana violators. The Libertarian Party reports that legislation offered by a Republican state representative would punish pot-smokers by amputating an arm or a leg. (We are not making this up.) The proposal is dubbed, what else - the "Smoke a Joint, Lose a Limb" bill
In Miami, the Nordic Empress cruise ship pleaded ignorance this month when environmental cops asked about its trail of pollution in the Caribbean. Last week, Royal Caribbean, the company that operates Nordic and other ships, was indicted for making false statements. The indictment charges that the ship discharged bilge waste directly into the sea and that it was captured on video by aircraft
Our Creature Feature from Washington state shows how government policies can make people wonder about preservation ideals. In Pierce County, state highway officials have proposed building a $2 million bridge across a highway for crossings by western gray squirrels. Defenders say a new $50 million highway would divide the squirrels' habit, thereby threatening their existence. Critics say it's a waste of taxpayers' money.
To us, the debate sounds a little, well squirrelly.
---
| Back to Archives |
Volume VI Number 8
February 26-March 4, 1998
New Bay Times

| Homepage |