Dock of the Bay

Volume VI Number 7
February 19-25, 1998
---
Maryland Arts: Local Musicians White, Levit Share Awards
photo of Rob Levit by N. Knoll
Arts are a Maryland treasure, so proclaimed by both Governor Parris and First Lady Frances Glendening, who heads a two-year celebration to bring visibility and recognition to arts in Maryland.
Like any treasure, their worth has been counted. James Brady, Secretary of the Maryland Department of Business and Economic Development, says arts contribute $634 million to the state economy, supporting over 19,000 jobs.
The arts, says the governor, are "an essential part of the quality of life we offer our citizens."
"Without question," Mrs. Glendening told an audience at Government House recently, "we must cultivate and nurture future generations of artists."
But most artists still graduate from the Vincent Van Gogh school of economic development, where zeros behind dollar signs are celebrated in twos and threes.
Maryland's outright endowment to artists was $200,000 last year. Divided into pieces ranging from $1,000 to $6,000, the State Arts Council pie teased the appetites of 92 artists. Three-hundred twenty-five more hungry artists applied but got none of the pie.
Artists eat or go hungry on a single standard: artistic excellence. Defining that elusive quality is panel of judges who see only the work and know nothing about the artist. "Not who they are, what sex they are, where they live or what they're going to do with the money," says Jim Backas, director of the State Arts Council.
The 92 grant-winning artists will be honored at an Arts Council reception in Baltimore on March 26.
Two-dozen musicians from eight counties and Baltimore shared $32,000 in arts grants in 1997. Anne Arundel and Calvert Counties each had one winner: folk singer-composer Susan Graham White of Port Republic and jazz guitarist-composer Rob Levit of Annapolis.
When future deadlines for this year's Maryland Arts council grant applications are set, you'll read about them in NBT.
Susan Graham White, who is celebrating her second grant from the Arts Council, describes her music as "a fairly contemporary mixture of country and folk, and because I'm a song writer, the mix can really get varied."
Her earlier grant, for song writing, helped her record her second CD, Not Afraid to Fly (Blix Street Records).
	One of those songs is "This House":
	We hang our hearts on every wall
	Where memories of old photos call
	Fragments of our time
	Rooms of yours and mine
	The wind might howl and the rain might sound
	But this house stands on solid ground
	Braving every storm
"When I first applied, I took what was my best writing rather than giving them something commercial. Again this year, I picked out what I thought showed not only my distinctive positives but showed me unique, with a lower range than a lot of female singers," White told us.
White performs regionally, from the Birchmere in Virginia to Jefferson Patterson Park at home in Calvert County to Farthing's Ordinary in St. Mary's City. Additionally, she says, "I work very hard at getting other people to cover my songs."
Still, music is not White's sole income. From her Wolfhaven Farm in Port Republic, she also trains horses and is a licensed dressage judge.
-SOM
Rob Levit, a musician full time, tells us he has no interest in being a starving artist. "I think of my music as a business, and I have to support my artistic venture, so I am always looking for opportunities," says the guitarist-composer, who celebrated his 32nd birthday on Groundhog Day.
Since settling in 1996 in Annapolis - where his father-in-law was a professor at the U.S. Naval Academy - Levit has covered the music scene. Starting with 49 West - where he appears most Thursday nights - he played three to five times a week in the fall, a little less in this slack season.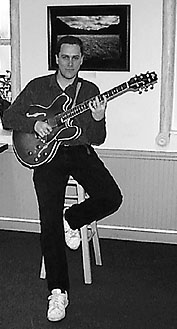 Brian Calahan of 49 West books Levit because "he's an artist, like I have art on the walls. He creates all his own music, he's studied his art and knows it well and can paint beautiful pictures with his sounds. I like creativity, and so do my customers - but it takes customers who are a little more mature to want to see it."
Levit plays once a month at Ram's Head Tavern's downstairs bar. "This is more of an improv-type thing where I can jam and play some rock or blues, as well as jazz," says Levit.
In March, Levit begins still another gig at Eastport Clipper Cantina. "They were looking to have some different types of music, so that is an opportunity I jumped at. I'm not looking to play in the same old jazz club situation every gig," said Levit.
The versatile Levit plays as a soloist, as half of a duo, a third of a trio or a quarter of a quartet. Each, he says, has its advantages.
He likes quartets, for example, "because it gives you more color. With a saxophone and other instruments, I'm freed up to play more cords, and you get some really interesting blends."
For still more color, he's thinking of "maybe a vibraphone or a marimba."
Levit is as open to people as to sounds. Says he: "The only way to improve is by working with other musicians. You can get so many more ideas, so yes I'm always open to collaborate with others. I don't even care what instrument they play or what style. I'll always try something once."
In addition to gigs several nights a week, Levit teaches guitar at Loyola College twice a week and practices his instrument a couple of hours a day.
Ever alert to opportunity, Levit found notice of the Maryland Arts Council grants while searching the internet. Rushing to meet a quick deadline, he sent excerpts of what he felt was his best material with an explanation of each song and his goals.
Some four months later, Levit - who says he "applies for different grants and tries to forget, hoping that they will bear fruit later" - received notice that he had won an individual artist award of $1,000.
Knowing that this is "Joe Smith's tax money," Levit plans to use it wisely. One idea is a silent film with a live band playing a score of his composing. "I think this would bring people in on the curiosity factor alone," says the graduate of New England Conservatory of Music, now seeking emeritus standing from the Van Gogh school of starving artistry.
-NMK
---
Report Cards: Congress Delegation Scores High on 'Green Rating'
You'd have thought that U.S. Rep. Wayne Gilchrest was a raging environmentalist, judging by what critics sometimes say.
But among Maryland's 10-member delegation to the Senate and U.S. House, Gilchrest was tied for sixth - with a rating of 63 percent - according to the new report cards from the League of Conservation Voters. Gilchrest, a Republican, represents Annapolis and the Eastern Shore.
He scored just behind the 69 percent of Rep. Steny Hoyer, who represents part of Anne Arundel and a wide swath of Southern Maryland.
But Gilchrest's score was far higher than the 27 percent average of House Republicans. House Democrats averaged 69 percent.
Maryland's two senators - Paul Sarbanes and Barbara Mikulski, both Democrats - each scored 100 percent. Maryland was one of just five states in which both senators posted perfect ratings. The others were California, Connecticut, Massachusetts and New Jersey.
The ratings were based on votes on toxics, nuclear waste, endangered species, property rights and a variety of environmental issues. Also tallied were votes on sugar subsidies in the Everglades and financial support for voluntary family planning to check global population.
-BL
---
'Striper Under Sail': Annapolitan's Recipe Takes Trophy
photo courtesy of Maryland Department of Agriculture Seafood Marketing
You may not have caught a fish in a coon's age, but commercial fishermen haul in huge catches of rockfish during this odd season.
Seems like the best thing you can do with a stripped bass this time of year is eat it.
Or cook it.
Such was the thinking behind Maryland's first-ever Rockfish Celebration Cooking Contest.
Lured by the Maryland Department of Agriculture's Seafood Marketing Program - which, you guessed it, makes its living selling consumers on all those tons of rockfish - 61 cooks hailing from eight states took the bait.
"We looked at all 61 for creativity, originality and to make sure the recipes made sense," recounts Noreen Eberly, who's the dietician for Seafood Marketing. The 10 cooks who survived the count were all Marylanders; what's more, five came from each shore. Only sex spoiled the symmetry: seven of the chefs were men and only three women.
Still untested, the 10 chosen recipes and their inventors put proof to the pudding in Ocean City last month, during the East Coast Commercial Fishermen's Expo.
"They put us up in a real nice hotel," reports Gary Van Nest, husband of competitor Dee Van Nest.
While families enjoyed the sights, the 10 chosen cooks lugged in their pots and pans, their burners and secret ingredients. Each got two one-pound rockfish fillets and an hour to make their magic.
Eberly sat in with the judges.
"All the recipes were wonderful, and the judges had a hard time selecting," she says. They sampled Janice Marshall's Baked Imperial Rockfish, created in Tylerton. They tried Harry Anderson's Pan Fried Rockfish with Pecan Frangelica Sauce, created in Salisbury. They nibbled Don Young's Grilled Rockfish with Citrus Salsa, created in Chester.
But when they got to Annapolitan Dee Van Nest's Stuffed Striper under Sail, they couldn't stop eating.
"It was about the seventh to go in to the judges. Others had come back for people to sample. But hers never came back. They ate it all," says Van Nest's proud husband.
Van Nest, 51, spends her working week as a librarian at the state's law library in Annapolis. As a hobby, she visits dog shows where her aging wolfhounds once competed. In her spare time, she works culinary miracles.
She'd never entered a cooking contest until 1996's Crab Cooking Contest at the National Hard Crab Derby and Fair in Crisfield. With beginner's luck, she took second place. This year, her Blue Crab Salad on the Half Shell took the Grand Prize.
"It was delicious," remembers Eberly, one of the judges at that all-amateur contest.
With rockfish on the menu and professional chefs in the competition, Van Nest did it again, taking home first prize and $500.
"Hers was absolutely distinguished, especially in presentation which is how I believe she won," Eberly tells us, her mouth watering with the memory.
But you don't have to take her word for it. If you've got the right stuff, you can try Stuffed Striper under Sail for yourself:
Stuffed Striper under Sail
Fish Marinade:
2 lbs. skinned rockfish fillets
juice of one lemon
2t salt-free lemon pepper
dash of Blue Crab Bay Co. "Herbs for Seafood" seasoning
Cut fillets into 12 equal portions. Place in covered glass dish. Marinade two hours.
Bay Side Filling:
1 large Portobello mushroom
312 ounces Shiitake mushrooms
8 slices bacon
1t olive oil (or spray)
2T chopped parsley
dash lemon pepper
Thinly slice mushrooms. Stir-fry w/oil or spray over high heat until limp. Sprinkle w/lemon pepper and set aside. Fry bacon; drain, crumble and set aside. Chop parsley and set aside. Remove fish from marinade and position two fillets together to form one serving. Separate each serving and fill with a layer of mushrooms, bacon and parsley. Cover w/fillet top.
Dredge Mix:
4T clarified butter
112 C flour
112 T lemon pepper
1t "Herbs for Seafood"
1t seasoned salt
Mix flour w/seasonings. Carefully dredge each fish portion. Sauté with butter in heavy skillet over low to medium heat, cooking 15 minutes per side till opaque and firm. Or finish in 350 degree oven.
Fresh Breeze Sauce:
112 C heavy cream
112 C clam broth
13 C dry vermouth
112 T minced shallots
1t butter
Sauté shallots in butter until soft. Do not brown. Add clam broth and vermouth. Cook over high heat until reduced by half. Add cream and reduce by half or until thick enough to coat a spoon.
Hull and Sail:
6 sheets 17" x 12" phyllo, thawed
113-112 C clarified butter
Preheat oven to 350 degrees. Cover phyllo w/foil to prevent drying out while working. Place one sheet of phyllo on work surface and brush with melted butter. Top with a second sheet and brush w/butter. Top and repeat w/third sheet. With a sharp knife, cut stack into 6 shapes to resemble a boat hull. Place on cookie sheet. Use trimmings to create sides of hull. Brush remaining three sheets of phyllo w/butter and cut in the shape of a sail. Place on cookie sheet. Bake 10 minutes or until brown.
Assembly:
24 fresh basil leaves (optional)
red and black caviar (optional)
Place one hull on plate; top with fillet, make thin cut in fillet to hoist sail. Nap with Fresh Breeze sauce. Decorate each plate w/4 basil leaves and dots of caviar. Drizzle additional Fresh Breeze sauce on plate. Set sail on fish.
-NBT
---
The Virginia Senate is trying to change the state's checkered reputation for protecting the Chesapeake Bay. Legislation passed this month would allow cities, counties and towns to incorporate water pollution rules in local zoning ordinances. Violators would be looking at penalties of up to $10,000
In Michigan, the case of Baptist minister James Headd proves that even clergy don't get total dominion over their own land. Headd faces two criminal counts and the possibility of one year in the slammer on charges that he violated the state's wetlands law by dumping construction debris and other wastes on his property in Wayne County ...
The San Francisco Board of Education last week approved the sort of pesticide rule that some Marylanders have been seeking. The board voted unanimously to ban spraying on school property except as a last resort
Another California case shows the dangers when government goes off half-cocked. Officials in two counties plan to sue the state claiming that a $2 million project by the Department of Fish and Game to rid Lake Davis of non-native northern pike destroyed all aquatic life in the lake and killed surrounding streams
Our Creature Feature this week also comes to us from California where folks in trendy Marin County are smelling something funky in the air. Marin County, as you may know, is that trendy land above San Francisco where the letters BMW are said to stand for "Basic Marin Wheels."
So when pungent odors began to waft through their windows recently, people had to be reminded of their source: Skunks. "Amorous skunks," to be more precise, doing what comes naturally this time of year in northern California, said the Wild-Care Wildlife Rehabilitation Center. The center reminded people to stay out of the way of the skunks - or prepare to make dangling air fresheners an option on their Beamers.
---
| Back to Archives |
VolumeVI Number 7
February 19-25, 1998
New Bay Times

| Homepage |