Dock of the Bay

Volume VI Number 25
June 25 - July 1, 1998
---
		by James G. Gibb
That things are not so ill with you and me as they might have been,
is half owing to the number who lived faithfully a hidden life, and rest in unvisited tombs.
-George Eliot, Middlemarch: 1871
London Town's William Brown - who we lately met fallen upon hard times and evicted with his family by Sheriff Stephen Rawlings - is one of a fellowship of largely unrecognized patriots, founders of the nation and molders of the American landscape. Through meticulous research, historians Tony Lindauer and Marnie Brown have resuscitated his memory. Much of what you are about to read comes from their work.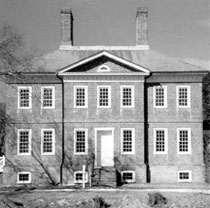 Like many of his neighbors, William Brown was of Scottish descent. He was born in 1727 in Anne Arundel County, his grandfather having emigrated from Dumfries, Scotland, in 1682. Brown practiced the trades of cabinetmaker and joiner (a maker of wooden moldings, doors and window sashes), but these occupational titles understate the scale at which he worked. Between 1758 and 1764, Brown built himself a splendid brick mansion in the stately Palladian style, an edifice preserved as a National Historic Landmark at Anne Arundel County's London Town Park. During the same period Brown built a brick mansion for Dr. Upton Scott in Annapolis. As late as 1785, London Town's premier carpenter and joiner also worked on the rebuilding of St. Anne's Church in Annapolis.
When William Brown began large construction projects in the late 1750s, he already was a very busy fellow. He operated an ordinary, or tavern, from 1753 until at least 1771, and a licensed ferry across the South River at least as early as 1755. Brown also acquired considerable tracts of land in the area through outright purchase and in satisfaction of debts owed Brown by his neighbors.
Despite his varied sources of revenue and many assets, he was indebted to a number of individuals in Maryland in amounts ranging from a few pounds of tobacco (the currency of the Chesapeake colonies) to several hundred English pounds sterling. In order to satisfy his debts, Brown mortgaged some of his assets, including slaves and interior furnishings. At one point, as I noted in my first letter, the county sheriff evicted William and his family, the mortgagors foreclosing for non­payment. William and Anna decamped to Annapolis in 1781, but managed to reoccupy the mansion soon after. They sold their house and returned to Annapolis in 1792, less than a year before William died.
When the cabinetmaker­turned­contractor took his place on the Committee of Observation in 1776, he was a prominent if debt­ridden member of his community. The written record of Brown's political activities remains sparse, nearly silent. He "attended to the records" of the committee "at his home in London Town" and he "took the Oath of Allegiance before the Hon. Richard Harwood Jr., on March 1, 1778."
As a member of the county's Committee of Observation, and possibly its recording secretary, Brown helped enforce the non­importation policy of the Continental Congress and the Maryland Committee of Safety, the unofficial state legislature immediately preceding and following the Declaration of Independence. His was an important, if unglamorous, role that strengthened the resolve of the colonies and weakened the will of Great Britain.
With the cessation of hostilities, William and Anna Brown and their neighbors returned to the demands of everyday life, confronting a severe economic depression and trying to reestablish the prosperity of the Golden Age of the 1740s and early 1750s. However in the short turn, Brown's political activities undermined the economy of the region and of the newly founded country. The resulting depression led to the demise of London Town.
By the time he died, William Brown was a failed tradesman and bankrupt. His "ambition in brick," as Marnie Brown called it in her 1984 master's thesis, lay at the root of his financial failure in the early 1780s. After all, this was the house of a grand gentleman, not of a simple tradesman.
Nineteenth­century historians forgot about William Brown. His name was virtually absent from the indexes and footnotes of history books. Even 20th­century Marylanders remembered William Brown not for his patriotism or his craftsmanship, his entrepreneurship or spectacular failure, but as little more than a name attached to a particularly fine Colonial house.
Yet Brown was a patriot. His actions materially contributed to the physical and economic development of London Town, a community built on debt, and his activism contributed to the network of volunteers supporting the Revolution. Brown's legacy: an independent nation and a National Historic Landmark, the only substantially intact colonial building surviving in London Town.
Thanks to the efforts of historian/archaeologist Tony Lindauer of The Lost Towns Project and the late architectural historian Margaret A. "Marnie" Brown, we will remember Brown and his family - and many other men and women of Maryland's Colonial past.
Jim Gibb, assistant director of The Lost Towns of Anne Arundel Project, writes "Letters from London," an exclusive feature of New Bay Times.
---
The British are Coming: South Anne Arundel Seeks a Second Opinion
The 1996 Stewardship Exchange Team at the Wicomico River, below.
If Southern Anne Arundel County has not yet taken its case for cultural independence to the United Nations, don't imagine it someday won't. The International Countryside Stewardship Exchange may just be the first step.
The latest gambit in the feisty region's long-running match for self-determination came to light last week in St. Jam
es Hall, Lothian. There, in a parish older than the nation, a partnership of organizations announced that the British had been invited back for a second opinion.
Laid on for October is a team of eight professionals from the United Kingdom - England, Scotland, Wales and Canada - plus France and the United States. Before arrival, they'll study position papers on South County's conundrums: how to manage growth and develop a sustainable infrastructure while preserving the region's resources and character.
"These people from outside are not any smarter, but sometimes when you're not from a place, it's easier to see and you can provide a mirror the community can hold up to itself," explained Frances Flanigan, director of the Alliance for the Chesapeake Bay and sponsor of the such exchanges in Chesapeake Country.
Southern Anne Arundel is the sixth - or seventh - region in the Chesapeake Bay Watershed to draw the attention of the Countryside Exchange. Five regional studies have been completed, and two are beginning. As well as Southern Anne Arundel, the Virginia counties of Essex and Lancaster on the Rappahannock River are on this season's schedule.
Once here, the team will tour and talk. Finally, they'll write a report identifying strengths and weaknesses, opportunities and threats. With the report come recommendations.
For example, "some exciting proposals for realizing the almost untapped natural resource opportunities for sustainable development such as organic farming, green tourism and recreation" were suggested in the 1996 Exchange report on the Wicomico watershed in Southern Maryland.
"They often simply state the obvious, but the fact they're from outside makes it so much easier to listen," explained Flanigan.
Having listened well now, people would presumably be nicely conditioned next year when Southern Anne Arundel's Small Area Planning Committee is formed to advise county planners and bring the General Development Plan home to the region.
That's certainly Flanigan's hope. "There's a feeling here that the county makes decisions and the community reacts," she says. "But the Exchange is a constructive atmosphere that puts everyone around the table to talk about what they'd all like it to be if we all had our druthers. It lays the ground work for more productive exchange when the small area planning group beings."
Michael Bevenour, who's fought Southern Arundel battles with SACReD - South Arundel County for Responsible Development - apparently couldn't agree more. "Our goal is to take this information and merge it with small area planning. Here we're being proactive; we're writing our own ticket," he told the Stewardship Exchange planning gathering of two dozen citizens.
But the best reason for second opinions was offered by Davis Craven of Shady Oaks: "So many times what we don't have in our community is vision of what we're trying to achieve," he said.
-SOM
---
North Beach Casts Hither and Thither
Following an influx of state economic development loans last summer, North Beach Mayor Dan Hartley, right, led a delegation of politicians including Gov. Parris Glendening, center, through the town, below.
North Beach is a town with a past looking for its future.
Founded as a community of beach homes next door to the resort town of Chesapeake Beach, North Beach never had a reliable motor to drive its economy.
Today, as improvements meant to pave the way for development near completion, the town faces the same identity crisis that has haunted its uneven history: not just what to be, but how to become it.
"Planning for the town's future is like walking through a minefield," said town councilman Rich Romer. "There are a hundred ways to get there, but only one safe way. We are looking for a way through."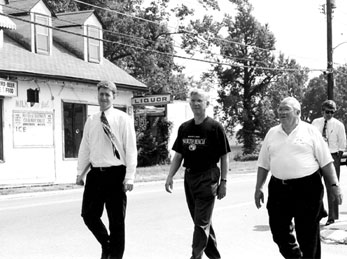 After the town's short-lived flirtation with bingo last year, the North Beach Economic Development Steering Committee has taken up the cause of revitalization. The ad-hoc committee is seeking to rally fellow residents to a common vision of the town's economic future. The group conducted its first "vision" meeting in March, brainstorming and prioritizing ideas for the town's economic growth. Results of that meeting were used to create the survey, which was mailed to all residents in the North Beach zip code: 20714.
Residents were asked what sort of town they wanted North Beach to be: where they might want to shop, play and relax; what resources to protect; how town hall should spend its time and their tax dollars.
Citizens of North Beach can't foresee how their town will look in the 21st century, but they know they still don't want to be Chesapeake Beach. That much was clear when survey results were presented by the steering committee in its final vision meeting, gathering 67 people at the North Beach Fire Hall last week.
"We want North Beach to be a bedroom community and a cultural center," long-time resident Connie Cambron explained. "No large businesses, and no heavy traffic."
For the town's economy, nearly half of the 102 respondents preferred small shops: ice cream parlors, coffee shops, delis, boutiques. Some wanted an inn or two.
They didn't want fast food franchises or chain stores or, apparently, bingo.
Responses for other categories played out as follows:
For recreation, most wanted facilities for young and old.
For preservation, saving the wetlands topped the list.
For government, keeping floodwaters at Bay and restoring the beach was most on their minds.
For capital improvements, streets and sidewalks came ahead of Bayfront spending.
Indeed, North Beach residents seem to want what every small town wants to be: a place to live safely, sensibly and enjoyably; a place with character and history; a place where nature is seen not as a roadblock to progress but as a valued asset to be protected and preserved; a place to feel truly at home, not just to rest up for the next morning's rush hour.
To get those goods, however, their town must give others a reason to visit and spend money. For a town with virtually no economic base, that's a problem.
So townspeople envisioned what a new North Beach might offer. On a smaller scale, they suggested businesses that combine services for survivability - a deli plus bakery plus coffee shop, for example. To draw people year-round, they brainstormed businesses that serve as gathering places: a regional Motor Vehicle Administration, a branch of Calvert Memorial Hospital or government offices.
A couple of ideas are more than dreams. Resident Francis Reed, for one, is working toward a Calvert County YMCA. County Commissioner Mark Frazer, a likely candidate for mayor of North Beach, would like a small performing arts center, the first of its kind in Calvert County, in the Twin Beaches Community Center. He'd like a branch of Calvert Maritime Museum in North Beach, maybe in the old Pop Brown's Furniture Store. He'd like to bring world-class concerts to North Beach, copying the success of Calvert Marine Museum.
Solomons has its museum, its concerts, its water trade, its restaurants. Chesapeake Beach, too, has its restaurants, waterpark, marinas and fishing fleet.
North Beach? Despite a few long-standing businesses, an influx of state business development loans and its antique trade, North Beach is still missing the engine to drive itself forward. Storefronts remain empty. Weed-filled lots checker the town. Hopes rise and fall as habitually as businesses open and close their doors.
"If the Tale of Two Cities were written today, it could have been written about North Beach and Chesapeake Beach," Del. George Owings, who grew up in North Beach, said at the meeting. North Beach may not want to take the resort approach Chesapeake Beach did, but residents should look to its economic success as a model, Owings said. "If you don't do anything, it will be status quo, business as usual."
Steering committee members plan to report the results of the survey to the mayor and town council by the end of the month.
With its vision a little clearer now, North Beach may be ready to take care of business.
-Don Kehne
---
Crabs, Rockfish and Oysters: Bayfood Contests Call Creative Cooks
Cooks vie for prizes at last year's Best Ever Crab Recipe Contest at Chesapeake Bay Maritime Museum, below.
How does Maryland love Bayfood? Who can count the ways? It's time for imaginative cooks to be figuring out new ones in preparation for three upcoming seafood recipe contests. From July through January, cooking contests featuring crabs, rockfish and oysters reward inventive new ways to enjoy Maryland seafood with cash and prizes.
First on the menu is the second annual Best Ever Crab Recipe Contest. Sponsored by the Chesapeake Bay Maritime Museum in St. M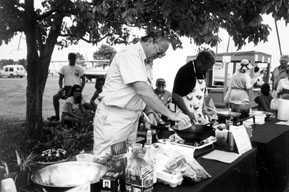 ichael's, the cook-off adds the spice of competition to the museum's 15-year-old Crab Days seafood festival. This festival celebrates nature's gift to the Chesapeake, the blue crab, and features food, live entertainment, boat rides, activities for kids and Chesapeake heritage demonstrations.
In the Best Ever Crab competition, Maryland blue crab meat must be the prime ingredient in every recipe; the rest is up to your imagination. Hopeful amateur chefs may submit one original recipe in each of four categories - appetizer/hors d'oeuvres, soup, salad and main course - by July 1.
Three outstanding recipes will be chosen from each category; then finalists prepare their dishes for all to see at Crab Days seafood festival on August 1. All finalists receive gift certificates for local restaurants; the first place winner also receives a one-year membership to the museum.
What's the secret to a winning recipe?
"There's only so many crab cakes our judges can eat," warns the museum's Gwyn Novak. She suggests contestants aim for a dish that not only tastes great but also shows creative flair.
Last year's first place winner, Al Olinde of Salisbury, wowed judges with Soft Shell Crab Unbelievable, a deep-fried soft-shell crab topped with a generous portion of sautéed lump crab meat in lemon, butter and parsley sauce. Also memorable, according to Novak, was Annapolitan Dee Van Nest's recipe for Double Crab in a Marsh: crispy packets filled with a creamy crab mixture, nestled on a bed of rice noodles and rich crab sauce.
Van Nest also took first place in the Maryland Department of Agriculture Seafood Marketing Program's 1998 Rockfish Celebration Cooking Contest. This queen of Bayfood cuisine's secret to winning seafood cook-offs is deceptively simple. "Stick to something you do well, use quality ingredients and allow the flavor of the seafood to shine," Van Nest suggests.
Speaking of rockfish, the 1998 recreational rockfishing season is providing exceptional catches of fat and healthy fish, according to New Bay Times fishing writer Chris Dollar. Abundant as rockfish are this season, now is the time for cooking competitors to perfect a winning recipe for the Maryland Rockfish Celebration Cooking Contest, coming up on January 30, 1999.
Rockfish, also known as striped bass or stripers, boast a mild, sweet flavor and firm-textured flesh. At the 1998 Rockfish Cooking Contest in January, competitors grilled, baked, fried, broiled and stewed this tasty fish in unique and delicious ways. Van Nest's winning Stuffed Striper Under Sail featured a marinated rockfish filet enclosing a mushroom and bacon filling and accented by creamy seafood sauce and topped off with a sail of phyllo pastry.
Maryland Seafood Marketing Specialist Noreen Eberly advises contestants to aim for a rockfish recipe that not only looks and tastes great but also incorporates new or unique flavors and is easy to prepare.
Who can think about blue crabs and rockfish without dreaming about oysters yet to come? Now, says Eberly, is a good time to search your memory or prod your imagination for delicious and original oyster recipes for the 19th Annual National Oyster Cook-off in Leonardtown, sponsored in part by the Maryland Seafood Marketing Program. Oyster recipe ideas are due by August 3.
Fresh oysters must be the main ingredient in each recipe. Enter in as many as four divisions: hors d'oeuvres, soups and stews, main dish and outdoor cookery/salads. Again, Eberly advises contestants to strive for great taste, originality and an attractive presentation.
The top three finalists in each division cook up recipes during the St. Mary's County Oyster Festival on October 17. Judges sample each delicacy, then award first, second and third place honors with cash prizes of $300, $150 and $100. Selected from the first place winners of each category, the grand prize winner takes home an additional $700 and a silver tray.
The top 10 recipes in each category appear in the annual National Oyster Cook-off Cookbook, and their creators receive a cookbook and certificate of achievement.
Curried Oyster Stew, created by first-time contestant Sally Brassfield of California, Md., captured last year's top honors. This delicious stew topped exotic flavors with an unusual twist: a scoop of mashed potatoes in each bowl. Still pleasantly surprised at her victory last year, this modest cook believes her success stems from relying on basic, great-tasting food presented attractively.
But how does Brassfield come up with simple and delicious recipes? "I just have a knack to know what tastes good," she says.
Seafood lovers who are not culinary whizzes can enjoy a wave of events this summer celebrating the bounty of the Chesapeake Bay. Maryland hosts at least two dozen seafood festivals, stretching from one end of the Bay to the other from now until November.
Some of these festivals feature one kind of seafood such as crabs or oysters, while others offer a variety. Most offer activities for kids and live entertainment for all.
For more information:
Best Ever Crab Recipe Contest at the Chesapeake Bay Maritime Museum: 410/745-2916
Rockfish Celebration Cooking Contest or National Oyster Cook-off from Noreen Eberly: 410/841-5820
For a list of Maryland Seafood Festivals send a self-addressed, stamped envelop to 1998 Seafood Festival List, Maryland Department of Agriculture Seafood Marketing Program, 50 Harry S Truman Parkway, Annapolis, Maryland 21401· www.mda.state.md.us/aqua/festival.htm
-Kim Cammarata
This is intern Cammarata's first story for NBT.
---
Here's to Dad -- The Winner Is ...
For Father's Day 1998, 11 daughters, granddaughters and sons among NBT readers shared those most formative of experiences, their relationships with their dads. We met six fathers in their stories:
Francis W. Brown: His story, of a legacy love for Chesapeake Bay, was written by daughter Lois Brown Oakes, of Calvert and Howard Counties;
George Keller: His story, "Blindness Was No Handicap," was written by daughter Virginia Keller Beauchamp, of Chesapeake Beach;
Dent Lynch: His story, "He Stuck It Out," was written by daughter Janice Lynch Schuster;
Stuart R. Coon: His story of industry and imagination was written by daughter Edith C. Ralon, of Lusby.
G. Howard Gillelan: His story of love for the outdoors was written by his daughters Bess and Harriet; sons Ian and Josh; and granddaughter Hannah.
Roy S. Bridges: The poem, "His hands were always my guide," was written by daughter Eleanor E. Lyba, of Huntingtown.
As well as honoring their fathers, NBT's reader-writers were responding to a special challenge. Advertiser Alexander Westmoreland proposed to reward the story that moved him both with a handsome prize: a full, free day of luxury at his spa, Alexander's of Annapolis Day Spa and Salon.
Soon as NBT's Father's Day '98 issue was off the press Alexander started reading. He liked all the stories so well that, in addition to the promised grand prize, he's awarded $20 gift certificates to the other five.
One, however, stole his heart. "I liked her sincerity. It was the same kind of tribute I'd make to my stepfather."
For sharing the story of Francis Brown, Lois Brown Oakes captures Alexander's grand prize.
(All awards will be sent by mail.)
---
In California, a new generation of underwater robots is being developed capable of providing non-stop video of the goings-on at the bottom of the ocean or bays like the Chesapeake, the San Jose Mercury News reported last week. Unlike old submersibles, these autonomous underwater vehicles (AUVs) don't have to be tethered to a ship ...
Some of Washington's biggest lobbyists are lined up for a battle over a proposed 5 percent tax on outdoor recreation equipment. The tax on backpacks, tents and presumably fishing equipment would pay for conservation efforts. The drive is led by the International Association of Fish and Wildlife Agencies ...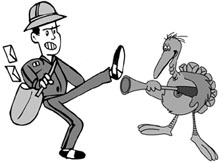 In Minnesota, problems with jet skis have overwhelmed the rights of their owners. Starting in August, personal watercraft will be banned on about 200 miles of the St. Croix River, the superintendent of the St. Croix National Scenic Riverway announced last week ...
From Seattle, Dear Abby received a letter recently from someone piqued about a fixture of summer: ice cream trucks. It read: "I live in Seattle, which is famous for its beautiful environment, lovely gardens and quiet neighborhoods Then out come all the ice cream trucks with their loudspeakers playing obnoxious music... Noise pollution." Replied Abby : When you hear the truck, cover your ears" ...
Our Creature Feature comes from Albany, N.Y., where a letter carrier has been enduring more than a nipping hound. In fact, things got so bad recently that mail in one neighborhood went undelivered for several days.
The villain here is a bad-tempered wild turkey, who so objected to mail delivery that it would chase the mail truck down the street pecking at the tires, according to the Associated Press. The turkey became such a nuisance that the Postal Service instructed the driver not to get out of the truck when the turkey was present.
Observed local resident Jim Palmer: "They say neither rain nor sleet nor dark of night will keep them away. I guess that doesn't include turkeys."
---
| Back to Archives |
Volume VI Number 25
June 25 - July 1, 1998
New Bay Times
| Homepage |