Dock of the Bay

Volume VI Number 24
June 18-24, 1998
---
Crowds Swell, But Storms Muddy Bay for Bernie's Big Day
photo by Mark Burns Delegates George Owings and Virginia Clagett led the Fair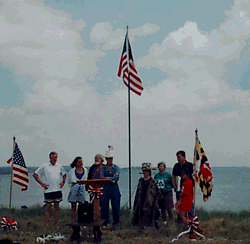 haven wade in, below. Whereas retired State Senator Bernie Fowler, as always, led the wade in into the Patuxent River, at right.
"'Where's the water on Bernie's overalls?' everybody was asking," said Kathleen McGinty of the recent ocean summit in Monterey, California.
The answer, ladies and gentlemen, is 35 1/2 inches north of his sneaker soles.
To see Bernie Fowler look at his toes, over 100 people turned out, including U.S. Congressman Steny Hoyer; state Sen. Roy Dyson; Kathleen McGinty, chair of the President's Council on Environmental Quality; Bill Matuszeski, head of the Environmental Protection Agency's Chesapeake Bay Program; Betty Brady, a fifth grade teacher from Hollywood in St. Mary's County; and Cody Blake, Fowler's four-week-old grandson. Nearly everybody braved the slightly chilled waters of the Patuxent River off Broomes Island under beautiful skies in the sneaker-searching excursion.
This year's wade-in saw a nine-inch reduction in visibility from last year's Sneaker Index high of 4412 inches. "We've had some hellacious storms here recently," explained Fowler.
Indeed we did; the previous day's torrential downpours raised this year's rainfall to 36-plus inches, a 50 percent increase over last year. Last year's El Niño had a drying effect, making for a low sediment load year; little rain caused little run-off of nutrients into the Bay.
This year's wetness made for a different story. "Nutrients cloud the water, block the sunlight and make it hard for Bernie to see his feet," explained Hoyer.
Of course, if Fowler's toes can't see the light of day, neither can the Bay grasses. Nutrients cause algae blooms to thrive and in turn prevent the sun's nourishing rays from reaching the plants on the riverbed.
Perhaps the biggest blow to the Bay's cleanliness is the reduction in oysters. A few decades ago, oysters were plentiful enough to filter all the Bay's water in one week. The depleted population now needs an entire year to do the same.
EPA's Matuszeski also noted the huge problem of extensive development in the Baltimore/
Washington region. Progress, he says, has been made in reducing farm run-off and retrofitting sewage plants. Now the problem is run-off from developments and deforestation, which puts a high load on the Bay's tributaries.
Despite this year's cloudier waters and the obstacles to a clean Bay, the mood was optimistic. The consensus is that the Bay is getting healthier. As many a speaker and wader noted, Bay recovery is proceeding successfully because of the efforts of communities, businesses and all levels of government. Brady, who stayed with tradition by bringing her fifth grade Hollywood Elementary class, was awarded citations of the pleasant kind for her accomplishments in environmental education.
Beaming, McGinty called Fowler's wade-in "a model for environmental efforts in communities across the nation."
Closer to home, three Maryland communities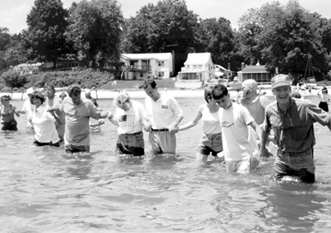 waded into their own waters in emulation of Fowler and to spur environmental interest and action. At Fairhaven in Southern Anne Arundel County, about 100 people gathered under an exceptional noonday sun for a first-time wade-in led by Delegates George Owings and Virginia Clagett. About 75 adults, children and dogs waded far into shallow Herring Bay, keeping watch of their toes. When at last extremities disappeared, Del. George Owings dropped his plumb line and reported visibility of one yard.
At Otter Point Creek at the Bush River in Harford County, about 40 people ventured outdoors for a day of guided trail hikes, angler education, canoeing, Maryland's Scales and Tails display and a speech by Del. James Harkins. The group was a mix of ages, ranging from grade schoolers to adults. Waders barely got their ankles wet, seeing 712 inches into the waters made turbid by weekend storms.
Up in Rocky Gap State Park, at the northern reaches of the Potomac where waders would be swept away by rapids, Bay lovers wisely let lures do the dipping. The fish-in attracted about 50 kids ages 12 and under who cast their lines after largemouth bass, trout and bluegill. The day on the river included speeches by four Maryland legislators, including Speaker of the House Casper Taylor.
Bernie Fowler was upbeat about the rapid spread of public awareness and involvement. "Back in the '60s, there were only a few of us who saw the problem. Everybody thought it was just a phase and that the Bay would bounce back." Now it seems Bernie's example has taken root as a new age of environmental awareness grips the Bay.
-Mark Burns
---
Tree-Snatchers on Prowl for Valuable Wood
Their trunks are ramrod straight and their lavender flowers trumpet-shaped. Their leaves are shaped like hearts and grow as big as elephants' ears.
But it's their cream-colored wood that thieves are after, wood that sells for thousands of dollars on Asian markets. The lightweight wood, strong and resistant to humidity, is used for ornate boxes, musical instruments, statues and even medicine.
Trees have sold for $10,000 and more, making them the most valuable in any forest.
Paulownia trees - also called Chinese empress trees, princess trees or Kiri trees - were brought to the U.S. from China in the 1800s and used for landscaping. Many are growing in Chesapeake Country and once again, they are being hunted and stolen, Maryland authorities report.
After an elderly couple in Prince George's County heard a knock at their door, two men asked for permission to haul away dead oak trees. Later it was discovered that a fence had been torn down and four paulownias uprooted and sawed into logs.
At the Merkle Wildlife Sanctuary on the Patuxent River in Prince George's County, eight to 10 paulownias were removed in the dead of night. They were sold to a logging company in Virginia for $3,400, a fraction of what they would bring in Japan. Two Marylanders, both 29, were charged with theft of over $300.
Maryland Natural Resources Police report four active theft investigations over the last two months, three on private property. Investigators believe the cases are part of a tree-theft ring.
Every few years, reports surface about paulownia thefts. Often, the thieves will say they are trimming trees for power lines or cable television. Authorities say that unscrupulous sawmills in the region have received as much as $25,000 for a perfect specimen after paying $2,000 or less.
To report suspected paulownia thieves, call Natural Resources Police at 800/628-9944 or 410/260-8888.
-NBT
---
Reappearing Islands: Poplar's Back on the Horizon
Once upon a time, the 1,000 wooded acres of Poplar Island were a place where bootleggers would hide hooch. And after Prohibition, the lush island was an enclave for Democrats, a resort where FDR and Truman hunted quail and pheasant. Over the last several decades, though, wind and tide have attacked the old island - which lies about eight miles east of Deale and one mile west of Rt. 33 off Lowes Wharf Road, between St. Michael's and Tilghman Island.
Today, Poplar Island is a four-acre patch of dirt and brush.
"Nought may endure but Mutability," exclaimed the poet Percy Shelley.
Nonetheless, the state of Maryland, the federal government and the U.S. Army Corps of Engineers hopes to restore Poplar Island to its former size and glory. With last month's purchase of the island from private owners, this 20-year aquatic earth-moving project has begun.
"The restoration of Poplar Island is on the cutting edge of technology for the beneficial reuse of silt and other materials removed from shipping channels," says Gov. Parris Glendening. "Not only will it allow us to keep the shipping channels open to the Port of Baltimore, but it will restore valuable wildlife to the Chesapeake Bay."
Every year, the Maryland Port Administration dredges 28 million cubic yards of stuff from the Bay's bottom. All that silt and run-off has to go somewhere. It can be dropped on other parts of the Chesapeake - an activity that upsets food chains and environmentalists - or it can be used in large public works, like Poplar Island.
"It's an environmentally flawless project," says Linda Jordan of the Port Authority. The island's restoration, she adds, will also improve the Bay's health.
A new mass of land, for instance, will buffer nearby Tilghman Island from erosion. A larger island will also quiet the water that lies behind it, which will encourage spawning and raise the fish population. Jordan also says that the island's restoration will support wetlands growth and that the island will eventually become an aviary. Striped bass, blue crabs and bald eagles all stand to win.
But an easy victory this isn't. Frank Hamons, manager of Harbor Development for the Maryland Port Administration, says that restoring an island is a slow and sloppy process. Engineers take on the unlikely task called "crust management" - making mud into hard soil - in the midst of a Bay. To do it, the mud, which is 85 percent liquid, must be dredged from the Bay's bottom, then moved by barge to the island, where it is dumped and sprayed in layers over trenches and depressions to eventually settle and harden. When the project is complete, the Maryland Port Administration hopes the island will be 70 percent wetlands.
What a paradise it seems.
But, lo! There's a $427 million price tag attached to the Poplar Island endeavor. Just approved by the House Appropriations Committee is $9.5 million, two million more than the Senate has recommended for this year's work. Last year's federal contribution was $25.6 million.
"It's expensive," allows Jordan.
Nor are all the gains of the project undisputed. Environmental ethicists, for example, question the sincerity of the effort. Do humans have the right to replace to nature what nature took away? And what promise is there that the Bay won't swallow up the island again? After all, aren't the polar ice caps melting?
On the other hand, Gov. Glendening calls the project "a national model of environmental restoration."
We've got the next 20 years to wait and see.
-Steve Armstrong
With this story, Armstrong ends his nearly weekly six-month stint with New Bay Times and begins his new career as a teaching assistant in the Creative Writing Program of Florida State University at Tallahassee. To keep his many fans happy, he promises at least occasional contributions.
---
Swimmers' Caution: Bacteria Lurk in Bay Waters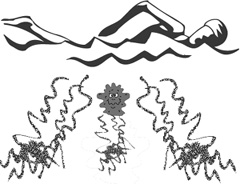 We are fortunate this budding summer season that so much rain is keeping sea nettles out of our part of the Chesapeake. But the rain means another threat: heightened levels of fecal coliform bacteria, which can cause health problems for people who can't stay out of the water.
Weekly testing of rivers, streams and the Bay itself by the Anne Arundel County Department of Health shows widespread presence of fecal coliform bacteria.
These readings are especially important now because many people are swimming in nettle-free waters. Dozens of localized readings are available from the county's water quality hot line at 410/222-7999. Test results at more than 78 sites will be available 24 hours a day through Labor Day.
Fecal coliform bacteria come from the intestines of warm-blooded animals. Easily detected, they are a general indicator of water quality but not a precise indicator of health risks.
In other words, there may be no danger in swimming where high levels of the bacteria have been detected. By the same token, some people may be affected.
According to Physicians for Social Responsibility, about 150,000 people become ill in the U.S. each year from the bacteria. About 300 die. Contact with the bacteria can cause diarrhea, cramps, headaches and nausea. Those most susceptible are older people, infants and people with weak immune systems.
Authorities keep tabs on the wastes with an eye toward emergency closings if warranted. Some areas remain closed because of persistent problems: Marley Creek and Furnace Branch; Rock Creek from the headwaters to Valley Road; Wall Cove and White's Cove on Rock Creek.
It is no coincidence that the highest levels of fecal bacteria are found in the most developed areas of the county.
While high levels don't always suggest health risks, they often indicate septic systems in need of upgrading and overdevelopment along the shore.
Anne Arundel's health department recommends that people use common sense. Cuts and scrapes, a news release said, "make it easy for disease-causing bacteria to enter the body." The county advises against swimming after a heavy rain until the water clears, usually about 48 hours.
There is no danger to eating cooked fish and crabs from waters where bacteria have been found.
Following are fecal coliform readings taken by A.A. Co. Department of Health last week. They are measured in MPNs - most probable number of bacterial colonies per 100ml of water. The levels were recorded after a rain.
-NBT
| | | | | | |
| --- | --- | --- | --- | --- | --- |
| Sites | | Bay Ridge Beach | 103 | Turkey Point | 85 |
| Annapolis | | | | Mayo Beach | 3 |
| Truxton Park | 105 | Magothy River | | | |
| Georgetown East | 121 | Mountain Point | 96 | Rhode River | |
| McNasby's Seafood | 57 | Long Point | 147 | Cloverlea | 416 |
| Severn Sailing Assn. | 101 | Tarr Cove | 75 | Camp Letts | 38 |
| City Dock | 52 | Hickory Point | 111 | Contees Wharf Rd. | 30 |
| Shipwright St | 106 | North Ferry Point | 10 | | |
| St. John's College | 150 | Chelsea | 55 | West River | |
| Tucker St. | 53 | Whitehurst | 16 | Galesville City Pier | 42 |
| Dewey Dr. | 100 | Shore Acres | 86 | Shady Oaks Boat Yard | 127 |
| Williams Dr. | 29 | Persimmon Point | 45 | Community Beach | 41 |
| | | Sandy Point State Park East Beach | 48 | Back Bay Cherry Pt. | 71 |
| Severn River | | Sandy Point State Park South Beach | 63 | | |
| Jonas Green St. Pk. | 91 | | | | |
| Winchester on Severn | 12 | South River | | Herring Bay | |
| Rugby Hall | 62 | Hillsmere Shores | 55 | Mason's Beach | 4 |
| Linstead on the Severn | 17 | Quiet Waters | 40 | Town Point | 101 |
| Carrolton Manor | 22 | Ferry Point | 18 | Owings Cliffs | 48 |
| Ben Oaks | 82 | Cape St. John | 26 | Rose Haven | 45 |
| Arden on the Severn | 74 | Harbor Hills | 14 | | |
| Harold Harbor | 32 | Glen Isle | 35 | | |
| Sherwood Forest | 10 | South River Bridge | 18 | | |
| James Landing | 40 | Cape Loch Haven | 118 | | |
---
For this Sales Staff, Nature's the Real Estate
When Long & Foster announced plans to close doors June 24 at all 163 branches for its first annual Community Service Day, Karen Wells of the firm's Deale office was ecstatic. She knew exactly where she and her 11 office mates were going to volunteer: the Chesape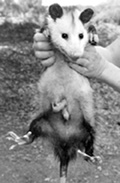 ake Wildlife Sanctuary. Located in Bowie, the sanctuary is the area's only shock-trauma hospital for wildlife, where over 10,000 injured animals are treated each year. It is a place that holds a special place in Karen Wells' heart. One of those 10,000 cases belonged to her.
On the way to a house-showing appointment last year, Wells passed an injured possum lying in the heat of the road. Wells met her clients, but the thought of an animal suffering so was too much to bear. She hurried the people through the house, then rushed back to help.
"I called the police," Wells recalled. "But when the officer got there, he said the best thing was to just shoot it."
Wells wouldn't hear of it. "Then he said he couldn't allow me to pick it up, since it might be sick. So I asked him to turn his back for a minute. The officer did." Wells fetched a blanket from her car and gathered up the opossum.
Within minutes, she arrived at the Chesapeake Wildlife Sanctuary. The veterinarian on duty rushed the animal into surgery. For a small donation, Wells was able to find out how her animal fared.
She got bad news. Despite a two-hour operation, the opossum - her opossum - had died. But Wells also learned that her good deed had a happy return -13 happy returns, in fact. As it turned out, the opossum was not only a she but also a mother. Thanks to Wells, 13 babies tucked away in their mother's pouch were alive and well; all were tended and raised by the sanctuary staff and eventually released into the wild.
Ever since that day, Wells has been an ardent promoter of the sanctuary's good work.
"Right now, they need help more than ever," Wells says. "We have the sanctuary's wish list posted at our office if anyone wants to donate needed items. People can drop their donations off at our office, and we'll gladly deliver them."
Wish list items include cages, bedding, birdbaths, pet carriers, food, hay and straw.
The Long & Foster crew will be among 500 volunteers helping at the sanctuary each year, according to Dianne Pearce, the sanctuary's founder and executive director. But, Pearce adds, having a whole office come out to volunteer is a uniquely welcome event. "It doesnít happen often, so this is really special," she said.
At the sanctuary, the Long & Foster volunteers will be building cages for ducks and geese, scraping and painting the historic administration building, which dates from the 1700s, as well as cleaning up around the grounds.
In addition to needing supplies, the Chesapeake Wildlife Sanctuary is seeking donated property in Anne Arundel County to eventually relocate the hospital. "We found that most of our cases are coming from that area, so it makes sense. We're looking for a minimum of 20 acres with a substantial buffer zone, preferably well away from noise and development," Pearson said.
Two years ago, the sanctuary received a donation of nearly eight acres of land in Silver Spring, Maryland. Housed there is the 10-member National Oiled Wildlife Response Team, which responds to oil spills and other wildlife-threatening hazardous materials emergencies around the country.
"A relative of mine is always complaining about how nobody cares these days, says Wells. "Well, people do care. We're giving people an opportunity to participate, to show that they're more concerned about what they can put back into their community, rather than what they can get out of it."
For the June 24 event, other Long & Foster offices in Pennsylvania, West Virginia, Delaware, Virginia and Maryland will volunteer at community parks, schools, shelters, homes, and day care centers. Join Karen Wells and her associates from 9am to 2pm at the Chesapeake Wildlife Sanctuary as they paint buildings, repair cages and clean up for convalescent critters.
-Don Kehne
---
From his home in Hebron on the Eastern Shore, Baltimore Sun columnist and prolific Bay writer Tom Horton came pretty close to a re-election endorsement of Gov. Parris Glendening. After Glendening pledged $7 million in state money to purchase threatened Patuxent River land, Horton wrote that Glendening has "largely kept his promises to take the environment seriously and has often gone beyond them"...
Wealthy Pennsylvanians enjoy their escargot, but nobody around Philadelphia is happy about an invasion of hungry snails. The brown garden snail, a scourge of California, is worrying farmers and nursery growers who are aware that they devour anything green and growing. Authorities plan to survey state parks and greenhouses to see how far they've spread...
The latest Sharper Image catalogue has a gift for the laziest fisherman you can imagine. In the new hand-held Lunker Bass game, when you get a bite the reel shakes and you struggle to crank in your whopper while watching the action on a mini video screen. Then again, you could spend the $30 that the game costs on the real thing ...
Our Creature Feature comes from Rhode Island, where four fisherman from the town of Pawtucket hauled in the big one. Fishing in the Pawtucket River, they boated a stolen safe containing $21,000 in savings bonds.
Later, police wondered why it took them so long to report their catch. Walter Casto, one of the fishermen, told the truth: "We had to finish fishing first."
He told the truth, too, about what they caught other than a hot safe: One fish.
---
| Back to Archives |
Volume VI Number 24
June 18-24, 1998
New Bay Times
| Homepage |