Dock of the Bay

Volume VI Number 23
June 11-17, 1998
---
Seen in Passing: Maryland's High-speed Gardens
You'd better not slow down to smell these flowers. It's more than the traffic can bear when you're cruising along at 65 or 55 or even 35 miles per hour. But as the blur of brilliant color passes, you'll wish you could.
Instead of painting a still-life, Maryland's State Highway Administration has projected a moving picture to entertain you as you drive.
"By creating safe and attractive highways throughout the state, we aim to make driving a pleasurable and visually stimulating experience," said State Highway Administrator Parker F. Williams of Maryland's 12-year-old Wildflower Planting Program.
You saw the preview this spring, in 187,000 flowering bulbs planted along highways and byways throughout Maryland. With summer, the full-length Technicolor feature is out and blooming. Planted in spring, 20 varieties of wildflowers are decorating almost 300 acres of roadway. To catch your eye no matter how fast you're traveling, the blooms were chosen by highway landscaper Bruce Knott to be "rich with vibrant hues of orange, purple, magenta, gold and fuchsia."
Combining to create and sustain that blaze of color are flowers with long and complementary blooming seasons. The earliest, corn poppy, showed its crimson flowers in March. The latest, calendula and two varieties of cosmos, will bloom into November. June is peak season, with just about everything blooming.
Many of the wildflowers are perennials that will reappear next year to ease the Highway Administration's labors. The perennials: black-eyed susan, blanket flower, purple coneflower, lance-leaf and plains coreopsis, shasta daisy, lemon mint, evening primrose, dames rocket and white yarrow.
Filling out the flower fields are 10 showy annuals: calendula, California and corn poppy, cornflower, cosmos and sulphur cosmos, rocket larkspur, spurred snapdragon, sunflower and wallflower. Many of those annuals will reseed themselves, returning in their season next year.
Recovering old acreage stunted by drought last year accounted for about one-third of this year's seeding. In Anne Arundel, Calvert, Charles and St. Mary's counties, where $85,000 was budgeted for spring and fall plantings in 1998 and 1999, Maryland Turf and Environmental Services of Silver Spring did the work.
In Calvert County, you see the result approaching Dunkirk from the north along the Rt. 4 median at Rt. 260 at Morning Glory Ln. and near Yellow Bank Rd. Farther south at St. Leonard, look in the Rt. 2-4 median 110 mile south of Ball Rd.
In Anne Arundel County, you'll find even more flowers. U.S. 50 gets three spreads, one in the median west of the Bay Bridge; the second in the westbound roadside at the Rt. 2 ramp; and the third on the I-97 median. Lots more flowers grace the intersections of I-295 and I-695. You'll also find blooms where I 295 meets Rt. 175 and where I 195 meets Rt. 170. Up north, the Rt. 100 median at 177 and Lake Waterford Rd. has been planted. Down south, the Rt. 4 median north of Rt. 260 has been planted.
But with all those flowers, Highway Administration publicist Rita Chappelle found not a single road where it was safe to stop and smell the flower. It's also illegal to pick them. Like other movies, these are a feast for the eye alone - unless you're a bird, bee or butterfly.
-SOM
---
Nishida: To Clean-Up Corporate Farms, Feds Must Get Busy
Maryland Dept. of Environment head Jane Nishida talking waste and water,below.
Jane Nishida looked slightly out of place. Nishida, who heads Maryland's Department of the Environment, sat at a table this week with Sierra Club firebrands and victims of pollution from corporate poultry farms.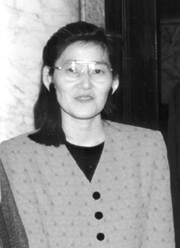 Among them were Albert Midoux, a plain-spoken cattle farmer from southwestern Missouri who described chicken mega-farms having turned a pristine canoeing waterway, the Elk River, into a transportation canal for sludge and nutrients.
"Even the flies down there are sick," said Midoux, a former U.S. government poultry inspector.
The gathering at the venerable Old Ebbitt Grill in Washington, D.C., was organized to call for a national moratorium on new permits or expansion of sprawling chicken and hog farms. "America's drinking water is at risk," said Kathryn Hohmann, director of the Sierra Club's environmental quality program.
Nishida stopped short of joining the call for a national moratorium. But her willingness to sit with the activists in front of television cameras spoke to her concerns about the problems with manure not just in Maryland but across the country.
Sierra Club figures told a remarkable story of the growth in factory farms: There are now more chickens in the U.S. at any one time than people on earth - 7.6 billion chickens versus 6 billion humans. There are more than 300 million turkeys, meaning there are more big birds than people. In addition there are 103 million hogs and 58 million beef cattle.
All those animals account for 2,700,000,000,000 (trillion) pounds of manure, much of which winds up in rivers and streams.
Nishida told the national audience of the Chesapeake Bay's problems last year with Pfiesteria and was sitting in the room when Gov. Parris Glendening made tough decisions to close the Pocomoke River to human contact.
"It was a step that sent the Maryland seafood industry into a nosedive," she said. "Pfiesteria was a wake-up call for Maryland. It also was a wake-up call for the nation."
Nishida told of the new law in Maryland that will require nutrient management plans by farmers within a few years. But she said that Maryland's efforts may not be enough and that the federal government must impose limits on nitrogen and phosphorus to prevent problems down the line.
She testified to the threats from Maryland's Eastern Shore poultry industry which, like the industry across the country, has continued to expand to keep pace with appetites in the U.S. and abroad.
"There are more chickens in that part of the state than humans, in terms of wastes," she said.
-BL
---
Update: Th
e Eagles Have Nested
This Chesapeake Bay Program graph, at left, shows the resurgence of eagles throughout Chesapeake Country: Maryland, Virginia and Pennsylvania.
Keep your eyes peeled for a bumper crop of eaglets this summer. Counted in Maryland Department of Natural Resources' nearly complete survey of eagle nesting sites were 223 nesting pairs. Begun this spring, the count is made from small plane flying low over the tree tops. Glenn Therres, DNR's man on eagles, says that DNR can't fly over the Aberdeen Proving Ground. Once those figures are in, the number should reach 230 pairs - that's up from 219 pairs counted last year.
The resurgence of bald eagles to Maryland is one sure sign of the improving environmental health of Chesapeake Country. Populations crashed mid-century, due in large part to the devastating effect of DDT. In an unforeseen side effect, the widely used toxic insecticide so softened the egg shells of eagles (and of many other birds) that few hatched.
Since the ban, populations have rebounded, and eagles were recently removed from the endangered list. The big birds remain on the threatened species list until their living quarters in Chesapeake Country are declared permanently protected.
-MLF
---
Back on the Water: Odd Game of Boat Names
Serenity replaced Obsession as the most popular boat name of 1998, but boaters who tie up in Chesapeake waters often prefer unique handles for their toys.
Try, for example, these spotted in South County: Better than A Blonde, Bones or Tilted Halo. Or how about Shocked?
The other nine most popular boat names, according to David Pilvelait of BOAT/US, are Osprey, Wind Dancer, Therapy, Destiny, Fantasea, Escape, Odyssey and Tide Runner. Liquid Assets and Wet Dream dropped off this year's list.
Some of the boats appearing at local marinas hail from as far as the Midwest, New England, even Montreal. A majority, however, seem to have owners caught in the capital maelstrom. For example, Headliner, Joint Venture, Running Late and Relentless.
There are hints of politics in the names Quorum Call, Scandal, Power Play, Forum and Dark Horse.
Movie and book lovers or daring sailors are suggested by Reel Time, Thunder Bay, Condor, Victory at Sea, Rosebud, Reel Mistress, Ropin' The Wind and Roaring 20.
Time for Us II, Our Island, Our Fantasy and Love Tu II are for the romantics; Chalice, Belfry and Amens for the religious.
There are the poetic names: Misty Shoals, Moon Shadow, Sea Breeze, Sunpenny, Periwinkle, Harmony and Respite.
The world-wise reflect far-off places: Ca Va Bien, Courante, Shamrock, Ouoa Pahi, Vento Dancante, Andante, Tres Jolie, Et Tu, Sartori, Tiramisu, Gabbiano, Pieces o' Pina, and Vento.
The ubiquitous puns include Gray Hare, Bay Bee, Daze Off, Sea Ya, Sea Saw, Barrycuda and Saline Solution. The strongest theme, though - (except, of course for the traditionalists who name their boats after their beloveds) - reflects what a boat means to most owners - freedom from telephones, deadlines, traffic and stress: Antidote, Euphoria, Tonic, Time Out, Lady Mischief, Constant Craving, Dream Catcher, It's About Time, Best and Final, Frolic and Footloose are examples.
Then there are those who don't beat around the bush. One area craft is named simply The Boat.
-Val Hymes
---
The original walls of Walter Chandler's Edgewater bungalow still stand within the walls of his new wheelchair-accessible home, shown below. photo courtesy of Walter Chandler
For six years, Walter Chandler struggled to move around his house in a wheelchair.
With just one leg, the former carpenter had laid a concrete pad and built an entrance ramp to his home. "That way it was much more convenient, but not what I really wanted," said Chandler.
What he needed in 1991, when his second leg was amputated, was a wheelchair-accessible house. What he had to make do with was "just putting up with what I had." That is, until he got help.
Today Chandler's Edgewater home is a different place. It's as if, Chandler said, another house was built on top of his bungalow. Both the back and side of the house have gained 10 feet. The ceiling was raised, the bathroom enlarged and the kitchen moved to the other side of the house. The entire home is now wheelchair accessible.
"It's amazing what they've done to it," Chandler said.
"They" is Arundel Community Development Services, Inc., a local good-doing organization that makes low or no-interest loans to low-income Anne Arundel residents in need of home rehabilitation.
Chandler's ground-up rehab took five months. Its cost - over $60,000, Chandler said - was supported by the federal government, a state of Maryland deferred loan and $28,000 borrowed through Arundel Community Development Services.
"They were very, very nice people. They explain everything to you," Chandler said. "They were very good to me."
As a former professional carpenter, Chandler was also pleased. "It's an excellent job," he said.
The original goal had been to make the house easier to live in with a wheelchair. The modified plan, an addition to the house, was "a little more than we planned for," said Chandler. This particular home improvement project was larger and more complex than most funded by Arundel Community Development Services.
Big or small, renovations of this sort make "a tremendous impact on the quality of lives," said construction manager Anne Dorrett, who has been with the organization since 1978.
The program began as a county outreach in 1975. It went private in 1993, and now works as a contractual middle man, passing state and federal funds through the county to needy residents.
In those 23 years, more than 2,000 homeowners have been helped with all sorts of home rehabs. Elderly residents call for help with maintenance, while broken furnaces or dry wells lead seasonal requests. Repairs or maintenance to roofs, septic systems, basements, gutters or windows are common requests.
Each year, about 60 to 80 houses are in some stage of rehabilitation. Loans average $21,000 or $22,000 - though some are as small as $1,000, the minimum - with funds provided mainly by the federal and state government. The money received from paid loans return to a general reserve, to fund more work, making the loan program self-perpetuating, according to Dorrett.
So there's more good fortune where Walter Chandler's came from.
Learn more from Arundel Community Development Services: 410/222-7600.
Elderly and disabled residents of Anne Arundel County have another option for the small fix-it jobs around the house.
Partners in Care's Handyman Program pays up to $75 for materials for small jobs around the house and organizes volunteer labor. Projects range from rickety railings to new window panes. Doors are a common repair request, according to Partner's Sandra Jackson.
Money for the Handyman Program comes from a $25,000 grant awarded by The United Way of Central Maryland. Partners in the project include The Anne Arundel County Department of Aging and two or three local Kiwanis clubs. Volunteers include members of the Kiwanis clubs, as well as people throughout Anne Arundel County.
Grants are available until the money runs out, which could be up to a year from now, according to Jackson.
Homeowners must be over 60 or disabled to qualify. No job may require a permit or license. Every applicant is interviewed at home before the repairs begin.
Volunteer as a handyman or request assistance: 800/227-5500.
-Brianne Warner
---
In Utah, the Goshute Indians had this to say about a plan to turn some of their homeland into a repository for highly radioactive nuclear wastes. "We might become the 'Glowshutes' if this deal happens" ...
The new South African government is making amends for actions by the old apartheid regime. The government has agreed to return 94 square miles of land to the Makuleke Indian tribe. The land had been part of Kruger National Park ...
In the Pacific Northwest, government scientists are considering the "Popeye S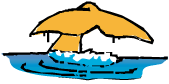 olution" to the problem of 500,000 tons of stockpiled military explosives. They're studying using spinach leaves to neutralize the explosives, which appears to happen because of a spinach enzyme that reduces the explosive component of TNT ...
Land Trusts of the Week: The White River Ledges, described as one of Vermont's ecological jewels, will be preserved under a new agreement between The Nature Conservancy and the state. Also in Vermont, the U.S. Forest Service is nearing completion of Warren Falls, a popular swimming hole, at the headwaters of the Mad River. Both tracts were threatened by development ...
Our Creature Feature this week comes to us from Norway and it sounds like a tale from Moby Dick. Or maybe Jaws.
A rare minke whale (pronounced MIN-kee) didn't appreciate being harpooned along the northern coast of Norway on June 1, the Associated Press reported. After being shot with the harpoon gun, it turned toward the whaling boat and rammed it, breaking the vessel's mast and knocking two members of the crew into the water.
One crew member suffered cracked ribs. How about the whale, you ask? It escaped.
---
| Back to Archives |
Volume VI Number 23
June 11-17, 1998
New Bay Times
| Homepage |