Dock of the Bay

Volume VI Number 22
June 4-10, 1998
---
From the Byrd's Mouth: Charlie Byrd Talks Jazz; Hear More at JazzFest
When you add the word Annapolis to the word jazz, you get Charlie Byrd. The legendary guitarist is known and loved by jazz lovers around the world, but - drawn by the water he's loved since he was a boy growing up in the 1920s in Virginia's Tidewater - for 25 years, he's called Annapolis home.
Charlie Byrd is holding court in his hometown this weekend, headlining The Sixth Annual Annapolis JazzFest. Playing with him at the Friends of Annapolis Symphony Orchestra benefit are Joe Byrd on bass and Chuck Redd on drums, comprising the Charlie Byrd Trio.
You'll get a second take on Byrd this year as another of the Fest's performers, Susannah McCorkle, celebrates the music of Charlie Byrd. McCorkle - three of whose albums have won Stereo Review Album of the Year awards - sings her tribute to Byrd in the Brazilian style he imported to the states three decades ago.
Beyond Annapolis, Bryd is known as the man who brought the Bossa Nova to the United States.
"I took a trip in 1960 to South America, and the music really turned me on," Bryd told NBT in a 1994 interview. In Bogota, Colombia, a crowd of 15,000 turned out to hear Byrd play.
By then, Byrd had been making music for a couple of decades.
"My father was a guitarist, and I got started playing the music he played with his friends," Byrd said. At eight years old, the young Byrd was playing country, pop and blues on his first guitar. As he moved into his impressionable teens, he fell under the spell of Big Band music. "Jazz was pop music," he explained. Under that spell, he played trumpet in high school.
Graduating at 16, Bryd entered Virginia Tech, was drafted and shipped to Europe as an infantryman. When the fighting ended, he got to play in a GI show. "I learned a lot and was exposed to many good players like Django Reinhart and Glenn Miller," Byrd said.
Back home in the States, Byrd was hot with confidence. "I was 18 and I thought I was the best. I could always improvise, and I knew from the beginning that music was it for me. There weren't too many people I couldn't beat."
In 1946, he was a student in New York, and New York was the place to be. He rubbed shoulders with many of jazz's heroes, among them Charlie "Bird" Parker and Dizzy Gillespie.
Byrd became friendly with Nick Travis, the lead trumpet player in the Glenn Miller Big Band, who was incorporating the complex rhythms of be-bop. "That was when bop first turned me on," Byrd recalled.
Classical guitar also turned Byrd on, and by the 1950s he had moved to Washington, D.C. to study that instrument. Soon, the pieces came together for this young and talented guitarist.
"In 1956," Byrd says, "I made my first jazz recording as a leader. A gig I played in D.C. was attended by Tom Scanlon, a writer for the Army and Navy Times. When Scanlon wrote an article highlighting unknowns, I was in it. After that, Ozzy Cardinal asked me to record for Savoy Records."
That album, including songs that combined jazz and classical music, was the first of over 100 recordings, including his 1962 smash album with saxophonist Stan Getz. He's won numerous Downbeat and Playboy magazine polls, and performed live for presidents and in the capitols of the world.
"I continue to work on all my musical skills. I'm going to keep on moving. That's my future plan," said local jazz treasure Charlie Byrd.
This weekend, you can hear for yourself where he's going and where he's been.
As well as Byrd, his trio and McCorkle, Sunday's afternoon of music features five other music makers. Most of them are linked to Byrd.
Steel drummer Derek DiCenzo is Byrd's special 1998 gift to his friends in Annapolis. "As an outgrowth of his travels, Charlie Byrd has developed a tradition of introducing Annapolis JazzFest audiences to artists from various parts of the globe. This year, he introduces and plays with DiCenzo," said Fest organizer Judith Sander.
Jazz pianist Monty Alexander plays with Keter Betts of Silver Spring, an internationally known bassist who has accompanied Bryd over the years and been Ella Fitzgerald's accompanist.
Annapolis is the other strong link in this year's lineup. The Main Street Octet, featuring soloist Gayle Thompson-Steele, is eight former U.S. Naval Academy Band musicians.
Newer to the region but putting down strong roots is the Unified Jazz Ensemble, with their new slant on traditional jazz. Comprised of saxophonist Jeff Antoniuk, vibraphonist-trombonist Mike Noonan, bassist John Pineda and drummer Marty Morrison, the Ensemble relocated to Annapolis two years ago, after playing from Memphis to Dallas, Iowa to Arkansas. Between 1992 and 1996, the Ensemble worked as artists-in-residence for the National Endowment for the Arts, introducing the art of jazz into rural communities.
New this year at Annapolis JazzFest are jazz instrumental workshops on Saturday, June 6. Tune up your talent with the aid of Dick Morgan on piano, Keter Betts on bass and Steve Abshire on guitar. For workshop information, call 410/987-3559.
On Sunday June 7, the good times roll Noon-6 @ St. John's College, lower campus. $20 at gate, $15 in advance: 410/349-1111.
-NBT
---
King & Circus Even Better from the Other Side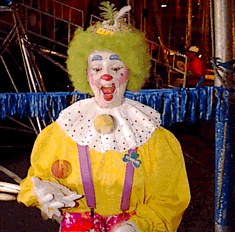 It's good to be the press.
At both the circus in Ft. Meade and B.B. King's Waterside '98 concert in Solomons, I discovered why people pay for backstage passes.
The weekend got off to a glitzy start with a trip to the Carson and Barnes Five-Ring Wild Animal Circus. The world's only remaining five-ring circus tours with a menagerie of animals, including a baby hippo, a zebra, lions, tigers, ligers (lion/tiger mix), basketball-playing Siberian bears and a troupe of Friesian stallions. Not to be excluded are the 17 elephants, both Indian and African, bred and raised on the circus' elephant ranch in northern Texas.
Before that evening's circus, I popped in to watch the morning set-up. Small trucks equipped with piledrivers drove large tent stakes into the pavement. Two elephants under the tent pulled the world's biggest big top's poles into position. And during breaks in the daily morning routine, performers took questions.
I found Jennifer Edgerton, a.k.a. Shenanigans the clown, walking Harry, her year-old Inca hairless dog, around the grounds. What had she done before clowning? "I used to be the manager of an emissions inspection station in Wisconsin," she said. Edgerton joined as a guest clown through a friend when Carson and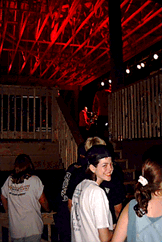 Barnes came to town. She clowned, she liked it, they liked her and she was invited back. Shenanigans is now the head clown.
Later I met John Moss III, the ringmaster. Moss fell in love with the circus as a boy, going to several with his equally circus-loving father. He got his first circus job in concessions with Ringling Brothers and eventually became ringmaster with Carson and Barnes.
It's insights like these that add a bit more flavor to the circus as you see the plainfolk and docile creatures you've met only hours before change gears and rush headlong into a two-hour routine.
Saturday I migrated south to Solomons for B.B. King's much-anticipated blues concert. With the aid of some friendly volunteer tech crew workers, I made my way to the backstage area of Calvert Marine Museum's new Washington Gas Pavilion. There the saxophonist and horn player warmed up for an evening keeping up with the King of Blues. A sheriff's deputy schmoozed with one of the drummers, joking about golf.
As the 72-year-old B.B. (formerly Blues Boy) got going, one of Calvert High's tech crew motioned me to join them on the stage stairs. He thought I was someone he knew from the crew and laid out the plan for tear-down. It must have been the backwards cap. They let me stay, anyway.
From the crew's vantage point at the wings of the stage, you can see everything, hear everything and feel everything. Each beat of the drum and every riff to come off Lucille's strings resonated in the stage and in the body. Looking over the crowd, I saw the most politically correct mix I've ever seen dancing at either end of the stage to B.B. King's blues.
I grew to envy the tech crew as I talked to one of the Calvert High group. This lucky lad had gotten a drummer's autograph on his concert pass, caught one of two used guitar picks that B.B. threw to the crew during the show and touched Lucille earlier that day. "I think it's a sin, but I touched it," he said.
As the concert continued, a mother and her young son watched from the steps on the other side of the stage. B.B. saw the kid moving to the music and invited him out on stage for a guitar pick. From the seats it may have seemed planned, when in fact it was an act of spontaneous kindness.
This past weekend I got a little taste of what full-fledged reporters sometime have access to. Kind of makes an intern want to major in journalism, eh?
-Mark Burns
---
Lou Martin, founding member of doo-wop vocal group The Memories, is a captivating storyteller. But as he recounts the history of his group and his Italian roots, (his grandfather changed his name from DeMartino after arriving in the United States, in hopes of making an easier transition from immigrant to American citizen) my eyes are diverted to the large piece of gold encircling his finger. He takes it off to show me his Hall of Fame ring, awarded to him and the many other Memories when they were inducted into The Vocal Group Hall of Fame and Museum in April.
"This is our Academy Award," says Martin.
The honor of it all has him proud and humbled. "It is hard to know how to react," he said, "when you see yourself in this museum, you see all the years of singing in bars and all that you have been through right there on display for everyone to see."
What he and his buddies Ron Lutz and Boots Dove have been through is 40 years of singing doo-wop from the street corners of Southeast D.C. to the countryside of Maryland, where you can still hear them.
Back in 1957, when the high school students were named The Bobolinks (after the bird), they would meet after school to sing and rehearse at The Hi-Ho Diner in Anacostia, a setting that, Martin says, "was the real life version of the popular television sitcom Happy Days."
Doo-wop is as American as that diner. Making doo-wop music is a collaboration of four to five vocalists - bass, baritone, first and second tenor and a lead - who together create four-part harmony. The term doo-wop refers to a common vocal melody sung by many groups as an intro and refrain.
When the Bobolinks were young, doo-wop groups could be heard singing on street corners throughout the country, generally accompanied by nothing more than sweet voices and finger snapping. Gaining popularity in the 1950s, doo-wop became a mainstay of modern music into the late '60s. The inflections of doo-wop can be heard in many of today's popular R&B groups.
Along with public appearances, the group began recording for a label that bore the same name as their high school hang out, Hi-Ho Records, as well as for Aladdin records, pressing recordings that have become collectors' items.
Time and talent have provided the group with many opportunities to display their vocal talents. In school, a friend by the name of Herb Feemster, later of Peaches & Herb fame, asked the guys to accompany him in his high school talent show. They won. Over the years The Memories have performed with other doo-wop legends such as The Orioles and The Skyliners.
The only white doo-wop group to ever come out of D.C., The Memories have never been stilled. Their first professional appearances in the late '50s were with the USO, performing for military units. With radio and television appearances that go back as far as 1956, the group first tasted national exposure while performing on the D.C.-based Milt Grant Show, where they returned six more times. They sang on Baltimore's Buddy Deane Show and Dick Clark's Bandstand when it was still in Philadelphia. For 40 years, the guys have been touring and performing actively in the Metro area as well as up and down the Eastern Seaboard.
They've earned their share of honors in the years, among them two Governor's Citations from the State of Maryland. But nothing's compared with their election to the Vocal Group Hall of Fame. In the Sharon, Pa., museum, The Memories have earned a shrine, filled with old records, tapes, CDs, stage outfits, awards and photos spanning their 40-year career. "They've even got my performing shoes," Martin noted in awe.
Hear The Memories - three founders and four newer members- harmonize four decades of doo-wop at the South County Festival Sat. June 6 (10am-6pm; parking $2) or at the Family Fun Fest, a fund-raiser for Republican gubernatorial candidate Ellen Sauerbrey Sun. June 7 (1-5pm; $10), both in the Yard at Herrington Harbour North in Tracey's Landing. Or get their new CD, The Memories From the Beginning: 301/855-6431.
-NMK
---
Alpacas to Tobacco: Anne Arundel's Growing
Katherine Campbell herb shops with daughter Tyler, 2, below.
Anne Arundel County's rich farming tradition is alive and well, as you saw if you went on the Soil Conservation District's tour last weekend. From old standards like tobacco, soybeans, fruits and vegetable farms to a sod farm for home lawns and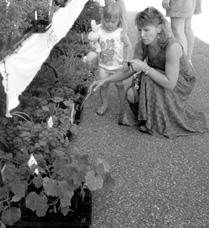 a fish farm, the tour covered -
Earl and Lillian Griffith's Farm in Lothian;
Americapaca, the Campbell Alpaca Farm;
Shady Oaks Turf Farm in West River;
The Deale Aquaculture Farm;
Churchview Farm in Millersville;
Equilibrium Horse Center in Gambrills;
Schillinger's Vegetable Farm in Severn;
Harris Orchard;
Southern States Granary.
NBT began its tour at Anne Arundel County's Riva Road Farmers Market on a day so warm and sunny that customers came seeking corn, squash and tomatoes.
They'll have to come back later in the season for those summer crops. Consolation came in form of baby new potatoes, vegetable plants and annuals, and so many herbs and herb products that you couldn't help but feel healthy just being there.
Among the herb farmers William Morris, of Deep Cove Farm in Churchton, carries on the tradition of his grandparents, Alonzo and Betty Morris. Hucksters in the original meaning of the term, they sold their vegetables at stands and door-to-door in the Deale area in this century's second quarter.
At the Farmer's Market, Catherine Classen and partner Terre Morrison, of Deale, had brought bounty from Classen's Two Hollies Farm in Shady Side. Regular market customer Lynne Pines, of Annapolis, a park ranger and naturalist at Sandy Point State Park, scooped up Queen Anne's lace, "a native plant we see too little of today along our roadsides due to development," she observed.
John Vickerman of Millersville, another herb grower, says he was the first to offer herbs products at the Farmers Market, beginning about five years ago. Besides herbs, his vinegars and special soaps are marketed under the name Old Orchard Herbs.
In Lothian, Earl and Lillian Griffiths' farm in Lothian offered hayride tours of their 345 acres, no-till planting demonstrations and the chance to plant tobacco.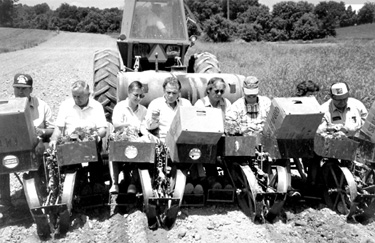 Del. Virginia Claggett and Maryland Senate President Mike Miller took up the offer, climbing on the back of a tractor in the hot noonday sun. The Griffiths work a total of 700 acres, growing diversified crops that include corn, soybeans, wheat and watermelons, potatoes, and mums. Jeff Griffiths, Earl's son, is the fourth generation to farm this fertile soil. Nearly all of the crops are grown in the no-till method that the younger Griffiths says is really an old method. "The Indians took a stick, poked it in the ground, and then planted the seed or plant," he says.
NBT's M.L. Faunce, third from left, Sen. President Mike Miller, fourth from right, Del. Virginia Claggett, second from right, and others got back to the land planting tobacco at Earl and Lillian Griffith's Lothian farm.
Later, as Lillian Griffiths served lunch and hospitality, she was asked if the fifth generation of Griffiths, Kayla, 9, and Jeffrey, 7, would take up farming. "It's hard to say, so much is changing, so much development going on." she replied softly.
At Shady Oaks Turf Farm in West River, Ross Moreland started growing sod and selling to homeowners and contractors in the early '70s. When spring rains didn't quit a few weeks back, Moreland mowed his 185-acre "Maryland Certified" turf farm every other day. He plants just once a year, with seeds from Oregon, Idaho and Washington State. Moreland uses Biogro sludge and follows a nutrient management plan developed with the help of the Cooperative Extension Service, where Lillian Griffiths works when she isn't farming.
Moreland can't recall how many generations of his family have tilled this West River soil, mostly growing tobacco. But there's no mistaking interest from the latest generation, his two daughters, Joannie, 12, and Julie, 9, for cutting sod. They jumped up on the big Brouwer Harvester to help demonstrate a machine that can cut one and a half acres of sod in a day.
"It's great to see these kids excited about farming. With land prices so high, very few young people can go into farming here," said Cliff Turner, president of Anne Arundel Young Farmers.
Down the road, the Deale Aquaculture Farm was overwhelmed with interest, according to Anne Arundel Soil Conservation District's Earl Bradley, who coordinated the events. About 100 people showed up to see tank-raised tilapia and vegetables grown with the clean, nutrient-filled wastewater.
Bill and Peggy Harris welcomed over 60 visitors to their Lothian orchard, where people looked at bee hives and learned how strawberries, apples and peaches are grown.
The Campbell Alpaca Farm was also a popular attraction. Alpacas are sold for breeding, as pets and for wool.
Next year on Agriculture Appreciation Day, skip the mall and the movies and make a call on your neighbors down on the farm.
Visit the Anne Arundel County Farmer's Market at Riva Road and Truman Parkway in Annapolis from June 13 until September 24, Tuesday and Saturdays from 7am to noon and Thursdays from 3 to 7pm.
-M.L. Faunce
---
What Is More Lovely Than a Grassy Bay?
"It's a good day and we have good news on the Bay," said Bill Matuszeski. The EPA's man on the Chesapeake rejoiced at more than the summer's day. He was celebrating horned pondgrass.
1997 was a record-breaking year for the grasses that are Chesapeake Bay's nursery. With relatively few storms to cause runoff to spill into the Bay, very little sediment and few nutrients were washed into the Bay, allowing for the record recovery. Six thousand acres of grass were restored, raising the total restoration to 70,000 acres.
Horned pondgrass grows throughout the continental U.S., South America and Europe. The most prominent grass in the Bay, it has formed successful grass beds such as the day's showcase bed on South River.
That's good news for lots of reasons. Grasses clean nutrients from the water as well as provide habitat. Among the leaves of the submerged meadows live microorganisms, fish and invertebrates, each doing its part for the food chain. These beds are also salad bars, providing meals for waterfowl, muskrats and beavers.
Successful grass planting doesn't just happen. Though the Western Shore of the Chesapeake has seen success, the Eastern Shore still has trouble spots. One of them, Tangier Sound, has lost 7,000 acres over five years.
"A lot of it's a science, where to plant and where not to plant," said DNR's Rob Magnien. Plants will only be successful where the water is clear enough to allow sufficient light penetration. On the showcase bed, grass along the shore hasn't been mowed, increasing shoreline and helping slow and filter runoff.
But there's a gray side to every silver lining, as John Flood - whose mother owns the Edgewater property where U.S. EPA and Maryland Department of Natural Resources made their announcement - explained. "When I was a kid back in 1965 we couldn't swim here because the grass was too thick."
The good old days are here again.
-MB
---
In Arizona, a conservation-minded rancher got a letter this week that we had hoped would be coming to New Bay Times. (Just kidding.) It was notification that he would receive one of 29 $285,000 MacArthur Foundation "genius" grants. The rancher, William McDonald, won the award for bringing together old adversaries to preserve nearly one million acres of land in the Southwest ...
On Martha's Vineyard, those fires blazing are not arson. Conservationists are conducting a series of controlled burns on the Massachusetts island like Indian tribes once did in an effort to restore the ecosystem to its native state. The area has been invaded by alien species (other than Bostonians), such as scrubby pitch pines
Nearby, the Cape Cod Railroad has been taking school classes and tourists on "ecology tours" for eight years. Last month, the Massachusetts attorney general's office sued the company for dumping oil, kitchen waste and raw sewage along its tracks ...
In West Haven, Conn., another Atlantic beach area, town leaders fed up with noise put up a flashing sign last weekend urging motorists to keep quiet. But the warning didn't exactly work. The generator that ran the flashing sign made so much racket that they had to pull the plug ...
A Golden, Colo. student won the Sierra Club's "Name That Gas Guzzler" contest for Ford's new 19-foot-long, four-ton super-duty sport utility vehicle. The student even added a sales pitch to the winning entry: "The Ford Valdez - Have You Driven a Tanker Lately" ...
Our Creature Feature this week comes to us from Washington, where amphibian experts gathered at a National Science Foundation conference last week had some scary things to say. The scientists said they were puzzled because around the world, frogs, toads and salamanders are declining at an unprecedented rate.
The U.S., Australia, Central America and South America all are seeing dramatic drops in frog populations, sometimes in remote areas that aren't near obvious pollution. Some researchers blamed long-range transport of pesticides or ultra-violet radiation pouring in through pollution-caused ozone holes.
Remarked Brookfield Zookeeper George Rabb of Chicago: "These creatures have survived for 350 million years and now they're telling us they can't survive any more."
---
| Back to Archives |
Volume VI Number 22
June 4-10, 1998
New Bay Times
| Homepage |