Dock of the Bay

Volume VI Number 10
March 12-18, 1998
---
It's Show Time:Circuses Begin Their Annual Round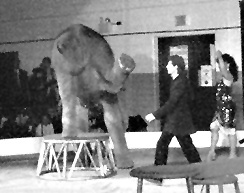 photos by Steve Armstrong
"Damn everything but the circus."
				-Ken Nordine
The circus season got off to a spectacular start last week when the Royal Palace Circus, of Sarasota, Fla., presented two sold-out shows at the National Guard Armory in Annapolis. For a fanfare, it traveled to Prince Frederick. With animals, clowns and daredevils, the shows bedazzled hundreds of children and their parents.
"The circus is one of the last and one of the best forms of live entertainment," said ringmaster Kimball Keller, explaining the circus' enduring popularity. "It offers the audience escape and a chance to be a part of something magical."
Added Bill Bannister, a performer with 39 years of circus experience: "To have a good circus takes a special kind of people. The Royal Palace Circus is a good circus. Our people practice for hours and hours regularly, perform everyday and work with great discipline."
Bannister and his Canine Revue kicked off the Royal Palace Circus. First Keller shouted, "It's show time!" Then Bannister, his daughter, his son and a pack of happy, dancing dogs, including a Saint Bernard, bounded into the show's one and only ring. There, the dogs pranced on their hind legs, vaulted through hoops and swung on ropes.
The Bannister dogs were the first of the Royal Palace Circus' many animal acts. Later came Baby Tinga, the company's four-year-old Asian elephant, who juggled basketballs, walked on a balance beam and skipped around the ring. There was also Ervin Hall's troupe of Egyptian baboons, who, dressed in grass skirts, rode a motorcycle, a bicycle and a barrel. And there were several Burmese pythons, too - "600 pounds of slithering reptile," said Keller - who were carried out of a heated box and shown to the crowd. During intermission, Keller encouraged the children in the audience to enter the ring to pose for photos with these enormous snakes. And the children came gleefully.
"That's the advantage of a one-ring circus. It allows for personal interaction between the audience and the performers," said Hall, the baboon trainer. Hall was also one of the Royal Palace Funsters, the company's clowns. He and his blue-haired partner Bubbah amused the audience with slapstick routines, sight gags and the occasional ribald joke.
But the Royal Palace's greatest moments belonged to the aerialists and the acrobats. Tracy Bannister spun above the crowd on a rope, twisting in circles in the air like a figure skater - without a net. Then the Galambos, a husband-and-wife team, performed the Rolla-Bowla. Standing on a board - on top of a bowling ball - he rolled and rocked. When he replaced the ball with a heavy cylinder, she climbed first upon his shoulders, then his head.
The Martinez Duo performed the show's grand finale. Hanging from a metal box attached to the ceiling - "The Aerial Cradle," Keller called it - the acrobatic couple challenged the pull of gravity. Husband Frank held his twisting and turning wife Coral above the ring with his hands and his neck.
Then Keller advised, "Watch as Coral's body is completely supported by her hair." Frank bit into the rope of Coral's hair, and she spun like a top.
"Now that's all right," said Robert Williams, of Annapolis, who attended the show with his family.
A few hours later, after the evening's second show, the Royal Palace Circus packed up and moved onto Manassas, Va. for another engagement. The 27-year old, family-owned company came back to Maryland and played in Prince Frederick this week, but they won't return to Bay Country until October.
Not to worry. With spring come circuses. The Ringling Bros. and Barnum & Bailey Circus arrives in Baltimore this week to play Charm City until the end of the month. Then it'll move to D.C. to play the MCI Center, USAir Arena and the D.C. Armory, through April. The Clyde Beatty-Cole Bros. Circus performs four shows in May at the Navy-Marine Corps Memorial stadium in Annapolis. Deale Volunteer Fire Department has planned its circus for late July. And a slew of carnivals are being planned by fire departments and social leagues from Edgewater to Solomons Island.
But take note. Circuses come and go faster than perch runs, and they don't schedule far in advance. So if you're interested in the big top, keep your eyes, your ears - and your schedules - open.
-Steve Armstrong
---
Bulb Garlic to Bill Gates, A Baysider Sees The Future
photo by Bill Lambrecht
When last we visited Pat Piper, he was pawing in the dirt in search of the "stinking rose" - a euphemism for the garlic that he grows and distributes to friends and a few stores.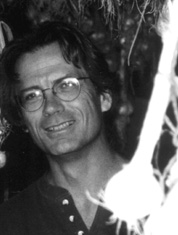 Little did we know that Piper was hustling from the garlic fields to his home in the Southern Anne Arundel community of Rosehaven to trade e-mails with computer gazillionaire Bill Gates.
Or talking on the phone with former Gen. John Shalikashvili, the former chairman of the Joint Chiefs of Staff. Or chatting with the likes of Harvard paleontologist Stephen Jay Gould, MIT economist Lester Therow or poet Maya Angelou. Or C. Everett Koop, Bob Costas or Peter Max.
But those heavyweights and many more were the subjects of a newly published book that Piper co-authored, with television personality Larry King, called Future Talk: Conversations About Tomorrow.
Before the book, Piper knew a fair amount about what sprouts from the earth. Now he has a better sense about where the earth may be headed. What he heard wasn't always reassuring - as from Gould.
"He said that we are coming out of one of the most violent centuries in the history of the planet. That stuck with me. I was in part of that century," said Piper, who was born in 1953.
"When I talked with people about the next millennium, they would use the words 'if we are still around'. There's a real fear out there that we are going to do something stupid," Piper recalled.
Shalikashvili's words were unnerving, published amid recent reports about Iraq's anthrax and biological weapons. It no longer takes a country to wreak havoc, the military leader told Piper: "We must not think of a terrorist as somebody who uses a 2,000- or 3,000-pound bomb but also as one with an aerosol can that will spread biological or chemical agents."
The new book wasn't Piper's first association with prominent Americans; he worked as a producer for King before succumbing to the charms of the Chesapeake Bay. He now grows garlic and writes for a living when not gazing northward out his window across Herring Bay. (He's also a contributor to New Bay Times.)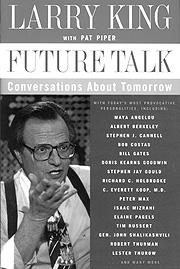 Future Talk: Conversations About Tomorrow has Larry King's photo on its red-white-and-blue cover and the words "with Pat Piper." Only King and Piper know for sure how many of the 43 people in the 362-page book King actually interviewed.
Suffice it to say that Piper did plenty of the work - and that he came away deeply moved from some of the conversations. Among his recollections:
Marian Wright Edelman of the Children's Defense Fund: "We need to teach our children that it is not about things. We need to focus on heroes rather than celebrities. We need to focus on spiritual values rather than material values."
Poet Maya Angelou: "[Arts] should be the last thing to be cut back. We are forever talking about protecting the life of the environment but we never talk about protecting the life of the soul."
Xerox Corp. chief scientist John Seely Brown: "Learn how to learn and learn how to love learning new things. Be open to new ideas no matter how bizarre they first seem because a lot of ideas are going to come at you But if you give them the time of day, you might find ways to use them."
Piper came away from two years of conversations with the big thinkers believing that in the next century, things may be harder for people rather than easier. We'll have to know more to keep our jobs and figure how to contain threats to our existence like we've never known.
"It's putting more of a burden on each of us. Everybody says I want to be in control of my life. Well, we are," he said.
Piper is working on another book with Larry King about how people pray. He's talked to former President Jimmy Carter and entertainer Willie Nelson, among others, and he's working on getting through to Barbra Streisand.
Piper said his newest conversations have stimulated a change in his own life: "I've started to pray; at first, I was just praying to get some chapters done."
-BL
---
Here's What to Do With the Worst Remains
One of the side-effects of the wet, warm winter of 1998 is a stepped-up spring cleaning schedule. The good news, for all those spending their Saturdays pouring over rusty cans in damp, cobwebby basements, is that Anne Arundel County's first 1998 Hazardous Household Waste Drop-Off Day is March 21.
Compelled by the spring cleaner's tidy urge to find a proper place for everything (and to put everything in its place), we asked county Recycling Projects Manager Beryl Friel just what we should pack up for the Sudley Center, on Nutwell Sudley Road in West River.
Q Can you tell us just what household hazardous wastes are?
A Household, automotive and boat chemicals. Typically - but not always - cleaning products. Oil-based paint and thinner; solvents, auto fluids like motor oil and antifreeze; fuels like kerosene; pesticides; staining agents and wood preservative; pool chemicals; most household batteries; and fluorescent light fixtures.
Q Why can't we just take that stuff to the landfill?
A There's danger involved. The landfill is not designed, equipped or licensed to handle these materials, nor are our staff trained to do so.
Q I don't suppose we can just throw it away
A No. The earth is much more like a sponge than a rock. The problem with household cleaning agents and auto fluids is, first, they're liquid. If we spill them, we can't control them. The earth is absorbing these things, and so is the Bay.
Just as I wouldn't want you to mix your gasoline with pool chemicals, I don't want a lot of things seeping into Chesapeake Bay and mixing with the water. It's bad enough on its own, but when it mixes, all sorts of weird reactions start.
The Bay is just not prepared to handle the types of chemicals we've created. The Bay is constantly cleaning itself, but the burden is too great. If we would stop polluting and putting so much pressure on, the Bay could purify and sustain itself into perpetuity.
When we overload it, we see the results in problems like pfiesteria. Then we have to intervene.
This program is like a magnet, attracting some of the material away from people's driveways and into careful, safe recycling.
Q Since this stuff is dangerous, how do we package it?
A The best way is to get organized the weekend before. Wear good gloves and old clothes to encounter this funky stuff. Try to find the original container to package it. Otherwise use non-breakable containers, not glass, with tight fitting lids. Plastic milk jugs typically work well - except for the few solvents that will melt plastic. Fit the lid tightly on.
Line a good, sturdy cardboard box with newspaper. Place the materials in the box. Never, never mix one product with another to save space or you could have a real nasty mess. Load the box into your trunk, and you're ready to go to the hazardous waste drop-off site of the month.
Q What happens once we get there?
A It's a drive-through program. It will take about 10 minutes unless you arrive at peak time. We're concerned that adults, children and pets all stay in the car. Greeters and attendants will check your driver's license to see that you're an Anne Arundel County resident. Then you'll follow the signs and get queued through the line.
Field chemists will remove your products and carry them over to the tent where they'll be examined, tested and packed. That's it for you.
We've never had an incident and don't expect one. We hire a very capable and well prepared company to handle and remove these materials.
Q What happens to the stuff we leave behind?
A Most of it gets recycled. Typically fuels get blended together into a combustible product. Engine oil and antifreeze are refined and recycled. Auto battery lead and the polypropylene casings are recycled.
The remainder - about 50 percent by bulk - has one of two destinations. Some is safely transported to landfills designed to stabilize that material well into the future. The rest is incinerated at such high temperatures that it leaves no impact on the environment or people.
This is an expensive program - we spent nearly $200,000 last year to recycle or dispose of household hazardous wastes - because, once rid of it, we want to be rid of it.
Since 1988, we've properly disposed of 1.3 million pounds of hazardous household wastes.
Q What if we miss the March 21 Hazardous Household Waste Drop-Off Day?
A You get seven other chances.
We've scheduled eight drop-off days this year, one each month from March through October, in locations throughout the county.
Sudley's next drop-off day is July 18.
On April 18 and August 15 drop-off day moves to the Heritage Center at 2662 Riva Road, in Annapolis.
Recycle household hazardous wastes at the Glen Burnie Center, 100 Dover Road, on May 16 or September 19.
Western county residents get their chance at 1427 Ducken Street June 20 and Oct. 10.
-SOM
---
In Maine, don't bother fishing in the famed Penobscot River any time soon. State officials say mercury-contaminated water that escaped from a plant in Orrington has created some of the worst mercury contamination in the country ...
Cuba's economic problems may have a silver lining. According to a report in the San Francisco Chronicle, financial woes have led to an 80 percent drop in the use of pesticides and fertilizers and have forced farmers into the business of organic growing. Guess what: The organic shift has almost completely returned Cuban land to the production levels of its chemical era. In addition, 27,000 organic gardens have sprouted around Havana ...
In Mexico with fellow Democratic friend Robert Kennedy, Tom O'Neill rescued a pelican that became tangled in netting. He told the Boston Herald why: "I had to do it. Pelicans always vote Democratic." ...
In Washington, President Bill Clinton has a friend when he needs one - Trout Unlimited. The organization last week called the president's new Clean Water Action Plan, unveiled in Baltimore, fish-friendly. "Polluted runoff from agricultural fields, con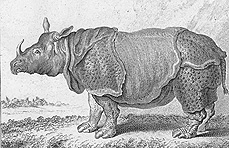 struction sites, timber roads is Public Enemy No. 1 when it comes to healthy rivers and trout," said Trout Unlimited's Steve Moyer ...
Our Creature Feature this week comes from Malaysia, where a curious tale is being spread about the rare Sumatran rhinoceros. According to the South China Morning Post, six of the rare rhinos living on a preserve have lost interest in sex.
This is a big deal, because if the rare rhinos aren't romantic, the entire species is threatened. If these were people, Dr. Ruth might blame fatigue, TV, or habitual behavior and advise a little diversity. According to rhino experts, the animals are suffering from related symptoms. "They seem more keen on eating, sleeping and wallowing in mud pools than engaging in sexual activity," one expert reported.
The cause may be the same too, he added: The animals "have become too used to seeing each other every day, dissipating the sexual chemistry."
---
| Back to Archives |
VolumeVI Number 10
March 12-18, 1998
New Bay Times
| Homepage |