Chesapeake Outdoors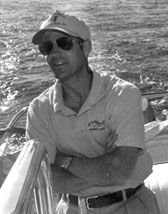 by C.D. Dollar

---
I was flat on my stomach, and the strong wind and rain from a major nor'easter pelting the hood of my jacket felt like someone was plucking pebbles at me. About 75 miles eastward, the fury of this storm was devastating the Delaware and Maryland ocean resorts, eroding sand, buildings and roads with reckless abandon.
It was just the kind of weather we hoped would make snow geese fly. Duck season was closed, and fishing was slow at best, so opportunities to enjoy the outdoors were down to this.
Behind me and off to my right were several dozen full-bodied snow geese decoys and nearly 400 Texas wind socks, little more than plastic baggies attached to a dowel to be pushed into the over-saturated soil of a soybean field.
The Texas wind socks were part of a ruse to fool the white birds into tolling to us. Our spread was configured like a tear-drop, and some decoys had plastic heads, positioned to give the appearance of feeding or standing sentinel - head down or up.
On previous hunts, the success rate ranged from poor to exceptional, with the early season being the best. On this day, however, it was anyone's guess, and though I had seen flocks of 500-plus birds earlier in the week, that was no guarantee they would light to our rig. Trying to handicap such odds was futile exercise.
Nevertheless, my partner Kevin Colbeck and I had been determined to go, and having failed to raise anyone willing to help set decoys, were pleasantly surprised when Mike McGuane, married and newly a father, decided to join our merry band of bachelors.
On a farm not far from the Tuckahoe River, we set out the decoys and waited. I'd taken my share of snows this year, even one with a neck band. Kevin took one with a leg band on the same day, so we both made reports to the U.S. Fish and Wildlife Service.
Recently, Kevin received a certificate from the Canadian Wildlife Service for his report. The bird was a greater snow goose, hatched by 1984 and banded in 1986, near Montmagny, Quebec.
When I called to check on my certificate, I learned it would take longer because neck collars are not common. The fact that my bird is scientifically superior to Kevin's gives me immense pleasure.
As I am learning, the bird banding system depends on intricate cooperation. It relies on hunters' reports to update data to accurately track migratory patterns and populations of wild birds.
Soon as the first flight of 50 came near our setup, Kevin and I worked our calls furiously, sounding like maddening cacophonous nonsense - but that's what snows sound like, more or less. Several groups worked us, but each pass was on the other side of the rig.
Quickly we relocated, but had only one legitimate shot at a few birds, and that one Mike missed. Too much golf, we told him.
Picking up, I noticed scores of black ducks trading from the large pond to several new gullies, then back across the tree line toward Tuckahoe, birthplace of Frederick Douglass. A pair of bald eagles - both of massive wingspan and circling flat-winged on the air currents - was the source of the waterfowls' agitation.
America's symbol of freedom, flying so near the childhood home of a champion of human rights. The realization was as powerful as the nor'easter blowing through my bones reinforcing my belief in wonder and beauty even when intended success is not achieved.
---
| Back to Archives |
VolumeVI Number 6
February 12-18, 1998
New Bay Times

| Homepage |