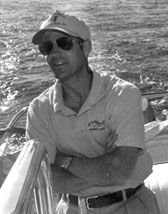 Burton on the Bay
Plenty of Fish in this Bay
by Captain C. D. Dollar
Bill Burton is on vacation. His column resumes next week

---
1998's spring fishing season, the first jewel of Chesapeake's triple crown of fishing, is over. So with the passing of the summer solstice, let's reflect on what we've enjoyed so far and see what awaits us.
Hard-core fishing fools have been in nirvana for most of May and June. Ask these fanatics about world events in the past two months, and you'll get a blank stare. Yet ask about the tide and moon cycles during the same duration, and they can recite with keen precision what waters held fish at what stage of the lunar cycle.
For the first third of the angling year, we have not only had world-class fishing for rockfish but also an amazing run of football-sized croaker (hardheads) plus abundant white perch (no surprise here), sea trout (weakfish) and channel catfish. Now flounder and spot are showing up in good numbers. So are blue fish, though perhaps not in great numbers relative to previous years.
Rock On
Like many anglers, I cannot remember when rockfish populations were as strong as they are today. Certainly that is a factor of my age, having not been a part of the halcyon days of the 1950s through the early 1970s. During those pre-moratorium years, there was no creel limit and the minimum size was merely 12 inches. Hindsight notwithstanding, it is little wonder that the intense fishing - both recreational and commercial - nearly destroyed the fishery by the early 1980s.
For nearly six years, rockfishing was prohibited in Maryland. When the fishery was re-opened in 1990, the gains of the moratorium were supported by smarter fisheries management (size and creel limits using scientific models) and a stronger conservation ethic (catch and release). The result is the amazing resurgence of one of the most prized gamefish on the East Coast.
"June 15, 1998 marked the beginning of an historic time for striped bass fishing on Chesapeake Bay and eventually, all of the northeast Atlantic coast," said Martin Gary, a DNR fisheries biologist.
The 20- to 24-inch rockfish making reels sing are stripers hatched in 1993, when the Young of the Year index measured a whopping 39.8. The index is the method fisheries biologists use to estimate future populations and help determine regulations.
To see just how good these times are, compare them with the last great recreational fishery for Chesapeake stripers, in the late 1960s through the mid-1970s. The big class of that era, the 1970 class, had a Young of the Year index of only 30.4.
Our era, Gary explains, is getting the benefit of "two mammoth year classes, 1993 and 1996, when the Young of the Year index reached 59.3. The gargantuan 1996 year class will begin entering the fishery in the fall of 2000."
Yet with this great fishing comes the responsibility we - recreational and charter fishermen, watermen, and fishery managers - must share. That is not only maintaining a world-class striper fishery but also remembering the lean years and their causes so as not to repeat foolish mistakes.
Another way to ensure that rockfish and other fish stocks remain stable is to increase oyster reefs and Bay grass beds, both important habitat and food sources that are woefully depleted, with oysters at less than one percent and grasses at 10 percent of historic levels. We may have a problem lurking in the wings: there is some agreement among fisheries biologists that stripers' main foods, menhaden and anchovies, are declining.
Croaker Abound
If you stick your ear below the surface six inches, you can hear it: the low guttural drumbeats of the thousands of hardheads. Okay, perhaps that is a slight exaggeration, but the fact remains that croaker are everywhere. As I was chumming for rock recently, the sheer numbers and size of the croakers in our chum slick was amazing. They fought with guts and determination.
"There is an abundance of hardheads, no doubt," said Bill Goldsborough, the Chesapeake Bay Foundation's senior scientist. This is a result of two significant factors: restrictions on the ocean fishery (mesh size and fish excluders) in southern waters to reduce bycatch mortality and the banning of trawlers in Virginia waters in 1989.
"Huge vacuum cleaners [ocean trawlers] waited at the mouth of the Bay and sucked up the fish," Goldsborough explained. Part of the drum family, croaker and sea trout spawn out on the continental shelf. They winter in the rivers of the Bay. Mild winters have meant better survival of juveniles. Both fish mature fast, and juvenile indices point to good years to come.
The restoration plan of Atlantic States Marine Fisheries Commission (of which Goldsborough is a Maryland representative) for sea trout is effective, Goldsborough says, but giving it more teeth may strengthen sea trout stocks.
Fat Flatties, Spotty Spot
Over the last several years, flounder have benefited from increased size limits and reduced creel limits, and the results can be seen in the increase of large flounder in the Bay. Flounder are excellent reproducers both in speed of growth (about 11 inches in two years) and time they can start to spawn, which is also about two years. Still, there is reason to be cautious: flounder stocks need more time to increase their numbers, and natural factors like weather can prevent a good spawn.
Spot are a bit of a mystery, says biologist Gary, echoed by other fisheries managers. We haven't seen runs of jumbo spot in the Bay for a while, and reasons are puzzling. Spot, like their cousins the croaker and sea trout, should be reaping the benefits of gear regulations. Perhaps a natural down cycle, poor reproduction or predation have cut into their numbers.
The Blues for Bluefish?
With all this good news comes some sobering news. Bluefish remain a worry for coastal fishery managers and fishermen alike. Because they are a migratory fish, blues are subject to the political wrangling between coastal states, particularly those northern states with more limited seasons.
Ocean spawners also, blues had their last truly exceptional spawning class in 1980. Why is harder to determine because they aren't the easiest fish to track in spawing habits. Some biologists cite cyclical downturns as causes for the population declines. Others believe that blues are victims of predation by sharks and tuna as other bait becomes less abundant. Of course, fishing pressure from humans has also contributed to their less-than-strong populations.
Blues follow the food, menhaden for the most part, and some think the lack of bunker coming into the Bay is directly related to the poor showing of bluefish. We may need to increase restoration efforts for this valuable gamefish.
Go Fish
Modern technology gives us the tools to catch more fish more effectively, and so far we have tried to keep pace with sound management practices. It took a cataclysmic decline of our most important fish, the striped bass, to make us good stewards of the resource. If we continue to do our part, the fish will reward us a hundred times over. For that I thank them.
---
| Back to Archives |
VolumeVI Number 25
June 25 - July 1, 1998
New Bay Times
| Homepage |