Farewell, Donnie Radcliffe
1929-2010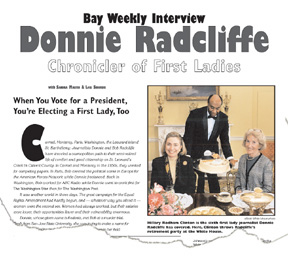 by Sandra Olivetti Martin
Carmel, Monterey, Paris, Washington, the Leeward Island St. Barthélemy: Journalists Donnie and Bob Radcliffe have traveled a cosmopolitan path to their semi-retired life of comfort and good citizenship on St. Leonard's Creek in Calvert County.
That's how you met Donnie Radcliffe in the pages of Bay Weekly, on November 2, 2000. In a Bay Weekly conversation, she recounted stories of her Washington Post career as a chronicler and biographer of first ladies. Donnie and I spoke in this millennia, days before the election of a new president, George W. Bush, would bring a new first lady to the White House.
Yet Donnie suggested that attitudes toward women were still in the dark ages. "We still haven't gotten through that bias against women being able to do a job well and compete with men," she said, explaining why Hillary Clinton and other strong first ladies were targets of malice.
Donnie knew whereof she spoke. The toughest, most successful women in journalism — women like Helen Thomas, Fran Lewine and Elsie Carper, who stood alongside Donnie at the top of their profession — met the same discrimination as their sisters in the White House and in every walk of American life.
A single mother with a son, Donnie met Bob, her second husband, at a murder trial. Fresh from San Jose State University, she was trying to make a name for herself before the GIs came marching home and women reporters would go from covering trials back to covering teas.
She succeeded.
"Donnie was a child of the Depression who spent close to 10 years as a young girl traveling the country with her mom and dad as they sought work. She died 70 years later, the author of two biographies of first ladies, editor/writer emerita of The Washington Post, where she covered every first lady for the Post from Lady Bird to Hillary. "It was a remarkable run," her son, Don Nunes, wrote.
After years in big-time journalism, Donnie and Bob — who could have lived anywhere in the world — settled into Calvert County. Donnie adopted Calvert Library as her cause. With Grace Mary Brady, she founded Authors by the Bay and introduced her famous friends like Helen Thomas and Diane Rehm to Chesapeake Country.
"We absolutely loved Donnie. She was so kind, so knowledgeable, so willing to help, so caring and such an excellent writer," said Pat Hofman, library director. "We loved having her serve on our board and Calvert Library Foundation."
When the new library opened in Prince Frederick, Donnie sponsored the living room with its towering fireplace as a memorial to her husband. Now, Hofman said, "people who relax and read there will always remember Bob and Donnie."
Bob died in 2004, and Donnie's son and daughter-in-law, Bobbe, moved into her Calvert home, a masterpiece of view, luxury and comfort Donnie and Bob had designed and built. Suffering from Alzheimer's and three cancers, Donnie moved with them to Acworth, New Hampshire, where she died Feb. 19 at the age of 80, surrounded by her family.