Now There's an App for It
Chesapeake Field Guides travel with you by iPad or iPhone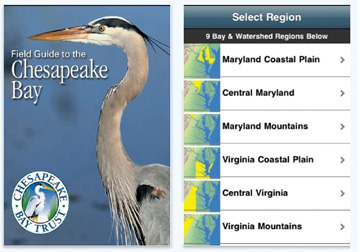 by Daniel Manning
Chesapeake Bay? There's an app for that.
Last week, the Chesapeake Bay Trust released an iOS application called Chesapeake Field Guide. If you've ever been out of doors and wondered what that bird call is or if that plant is dangerous, answers are now only a tap away.
"It's a fantastic tool for people to learn about the Bay, with thousands of images at the palm of your hand," says Alex Hance, executive director at the Chesapeake Bay Trust. "The core objective of the Trust is for people to discover treasures of the Bay."
Derived from Robert G. Bailey's Ecoregions of the United States and continuously updated for accuracy by the website eNature, Chesapeake Field Guide helps even an inexpert Bay student learn.
The app offers full profiles of plant and animal life, including the sounds an animal makes, its defining markings and where you're likely to find it. You can also use the app to identify the dangerous and poisonous — or the threatened and endangered — species in the area.
Chesapeake Field Guide breaks Chesapeake Country down into nine thoroughly detailed Bay watershed regions, spanning both Maryland and Virginia, from coastal plain to mountains. With an iPhone, you can use its GPS to determine which region you're in.
If you use Twitter, Chesapeake Field Guide even lets you tweet your findings to the world.
The app is also a source for the Chesapeake Bay Trust itself, explaining what the Trust does, which is to provide grants for the protection and restoration of the Bay watershed. The Trust is funded in part by Maryland's Chesapeake Bay blue heron license plates.
Chesapeake Field Guide is the first application of its kind for the Bay area, offering all the capabilities of a field guide without all the pages. So if you travel with an iPhone or a 3G iPad, you can take Chesapeake Field Guide with you to enhance your enjoyment of the Bay.
Download the free app at http://tinyurl.com/bayguide.